Mike Lindell Vows 'Deep Investigation' of Doug Ducey and Brian Kemp After GOP Governor's Meeting Ejection
MyPillow CEO Mike Lindell announced a "deep investigation" of Georgia Governor Brian Kemp and Arizona Governor Doug Ducey on Friday.
Lindell blamed the GOP governors for his ejection from a Republican Governors Association (RGA) meeting earlier this week. During an appearance on The David J. Harris Jr. Show podcast, Lindell said that he was now spending "millions of dollars" on private investigations of Kemp and Ducey, while insisting that both were "compromised."
"Do you think Brian Kemp and Doug Ducey might be a little compromised?" Lindell said. "Maybe they're tied into the, I don't know, the corruption, the deep state, maybe China? Who knows... it sure looks that way."
"I'm making an announcement right here: I am doing a deep investigation into both of them," continued Lindell. "I've put millions of dollars into all this and I'm taking some of my private investigators and they're going back with Doug Ducey and Brian Kemp. We're gonna find out where this goes and why."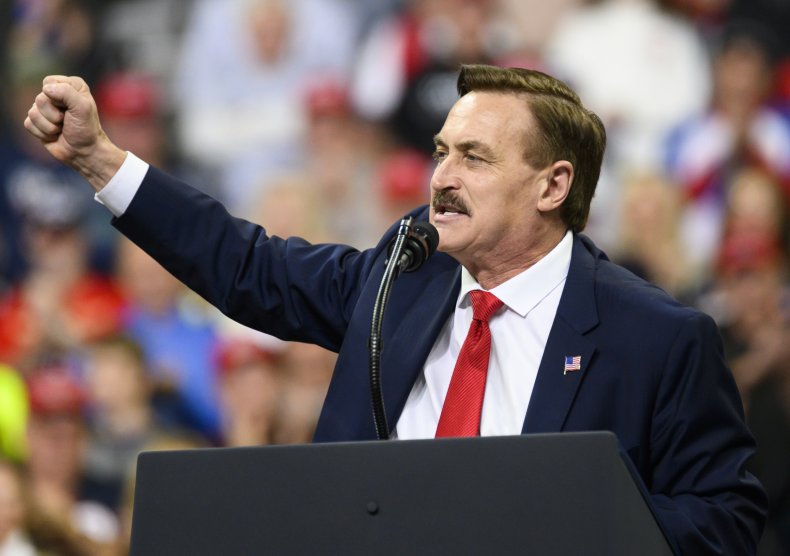 Lindell is one of the leading proponents of the baseless conspiracy theory that former President Donald Trump, who lost to President Joe Biden by 74 Electoral College Votes and over 7 million popular votes in 2020, was the victim of a "stolen" election due to massive voter fraud.
According to Lindell, every U.S. state "including Alaska and Hawaii" was "hacked" during the election. He said that he was personally conducting vote "audits that you don't know about" while claiming that he has possession of machines from Dominion Voting Systems.
Dominion has filed a $1.3 billion defamation lawsuit against Lindell. On Friday, he said that he plans to file a response to the Dominion suit next week. MyPillow filed a $1.6 billion suit against Dominion in April.
Lindell was kicked out of an RGA meeting in Nashville on Tuesday after announcing that he planned to confront Ducey, the RGA chairman, and Kemp at the event earlier in the day on former Trump adviser Steve Bannon's podcast. He told The Washington Post on Wednesday that his ejection had "something to do with Brian Kemp and Doug Ducey."
Lindell believes that the governors, each of whom presided over the certification of narrow Biden wins, were "in on" the alleged conspiracy against Trump and guilty of "obstruction."
"They've done more to obstruct than even the Democrat governors," Lindell said. "If you're a Republican governor the only thing that would make sense is that you're part of this, that you're in on it. We already know that Brian Kemp is in on it."
"All the stuff Brian Kemp did, I've already done a lot of investigation into him," he added. "But we're going into a deeper dive, these two guys."
Lindell previously announced investigations into Twitter CEO Jack Dorsey and Facebook CEO Mark Zuckerberg, who he claims are guilty of "criminal activity" and will be "going to jail." He has also said that he is investigating Fox News for refusing to have him on air as a guest recently.
Newsweek reached out to the offices of Ducey and Kemp for comment.