Mike Lindell's Latest Conspiracy Theory Is that 23,000 Dead People Voted in Wisconsin
MyPillow CEO Mike Lindell, an outspoken supporter of former President Donald Trump, claimed Monday that 23,000 people voted in Wisconsin during the 2020 presidential election using the same prison address.
Lindell, 60, made the statement during an interview on his namesake website, michaeljlindell.com.
"If you can pull up, I'm gonna show you guys in Wisconsin, just an example, how 23,000 people voted using a prison address and used the same phone number," he said. "And a lot of them were people that turned out, as we dove into it, they're not alive anymore, they just used their names obviously, and they don't live in Wisconsin."
Lindell did not state where he uncovered this information, nor did he expand on which prison he was referring to in Wisconsin or how 23,000 people would have been able to use a singular voting address and phone number.
Lindell has become well-known in recent months for claiming that the 2020 election was stolen from Trump as a result of widespread, nationwide voter fraud in favor of President Joe Biden. He also helped finance a number of lawsuits filed by the Trump Administration in an effort to overturn the election.
In the weeks following the election, Lindell was seen at the White House and reportedly spoke to the former president regarding the initiating of martial law. He has also stated that he was at Trump's outdoor rally on January 6, but did not participate in the storming of the U.S. Capitol building later that day.
Official audits have not found any evidence of widespread voter fraud during the 2020 election, and the former director of the Cybersecurity and Infrastructure Agency (CISA), Chris Krebs, stated that it was "the most secure election in American history." This sentiment was echoed by the former president's attorney general, William Barr, who also said that there was no evidence of fraud.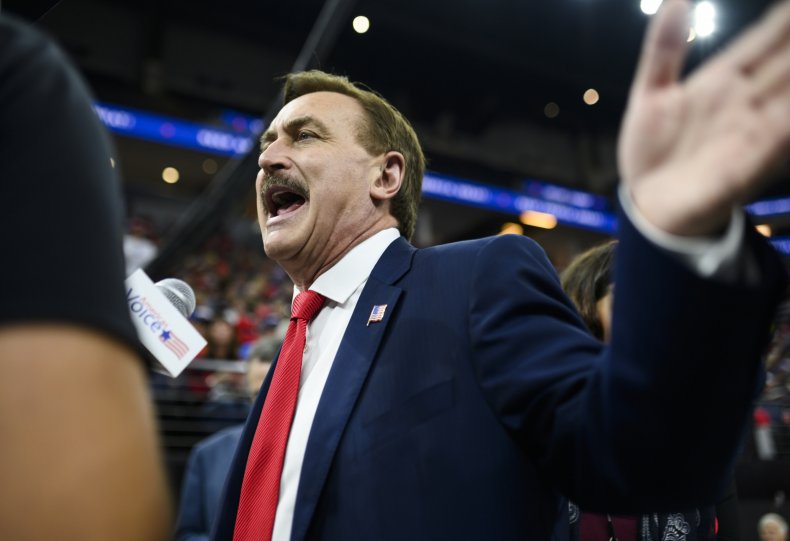 The claim of 23,000 people voting using a prison address is the latest in a series of uncorroborated statements made by Lindell. This includes the claim that voting machine companies Dominion and Smartmatic had rigged their voting booths in favor of Biden, to the production of his own documentary film, Absolute Proof, which FactCheck.org stated was full of "baseless conspiracy theories and debunked claims."
Lindell has also promoted a variety of statements surrounding the COVID-19 pandemic, many of which have been characterized as misinformation by fact-checkers. This includes the promotion of a plant extract called oleandrin. According to the New York Times, oleandrin is not an effective treatment for COVID-19. Experts believe it may even be toxic in small doses, as it is found in the deadly oleander plant.
In the aftermath of promoting these claims, Lindell was banned from Twitter, inspiring him to launch his own social media platform, Frank. Reportedly funded through the use of personal funds, Lindell described Frank as a mix between Twitter and Youtube.
The platform's only rules, stated by Lindell in a video, seem to be "you don't get to use the four swear words: the c-word, the n-word, the f-word, or God's name in vain."
However, despite launching earlier this year, Frank lacks many social media aspects and consists mainly of videos and posts by Lindell himself.
Newsweek has reached out to Mike Lindell's media team for comment, but did not hear back in time for publication.