Mike Lindell's 'No Merit' Lawsuit Over Jan. 6 Tapes Is Doomed to Fail
MyPillow CEO Mike Lindell is trying to sue House Speaker Kevin McCarthy over the release of the January 6, 2021, Capitol riot surveillance footage, however legal experts say his lawsuit has no legal standing.
"The suit has no merit," former federal prosecutor and elected state attorney Michael McAuliffe told Newsweek on Friday.
Lindell announced on Wednesday that his network, Lindell TV, was taking McCarthy to court after the House speaker revealed he was handing over 40,000 hours of footage from Capitol surveillance cameras to Fox News anchor Tucker Carlson.
Lindell, a staunch ally of former President Donald Trump, said he was suing McCarthy on two constitutional provisions, arguing that by giving Fox exclusive access, he was violating the equal protection clause under the 14th Amendment and the freedom of the press guaranteed under the First Amendment.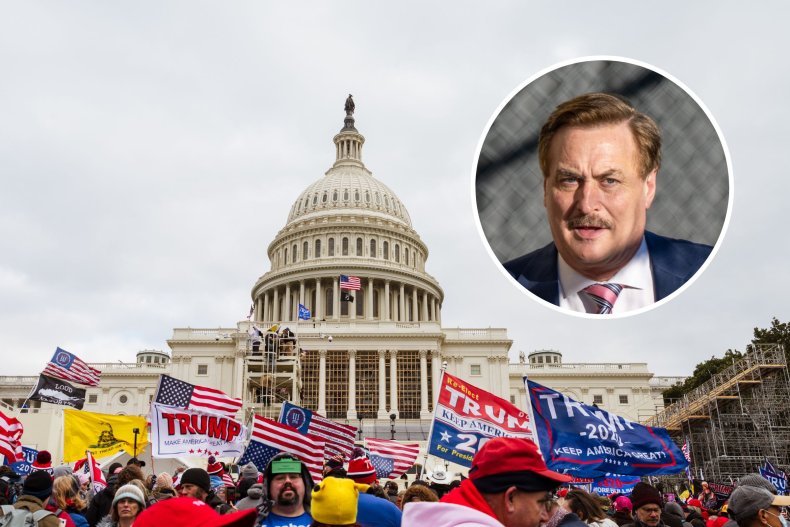 Saying how Fox News could filter which parts of the tapes to broadcast, Lindell added that granting the conservative network the power to do so was "not gonna happen on my watch."
Newsweek reached out to Lindell for comment.
Neama Rahmani, a former federal prosecutor and president of West Coast Trial Lawyers, told Newsweek on Friday that Lindell's suit will likely be dismissed because he "lacks standing" to raise his claims.
Although Lindell is arguing that his network was "injured" by not having access to the tapes, Rahmani said McCarthy, who represents the State, has not deprived Lindell of his privileges as an American citizen by choosing to only release the footage to Carlson.
"The Fourteenth Amendment prevents the government from discriminating based on protected characteristics. But it doesn't prohibit it from favoring one individual like Tucker Carlson," Rahmani explained.
Under the Constitution, the state cannot deny any U.S. citizen from the equal protection of law—a clause typically used to address discrimination on the basis of race, sex, origin, age, religion or disability.
Ion Meyn, an assistant professor of law at the University of Wisconsin, also told Newsweek on Friday that Lindell, as a network owner, is "not part of a protected class under the equal protection clause."
Similarly, Rahmani said the First Amendment is used to prevent the government from infringing on free speech or freedom of the press, the latter being necessary for the media to function as a government watchdog.
Rahmani added that McCarthy isn't violating that freedom "simply because McCarthy is giving the videos to one network." The House speaker has also stated that he would make the tapes more widely available after Carlson was done with the footage.
Despite the challenges that lie ahead of Lindell, he's vowed to take his lawsuit all the way up to the Supreme Court.
McCarthy's decision to hand the footage over to Carlson have also been criticized by Democrats, who say the move could put security around the Capitol in further danger.
Senate Majority Leader Chuck Schumer, a New York Democrat, called it a "grave mistake" to hand Fox News the video, saying it "would compromise the safety of the Legislative Branch and allow those who want to commit another attack to learn how Congress is safeguarded."
"All things anyone who would want to harm our country would love to learn," Schumer wrote in a Wednesday letter to his fellow senators.