Mike Pence Preparing 2020 Election Run Against 'Weak' Trump? Vice-President's Team Denies Explosive Claim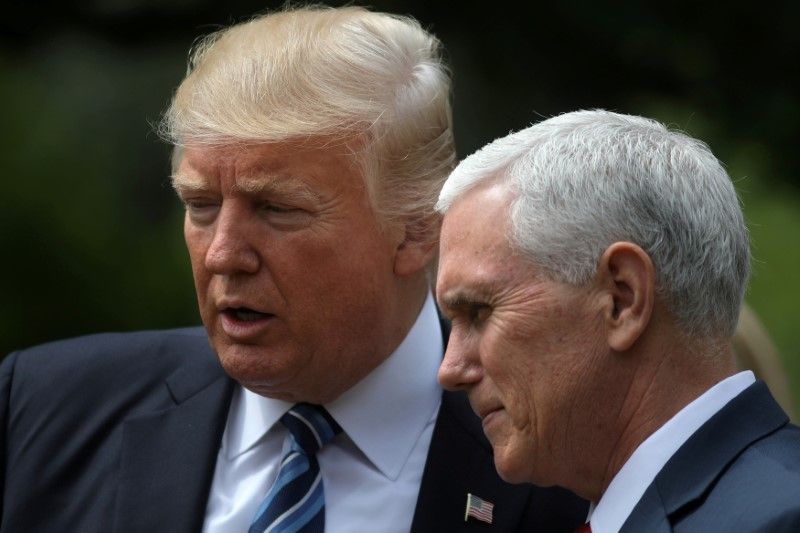 Mike Pence's press secretary has denied an explosive report from The New York Times Saturday that the vice-president is among a group of Republicans already preparing a "shadow campaign" for president in 2020. President Donald Trump is just over six months into his first term and has never suggested that he would not seek re-election for a second term.
Related: Mike Pence Will Soon Be President With Help From Spicer, Priebus, Democrat Maxine Waters Tweets
"Claims @VP preparing for 2020 run are ridiculous #FakeNews and nothing more than wishful thinking by New York Times," Marc Lotter tweeted, borrowing one of Trump's slogans and tagging on a Pinocchio emoji for good measure.
Yet, according to the report, Pence's recent activity is more in keeping with a vice-president in the dwindling days of a president's second term who is preparing for a run at the top job. In May, Pence took the step of launching his own political action committee— the "Great America Committee"—the first time a sitting vice-president has set up his own political arm.
The move provoked much speculation about his personal ambitions for 2020, although sources close to Pence insisted that the committee was set up to help support Republican candidates ahead of the 2018 midterms.
But, while Pence has never overtly criticized Trump publicly, his camp appeared to distance himself from the president in a statement addressing revelations of Donald Trump's Jr.'s meeting with a Russian government lawyer during the campaign.
"The vice president is working every day to advance the president's agenda," Lotter said last month. "He was not aware of the meeting. He is also not focused on stories about the campaign—especially those pertaining to the time before he joined the campaign."
If Pence does have his own ambitions about emerging as president after 2020, he would not be the only one in the Republican Party. Senators Tom Cotton and Ben Sasses as well as Ohio Governor John Kasich, who ran unsuccessfully against Trump in 2016, similarly have an eye on the next election, the Times reported.
Sen. John McCain is among those Republicans who told the Times that he can understand why members of the party are taking the unusual step of pursuing ambitions separate from a president still fresh in the White House.
"They see weakness in this president," McCain said. "Look, it's not a nice business we're in."
Several Republicans have been less than shy about the fact that they would prefer Pence, a career-long supporter of traditional conservative values, to be leading the party.
"For some, it is for ideological reasons, and for others it is for stylistic reasons," Rep. Charlie Dent of Pennsylvania said, before lamenting the "exhausting" amount of "instability, chaos and dysfunction" surrounding the current president.
While Republicans control the White House and both houses of Congress, they have thus far been unable to pass a single major piece of legislation. Last week, the signature goal of repealing and replacing Obamacare came to a dramatic end, with congressional Republicans and the president blaming each other for the failure.
In response, Trump has appeared keen to sure up his base of support, holding his latest of several campaign-style rallies in West Virginia Thursday. And the Trump team has warned that any attempted Republican coup of Trump would be destined to fail.
"The president is as strong as he's ever been in Iowa, and every potentially ambitious Republican knows that," White House spokeswoman Lindsay Walter told the Times.