Mike Pence: Abortion Rights Could Be Abolished 'in Our Time'
In an anti-abortion speech Tuesday, Vice President Mike Pence said he believes America could see the end of a woman's right to terminate her pregnancy "in our time."
Pence was a keynote speaker at a luncheon organized in Tennessee by anti-abortion groups Susan B. Anthony List (SBA List) and Life Issues Institute (LII) to celebrate their merger as part of the 2018 National Religious Broadcasters Convention.
The vice president said his 25-year relationship with the SBA List has been "one of the most meaningful of my life" and called President Donald Trump the "most pro-life president in American history."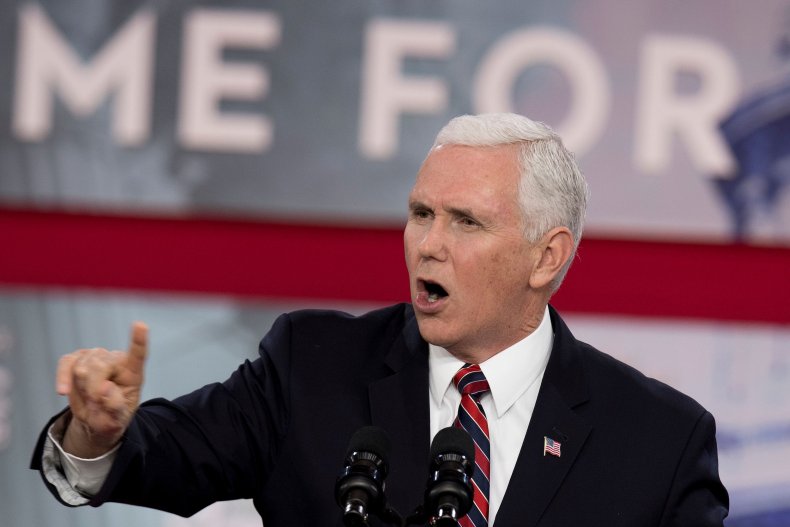 Pence then outlined the steps the administration has taken in the past year to reduce access to legal abortions in the U.S. and across the world. These included reinstating the Mexico City Policy—also known as the global gag rule preventing U.S.-funded organizations around the world from discussing abortions—and allowing states to block funding to family-planning centers like Planned Parenthood, although federal dollars are already barred from funding abortions under the 1976 Hyde Amendment. (Exceptions are pregnancies resulting from rape or incest or those presenting a danger to a woman's life.)
Pence said those measures showed "more progress in the last year in the cause of life than I have seen in public policy in all of my years" and claimed that "life is winning in America."
But the vice president's ultimate goal, as he publicly stated during the presidential campaign, is to overturn the landmark Supreme Court decision Roe v. Wade, which said in 1973 that criminalizing abortion is a violation of a woman's constitutional right to privacy.
"I truly do believe, if all of us do all that we can, that we will once again, in our time, restore the sanctity of life to the center of American law. But we have to do the work," Pence told the audience in Tennessee.
He then encouraged the audience to keep up the opposition to abortion rights. "I mean, for all the progress since 1973, the resilience of this movement proceeding out of the heart of a compassionate nation, I just know in my heart of hearts that this will be the generation that restores life in America," he said.
Abortion rights group NARAL Pro-Choice America reacted to the speech by saying it is indicative of the administration's efforts to "'normalize' the idea of a world in which women don't get to decide their own destinies or control their own bodies."
"This is the future that Mike Pence envisioned today, and it's a future that the majority of Americans reject," the organization's communications director, Kaylie Hanson Long, said in a press statement. "We look forward to when Mike Pence's tenure in the White House ends, which will most certainly be 'in our time.'"