Mike Pence Accuses Ex-Aide of Playing Politics With New Anti-Trump Ad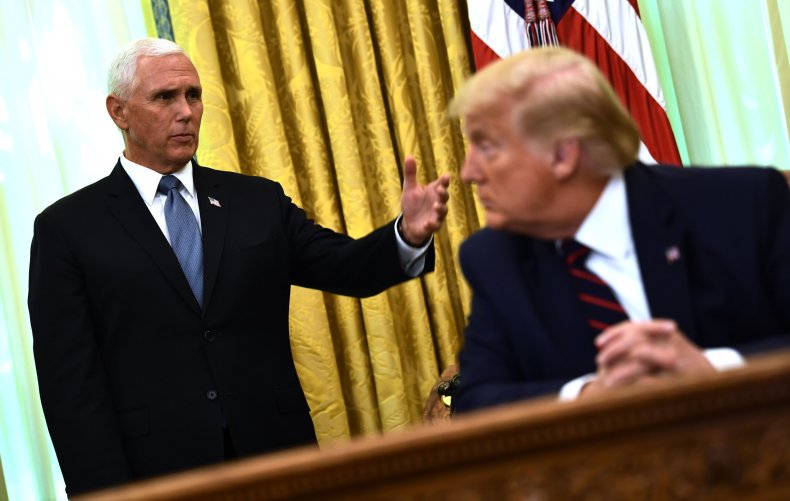 Vice President Mike Pence has accused a former top aide to the coronavirus task force of "playing politics" by endorsing Democratic former Vice President Joe Biden in this year's election because of President Donald Trump's response to the COVID-19 pandemic.
Olivia Troye, who was a senior adviser to the White House Coronavirus Task Force until she quit in August and began working for the National Insurance Crime Bureau, released a video on Thursday afternoon through the organization Republican Voters Against Trump, in which she criticized the White House response to the pandemic. Pence blasted Troye a short time later.
"While some may may want to play politics and say different things once they leave here than they said when they were here, we're going to keep focus on the American people, and keep driving to that day that we have a vaccine, and continue to make sure we tell the story of all the accomplishments," Pence told reporters less than an hour after the video was made public.
In the video, Troye claims that the president didn't take the coronavirus seriously and failed to keep Americans safe.
"If the president had taken this virus seriously, or if he had actually made an effort to tell how serious it was, he would have slowed the virus spread, he would have saved lives," Troye says in the ad.
RVAT has spent recent weeks rolling out several videos from former Republican voters and ex-Trump supporters who say they will be casting ballots for Biden this year.
Nearly 200,000 people in the United States have died of COVID-19 this year, and the pandemic continues averaging about 1,000 more deaths each day.
In the video, Troye claims that during one task force meeting Trump said the coronavirus could end up being a "good thing" because he would no longer have to shake hands with "disgusting people."
As Troye's video sent shockwaves and made headlines, Pence was meeting with a group of nursing home executives and other health care leaders at the White House to discuss a recent report on nursing homes and the coronavirus.
Pence told reporters he had not read seen the full details of Troye's claims.
"But, it reads to me like one more disgruntled employee that has decided to play politics during election year," Pence said. "My staff has indicated and she made no comments like that when she was serving under our team here at the White House."
Pence went on to tout the White House's response and praise Trump, as he has on other occasions when the response has been questioned.
"I couldn't be more proud of the work we've done," he said.