After Mike Pence Hits Kid in Face, Boy Demands Apology and Gets It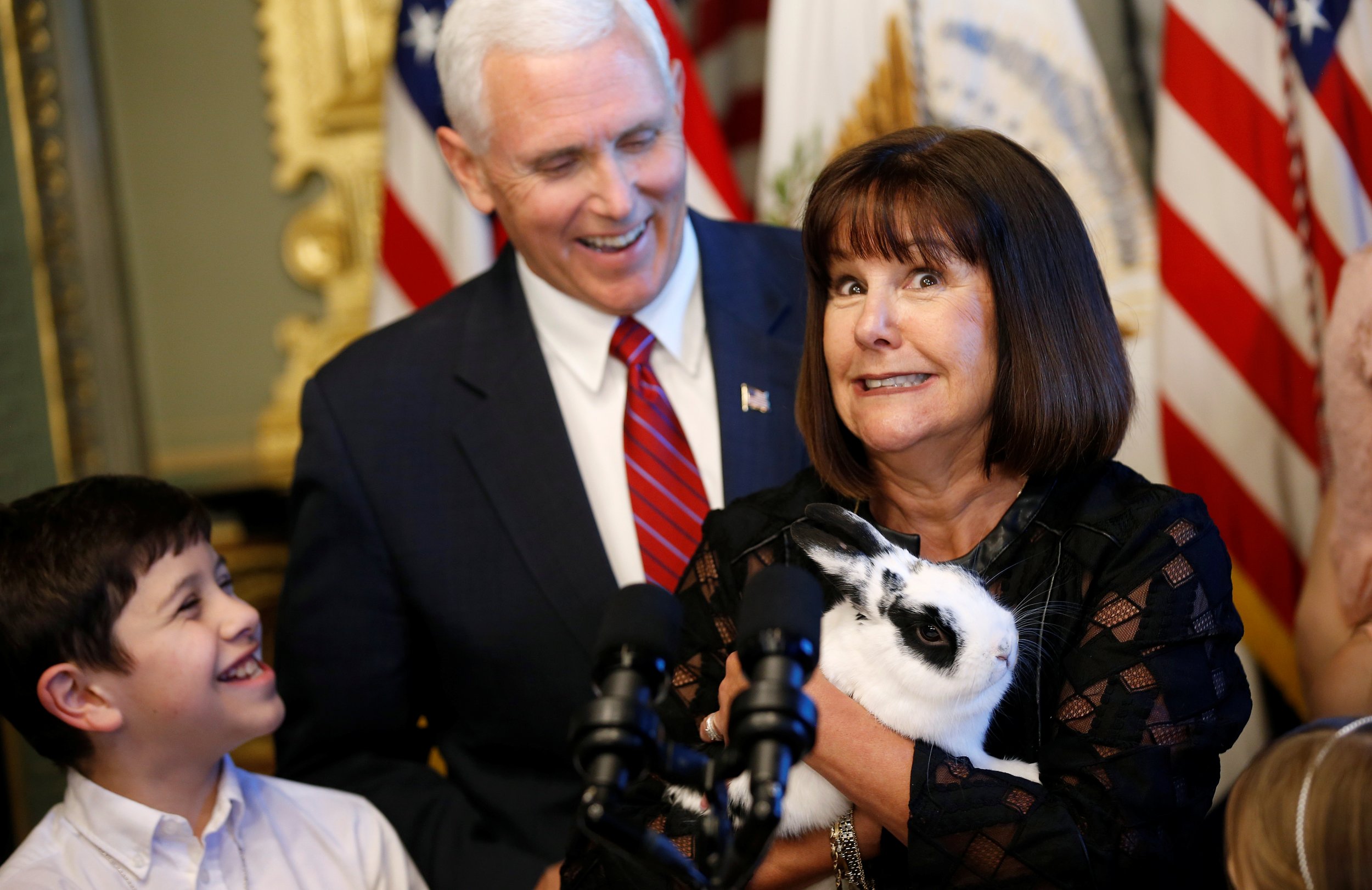 It all started innocently enough with a cute bunny rabbit. Vice President Mike Pence, along with his wife Karen, Ivanka Trump and National Security Adviser H.R. McMaster were hosting and honoring military families Tuesday in the Eisenhower Executive Office Building. Karen Pence introduced the children in attendance to Marlon Bundo, an adorable white rabbit with black spots and gray and black blended ears.
But at the very end of the ceremony, the vice president extended his right hand just a bit too far and inadvertently hit a young boy in the face, but not too hard to cause any sort of injury. But the young boy, according to New York magazine's The Cut, wanted an apology.
Back to the bunny for a second. Karen Pence noted to the audience that Marlon has his own verified Instagram account—which at present has more than 9,500 followers and is following 11 others—that he's warmly called BOTUS, named after late Oscar-winning actor Marlon Brando and he's the first of his species to ride Air Force Two.
Vice President Pence then offered kind words to the military spouses and members of each of the armed services branches, while pledging their lives would be different under the new president.
"And I just want to promise all the families who are here today—whether it's education or housing or counseling or moving or all the challenges that are faced in a military family's career," he said, "I want to assure you, military families will never have a better friend than President Donald Trump."
Then came the closing remark.
"Thank you all very much. God bless you, and God bless these wonderful kids who did such a great job today. [Laughter and applause.] Good job, everybody," Pence said just as his arm extended and boom! (Though not really.)
The former governor of Indiana, surrounded by young children and holding one in his arms, didn't immediately respond to the young unidentified boy, who followed Pence behind the podium saying, "You owe me an apology."
Pence eventually, and quite sincerely, apologized but still provided one of the more humorous situations that have lacked in the current and young administration.
The video below shows the quite minor exchange.