Following Donald Trump's inflammatory tweets telling Democratic congresswomen to "go back" to their countries, the vice president's chief of staff disputed charges that the president is racist by noting the one Asian woman of color in his cabinet.
Marc Short, Mike Pence's chief of staff, told Fox News on Monday that Trump couldn't have had any "racist motives" in his social media posts because he selected Elaine Chao to serve as his secretary of transportation. Chao was born in Taiwan and immigrated to the United States as a child.
Short said that when Chao moved to America she was "unable to speak English" but eventually became a naturalized citizen. Prior to serving in the Trump administration, Chao was the secretary of labor under President George W. Bush. She is also married to Republican Majority Leader Mitch McConnell.
"So when people write that the president has racist motives here, just look at the reality of who is actually serving in Donald Trump's cabinet," Short said.
But Chao is one of few remaining minorities serving in a senior position in the Trump administration. Among the 23 cabinet-level jobs, only three are filled by racial or ethnic minorities including Chao, Housing Secretary Ben Carson and Secretary of Health and Human Services Alex Azar.
"I think the president has a great ability to draw attention to Elaine Chao and his ability to tweet has been an effective communication skill," Short added when asked if the White House will be making any changes to stop the president before he writes such a controversial post.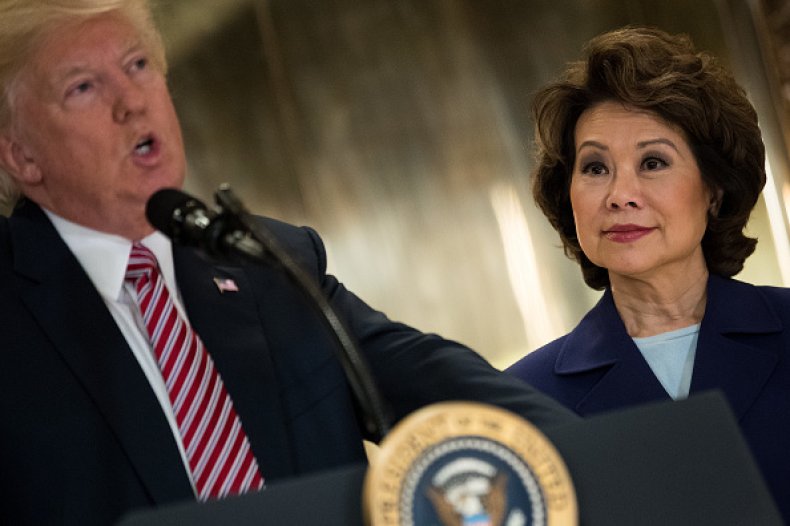 Trump railed against four progressive members of the House of Representatives in a series of tweets on Sunday, claiming the Democratic lawmakers are from "corrupt" and "inept" foreign countries. The president suggested they should "go back and help fix the totally broken and crime infested places from which they came. Then come back and show us how it is done."
While the president did not use specific names, he appeared to be referring to freshman Democrats Ilhan Omar of Minnesota, Rashida Tlaib of Michigan, Ayanna Pressley of Massachusetts and Alexandria Ocasio-Cortez of New York. Three of the four women were born in the U.S., with Omar being the only foreign-born lawmaker of the group.
Ocasio-Cortez, a lightning rod for attacks from the Republican Party, first responded to Trump's comments on Sunday. In a Twitter post, the New York Democrat accused the president of being the unprincipled figure in Washington. She cited the inhumane treatment of migrants at the southern border as an example of the "corruption laid at your feet."
On Monday, Ocasio-Cortez slammed the entire Republican Party for failing to speak out against the president's controversial remarks.
"Until Republican officials denounce yesterday's explicitly racist statements (which should be easy!), we sadly have no choice but to assume they condone it," she wrote on Twitter. "It is extremely disturbing that the *entire* GOP caucus is silent. Is this their agenda?"