Mike Pence Is Crazy, Venezuela President Nicolás Maduro Says After Migrant Caravan Accusations
Venezuelan strongman Nicolás Maduro on Wednesday called Vice President Mike Pence "crazy" and "extremist" after Pence's comments that leftist groups in Honduras allegedly financed by Caracas might be behind the migrant caravan that is heading toward the U.S.-Mexico border.
"I have tremendous power of assembly in Central America, Mike Pence! If it weren't because a crazy extremist like Mike Pence says it and how dangerous [his comment] is for my personal security, since I was already a victim of an open attack, one could only laugh at it," Maduro said during a gathering of intellectuals in Caracas, Peruvian newspaper El Comercio reported.
Maduro added that Pence's comments "first provoke laughter, and secondly, they generate concerns because the imperialistic paranoia starts, and they're capable of doing anything, so I warn the world of Mike Pence's paranoia and the extremist sectors of the U.S. government against Venezuela." Maduro noted that the White House had an "obsession because they haven't been able to defeat us."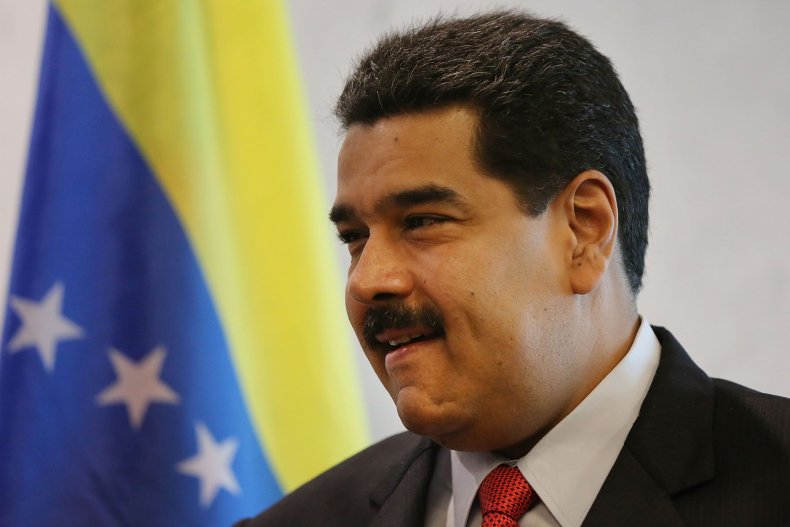 The strongman's response came a day after the vice president alleged that Honduran President Juan Orlando Hernández had told him the caravan "was organized by leftist groups in Honduras financed by Venezuela and sent north to challenge our sovereignty and challenge our border." Pence has pushed President Donald Trump's narrative that people of Middle Eastern descent are part of the 7,000-strong group "advancing toward our border." Trump admitted Tuesday that "there is no proof" of "Middle Easterners" in the caravan, but added that "there could very well be."
Several reports highlighted by The Wall Street Journal and conservative think tanks indicated that former Honduran lawmaker Bartolo Fuentes from the leftist Libre party purportedly organized the group of migrants hoping to reach the United States. Libre is spearheaded by former President and Hugo Chávez ally Manuel Zelaya, who was ousted by the military in a 2009 coup.
Fuentes, however, told Bloomberg on Tuesday that his only role was to recommend in a post on Facebook that people travel in groups for safety purposes. He told the publication that the Hernández administration was "using 'fictitious excuses' to shift the blame for the approximately 400 Honduran immigrants who leave the country every day to escape poverty."
As nearly 7,500 Central American migrants continue to move through Mexico, U.S. officials told The Washington Post Thursday that the Trump administration was expecting to deploy 800 more troops to the U.S.-Mexico border in an attempt to halt the caravan. CNN reported that the new dispatch would join an estimated 2,100 National Guard troops involved in border operations.
On Wednesday, Trump tweeted, "We are a great Sovereign Nation. We have Strong Borders and will never accept people coming into our Country illegally!"