Mike Pence NFL Game Walkout Was Unethical and Cost Local Police $14,000, Watchdog Says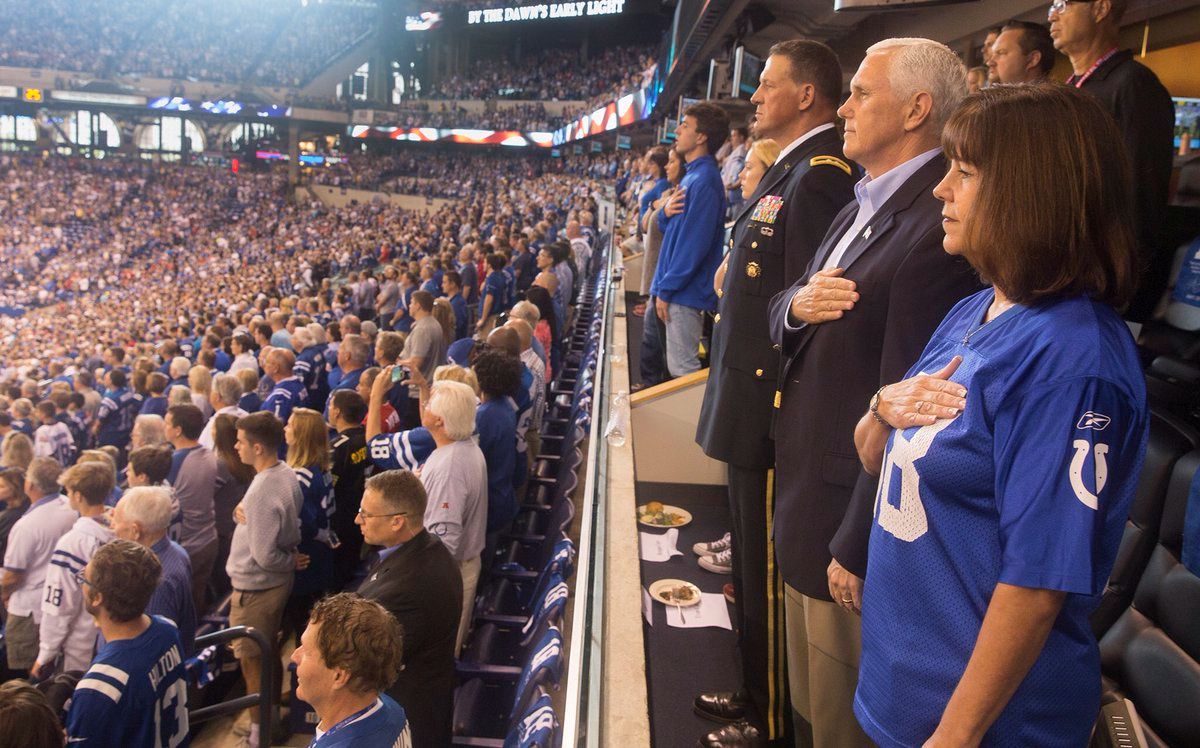 It was indeed an expensive walkout.
Vice President Mike Pence's attendance at the October NFL game he left early because of a "take a knee" player protest cost more than $14,000 in local police expenses, a government watchdog group said Tuesday.
Pence walked out of the October 8 game between the Indianapolis Colts and San Francisco 49ers after some of the California players kneeled during the performance of the national anthem. President Donald Trump later tweeted that he had asked Pence to leave the stadium if such a protest went down, saying the players were "disrespecting our country."
The watchdog group, Citizens for Responsibility and Ethics in Washington, or CREW, filed a request with the Indianapolis Metropolitan Police Department for the cost of Pence's high-security visit. The pricetag, per department records: $14,163.36 to $11,427.68 of that in overtime costs.
An earlier CNN estimate pegged the Air Force Two flight costs of the Pence trip that included the Colts–49ers game, which took the vice president from Las Vegas to Indianapolis to Los Angeles, at about $242,500.
CREW noted that a Pence staffer gave pool reporters a heads-up at the time that the vice president might cut out of the football stadium early.
A spokesman for the vice president didn't immediately respond to a request for comment, but CREW members said Pence's walkout smacked of a preplanned stunt—and a waste of money.
"They knew the protests would happen, Trump said he told him to leave if they did, they immediately sent out a fundraising email based on it. Reporters were warned about it before the game," CREW Communications Director Jordan Libowitz told Newsweek.
Trump latched on to the "take a knee protests" initally popularized by former 49ers quarterback Colin Kaepernick. The president called the demonstrations, which began as a silent protest against police brutality, an offense to Americans and the flag.
Pence sent out several tweets related to the game he left early, including one of himself and his wife, Karen, standing for the anthem.
But Libowitz pointed to a tweet Pence sent out that day which reportedly pictured him attending a 2014 home game, saying the vice president's staff "most likely had it cued up ahead of time. This was planned."
CREW Executive Director Noah Bookbinder said in a statement that Pence "should know better than to use taxpayer money to make a rhetorical point, but carelessness with taxpayer money seems to be a common theme with senior administration officials."
"There's a difference between what can you can get away with legally and what is ethically right," Bookbinder said. "At a time when the administration is proposing massive budget cuts for the federal government, it is especially inappropriate to use taxpayer dollars for a political publicity stunt."