Mike Pence Decries NBA for 'Kowtowing' to China, but Gave Incentives for Indiana Companies which Offshored Jobs There
Vice President Mike Pence said that China is "exploiting corporate greed" by dealing with American companies such as Nike and the NBA, who are in turn "muzzling" criticism of the country. But as governor of Indiana, he approved millions of dollars in economic development incentives to companies which offshored American jobs to China and other foreign nations, according to The BBC and Indiana Star.
Pence's comments were in reaction to NBA team owners' support of anti-Beijing protests recently taking place in Hong Kong. Hong Kong has seen multiple months of pro-democracy protests in response to a proposed Chinese extradition law. On Monday, the extradition bill was withdrawn, fulfilling only one of several demands made by protesters.
Newsweek subscription offers >
"In siding with the Chinese Communist Party and silencing free speech, the NBA is acting like a wholly owned subsidiary of the authoritarian regime," Pence said.
"Nike promotes itself as a so called 'social-justice champion,' but when it comes to Hong Kong, it prefers checking its social conscience at the door," said Pence.
"Nike stores in China actually removed their Houston Rockets merchandise from their shelves to join the Chinese government in protest against the Rockets general manager's seven-word tweet: 'Fight for Freedom, stand with Hong Kong.'"
In China, a pro-protester tweet from Houston Rockets head Daryl Morey resulted in NBA products being pulled from Chinese shelves and televised NBA games being blacked out on government-run television. The NBA's response to the tweet—including distancing itself from Morey—have caused fans to stand in solidarity with Hong Kong protesters during the league's games.
Newsweek subscription offers >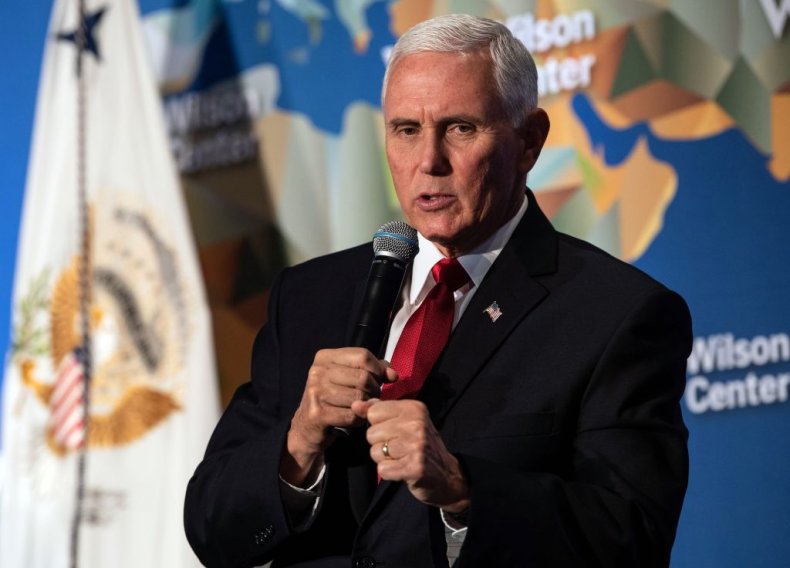 Congress approved a pro-Hong Kong protester bill on October 15, for which China has threatened retaliation if it becomes law.
Pence has repeatedly spoken out against Nike for hiring Colin Kaepernick, whose choice to kneel during the playing of the national anthem in protest of social injustices came under fire in 2018. The vice president even walked out of an NFL game in response, eventually saying Kaepernick had "the right to be wrong" in his choice of protest.
The comments from Pence come days after America ended its trade war with China. He added that the government was "not seeking to contain China's development".
"We want a constructive relationship with China's leaders," he said.
As Indiana governor, Pence approved $24 million in incentives to companies that outsourced their production to foreign countries, including Mexico and China, leaving Indiana citizens jobless.
In four cases, subsidies were returned to the government by the corporations in question: $746,000 in total as of 2016. But six of the companies which outsourced jobs did not return the credits or incentives and faced no consequences for doing so.
Four of the ten approved companies failed to create a promised 1,087 new jobs for the state, with 3,820 workers all in total losing their jobs to outsourcing. In at least two cases, his administration awarded incentives to companies that had already offshored jobs elsewhere.
"Unforeseen circumstances can affect business plans, and in those times, we offer our support and counsel to job creators. However, if a company chooses to neglect its commitment to the state and to its Hoosier employees, we aggressively seek to claw back any incentives the company has received," Victor Smith, then Indiana commerce secretary, told the Indiana Star at the time.
Mike Pence Decries NBA for 'Kowtowing' to China, but Gave Incentives for Indiana Companies which Offshored Jobs There | World