Mike Pence Quotes Bible in Response to 'Christian Supremacist' Accusations
When asked about a controversial new biography that labels him a "Christian supremacist," Vice President Mike Pence quoted the Bible to defend himself.
"The Bible says count it all joy when you endure trials of many kinds," Pence told the Christian Broadcasting Network in an excerpt of an interview broadcast Friday. "Any time I'm criticized for my belief in Jesus Christ, I just breathe a prayer of praise."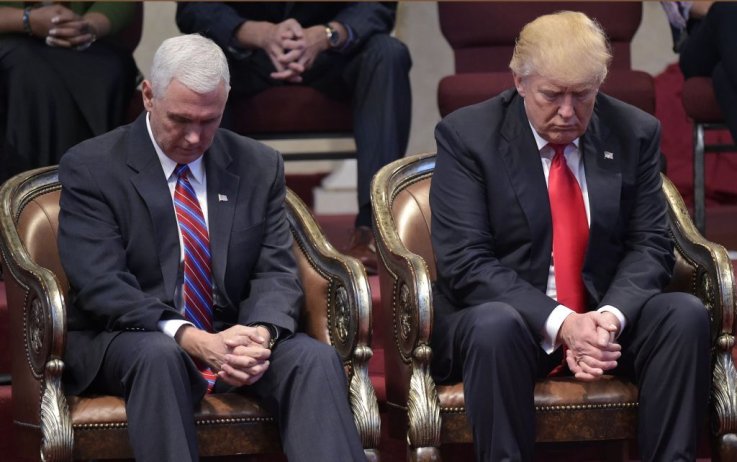 Pence's comments were first reported by USA Today.
The interview comes as controversial new biography The Shadow President: The Truth About Mike Pence, hit the shelves this week.
In the biography, authors Michael D'Antonio and Peter Eisner portray Pence as a "replacement president" and "the most successful Christian supremacist in American history."
They claim he is preparing a run for the White House, and plans to implement a hardline Christian agenda if he is elected to the office.
"I think he's a very divisive figure," said author Berman in a CNN interview Wednesday. "He would like to impose a religiously inspired politics on our country that means rolling back marriage equality, it means a ban on abortion, a whole host of policies that are religiously driven. He's very upfront about that."
Christian leaders have accused the authors of anti-Christian bigotry, with evangelical preacher Franklin Graham calling on supporters to pray that God will put a "hedge of protection" around Pence and his family.
In his statement to CBN, Pence described the U.S. as a "nation of faith."
"We'll always have gentleness and respect. We'll respect the beliefs and convictions of every American, but I'm just very confident that as we go forward and serve alongside this president that there are an awful lot of people across this country that share our faith and appreciate where we stand."