Mike Pence Says Democrats Abandoned Gun Control, Opioid Reforms in Favor of Impeachment
Vice President Mike Pence said congressional Democrats abandoned reforms on gun control, health care and opioid abuse in favor of impeaching President Donald Trump.
Pence, speaking in a wide-ranging Monday interview with PBS' Judy Woodruff, said Democrats have chosen a "reckless pursuit of impeachment" rather than potential progress on bipartisan domestic reforms. Pence said the Trump administration was working with both Republicans and Democrats over the summer to come up with changes to gun laws and combating opioid addiction. But Democratic leaders including House Speaker Nancy Pelosi, Pence said, decided to "spend all their political capital on investigations" he described as meaningless political impeachment fights.
Pence repeatedly called on Americans as a whole to let "their voice be heard" on Capitol Hill and to encourage Democrats to give up what he lamented as a secretive impeachment inquiry.
"This summer, we were talking with Republicans and Democrats about possible solutions that could go forward. Now, we'll always protect the Second Amendment right to keep and bear arms of the American people, but there are things that we can do that would make the country safer," Pence said Monday evening.
"We have a crisis of opioid abuse and addiction in this country. Our administration has made historic investments in supporting local law enforcement and healthcare providers," he continued. Instead of pursuing reforms on immigration, guns and the economy, Pence added, Democrats have "gone by the boards in this reckless pursuit of impeachment."
Several Democrats and Republicans have independently put forth gun control proposals including reforms to the background check process. But so far, only a bump stock ban issued by the Trump administration has gone into effect.
Many politicians on both sides of the aisle have repeatedly called for "common sense" gun control actions that do not impede on Americans' guaranteed Second Amendment right to bear arms. However, far-right Republicans have rejected any gun control measures as an infringement on their constitutional rights and far-left Democrats have dismissed such measures as not enough to be effective against mass shootings.
"I think elected representatives are going to continue to hear the American people say, 'Enough is enough,'" Pence continued, blasting the ongoing House-led impeachment inquiries. "Enough with the endless investigations. We want Congress to roll your sleeves up, work with this President, and keep America safe and growing strong.'"
Pence, however, made no mention of the massive amount of legislation that self-anointed "Grim Reaper" and Senate Majority Leader Mitch McConnell has left sitting on his desk from the House.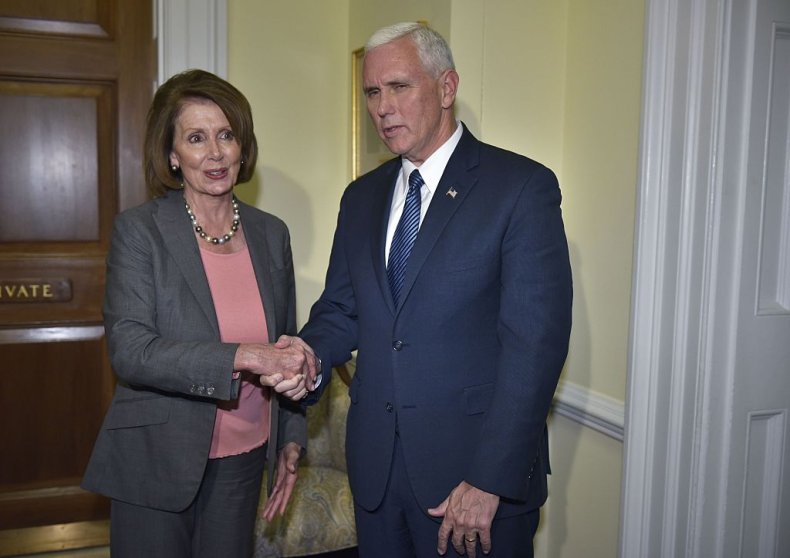 Pelosi did not announce her support for a formal impeachment inquiry until late September following reports of Trump's July 25 phone call with Ukrainian President Volodymyr Zelensky.
"The actions of the Trump presidency have revealed the dishonorable fact of the president's betrayal of his oath of office, betrayal of our national security and betrayal of the integrity of our elections," Pelosi said in a brief statement on September 24. "Therefore, today, I am announcing the House of Representatives is moving forward with an official impeachment inquiry."