Mike Pence Denies Discussing Plans to Throw Donald Trump Out of Office: 'Obvious Attempt to Distract'
Vice President Mike Pence called the bombshell New York Times essay, which detailed White House officials' efforts to remove Trump from office, "an obvious attempt to distract attention from this booming economy and [the president's] record of success."
In an interview with CBS's Face The Nation, scheduled to be broadcast in full on Sunday, Pence rejected allegations made by the anonymous author of the New York Times op-ed titled "I Am Part of the Resistance Inside the Trump Administration," who revealed plans from within to remove the "amoral … impetuous, adversarial, petty and ineffective" Trump from power.
The piece, published Wednesday, sparked widespread criticism, with several senior officials coming forward to deny their involvement in writing the article. Much of the suspicion has fallen on Pence, however, the vice president has since told CBS that he "wouldn't know" who the author is before condemning those involved in its release.
"But what I can say," he said, "it's a disgrace. I think the author … and frankly the New York TImes should be ashamed."
When asked whether discussions of removing Trump from office using the 25th amendment were underway in the White House, Pence said" "No. Never. And why would we?"
The 25th amendment to the U.S. constitution clarifies that if the sitting president dies, resigns or is removed from office, then the vice president will assume his position. It also provides procedures to be followed for replacing a vacancy in the vice president's office and for dealing with presidential disabilities.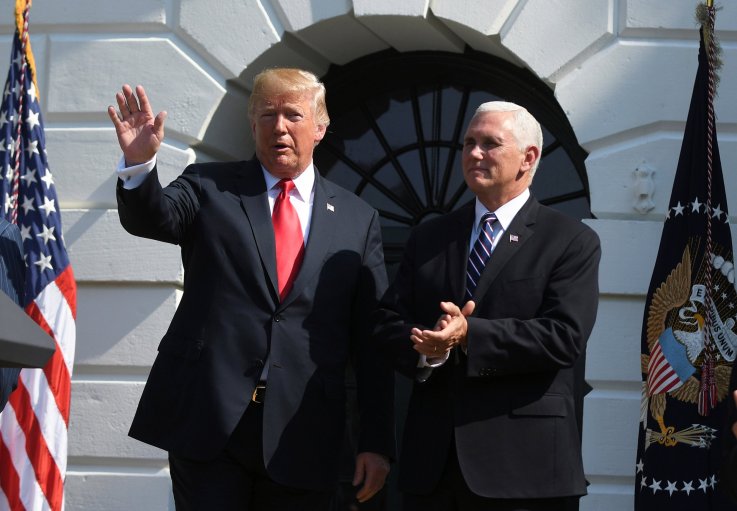 The comments come a day after The Washington Post posted an article detailing Watergate journalist Bob Woodward's new book titled "Fear: Trump in the White House." In it, the author reported that the president's aides frequently disobeyed his orders or removed papers from his desk to thwart him.
Woodward's book also quoted former Republican National Committee chairman Reince Priebus, who reportedly said in 2016 that Pence was "prepared to step up" to the presidency, with Condoleeza Rice "as his VP" if Trump was removed from office for the Access Hollywood tape scandal.
But rather than discuss that, Pence steered his CBS interview to attacking former-president Barack Obama for reemerging in the political realm on Friday.
"[The] truth of the matter", Pence said, "is over the last eight years, despite what we heard from President Obama on Friday, I mean this country was struggling."
In another interview with Fox News, also set to air on Sunday, Pence said it was "very disappointing" to see the former-President "become so political."
"The truth is, the American people in 2016 rejected the policy and direction of Barack Obama when they elected President Donald Trump," Pence said. "It was very disappointing to see President Obama break with the tradition of former presidents, and become so political and roll out the same tired argument that he and liberals have made over the last eight years."