Mike Pence Denies Inviting 'Christian Rabbi' to Speak at GOP Rally 'on Behalf of the Jewish Community'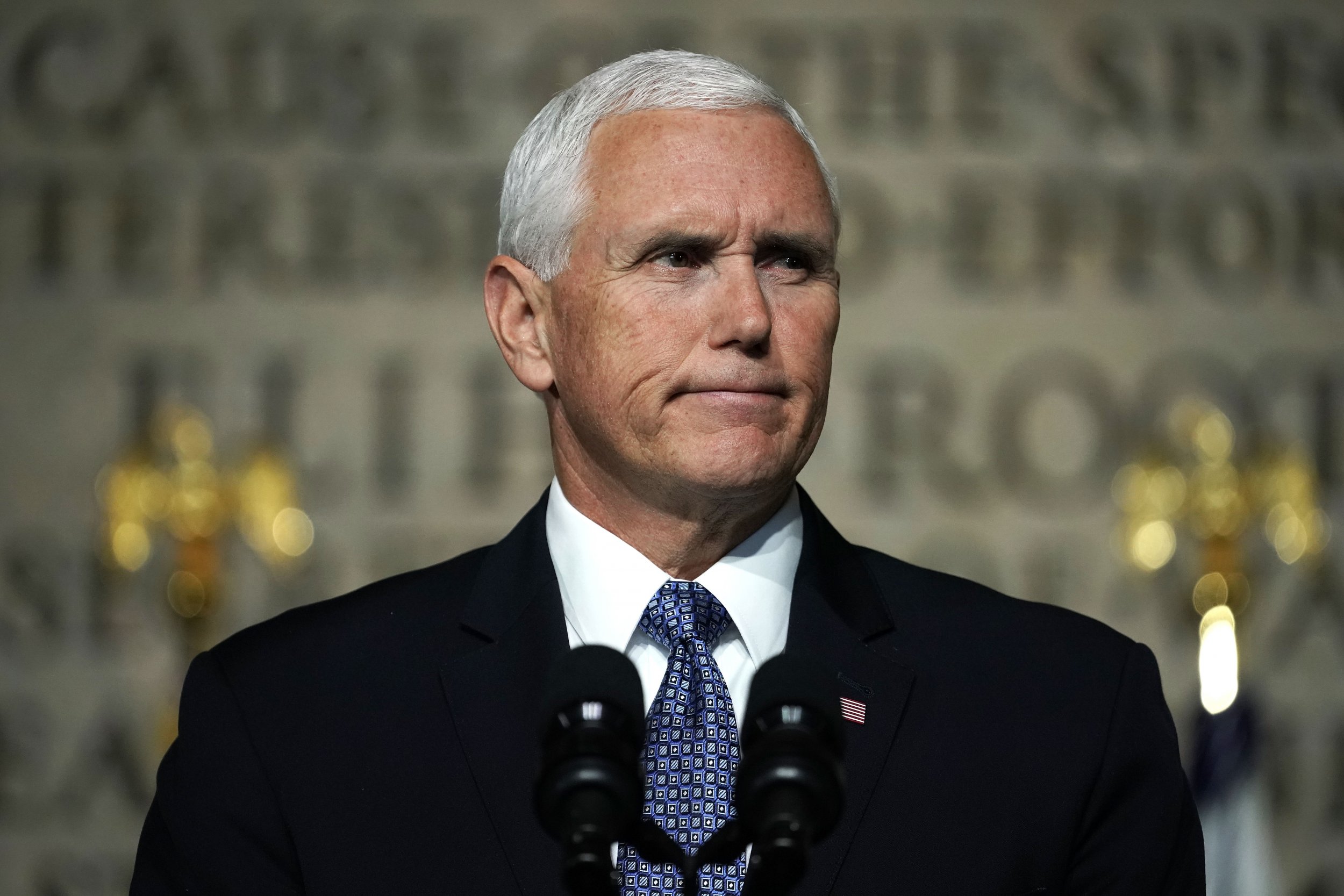 Mike Pence sparked a backlash after a rabbi from a fringe messianic sect, which believes Jesus Christ is the messiah, said a prayer before the vice president spoke at a Republican campaign rally in Waterford Township, Michigan.
Critics saw it as a tone-deaf response to the shooting at a Pittsburgh synagogue in which 11 Jews were killed on Saturday by a suspect with anti-Semitic views. Pence is an evangelical Christian.
But Pence's office denied inviting the rabbi—who sits outside mainstream Judaism—and instead blamed GOP congressional candidate Lena Epstein, according to The Associated Press. Most Jews do not believe Jesus is the messiah or acknowledge that he is God.
Rabbi Loren Jacobs, founder of the messianic synagogue Congregation Shema Yisrael, began his prayer Monday night by hailing the "God of Abraham, God of Isaac, God of Jacob, God and Father of my lord and savior Yeshua—Jesus the Messiah—and my God and Father too," as seen in C-Span footage of the event.
During the prayer, Jacobs said: "Heavenly father, Messiah told us that a house that is divided against itself cannot stand. Our nation is so divided right now. The hate-inspired shooting in the synagogue in Pittsburgh is the latest evidence of this. I pray that you would comfort all those who are mourning because of those who were wounded and killed."
Jacobs then went on to pray for several Republican candidates running in the midterm elections to win but "if for reasons known to you victory is not your will for any of them, help them accept your will with patience and with grace," he asked of God.
According to his website, Jacobs is a missionary who "moved to Michigan to proclaim the Good News about the Messiah to the 70,000–80,000 Jewish people living in the metro Detroit area," seeking the conversion of local Jews.
Responding to the prayer before Pence's speech, Rabbi Danya Ruttenberg tweeted: "Dear Pence, please give up the pretense of Jewish presence. You are a Christian supremacist. We know that, you know that. Also we will defeat you. But in the meantime, just stop pretending and appropriating my people."
Rafael Shimunov, who is Jewish, called Jacobs a "Christian rabbi," on Twitter.
"In response to antisemitic white nationalist attack, Vice President Mike Pence opens campaign event with a Christian Rabbi," Shimunov wrote.
"He begins by promoting that people in power are ordained by Jesus to wield power. Then, rather than praying for the victims and survivors of the Pittsburgh synagogue attack, Mike Pence's Christian Rabbi prays—by name—for each Republican candidate on a list given to him.
"This is no mistake. It's a message... Normally, a Rabbi would open with Kaddish, a prayer for the dead—and list names of those taken. And blessings to the community at risk, Jews, immigrants, etc. Here, it is instead a prayer for Republican candidates to win on November 6 and a blessing for Mike Pence.
"You see, they need to placate Jews and allies who support them without alienating their white nationalist base."
An aide to Pence, who was not named, told The Associated Press: "[Jacobs] was not invited by the VP's office to speak on behalf of the Jewish community."
Epstein, who is running as the Republican candidate in Michigan's 11th District, released a statement in response to the criticism. "My family's history as Jews and my commitment to my Jewish faith are beyond question," Epstein said.
"I invited the prayer because we must unite as a nation—while embracing our religious differences—in the aftermath of Pennsylvania.
"Any media or political commentator who is attacking me or the Vice President is guilty of nothing should of religious intolerance and should be ashamed."
Jacobs declined Newsweek's request for comment.
This article was updated to say Jacobs declined to comment.