Mike Pence Denies Iran Was 'Shooting to Miss': Their Intention Was to 'Kill Americans'
The lack of casualties during Iran's recent missile strike wasn't for a lack of trying, according to Vice President Mike Pence, who denied they deliberately missed.
"The ballistic missiles at American bases in al-Asad, Erbil, we believe were intended to kill Americans," Pence told Today host Savannah Guthrie on Thursday.
On Tuesday, Iran fired more than a dozen missiles at two military bases in Iraq that house American personnel. Since there wasn't a single American casualty, some U.S. officials floated the idea that Iran orchestrated the attack that way.
However, Pence told Guthrie that intelligence supported the belief that Iran wasn't "shooting to miss," as the Today host phrased it.
Army General Mark Milley, the chairman of the Joint Chiefs of Staff, took a similar position as Pence. He told reporters on Wednesday that his "personal assessment" of the situation was that the missile strike was intended to cause structural damage, destroy vehicles, equipment and aircraft, and kill personnel.
"But the analytics is in the hands of professional intelligence analysts. So they're looking at that," Milley added.
Pence claimed America's actions, not Iran's, were responsible for all personnel being safe after the attack. Those actions included the "excellent work" of the military on the ground, President Donald Trump's order for force protection, measures that were taken, and intelligence.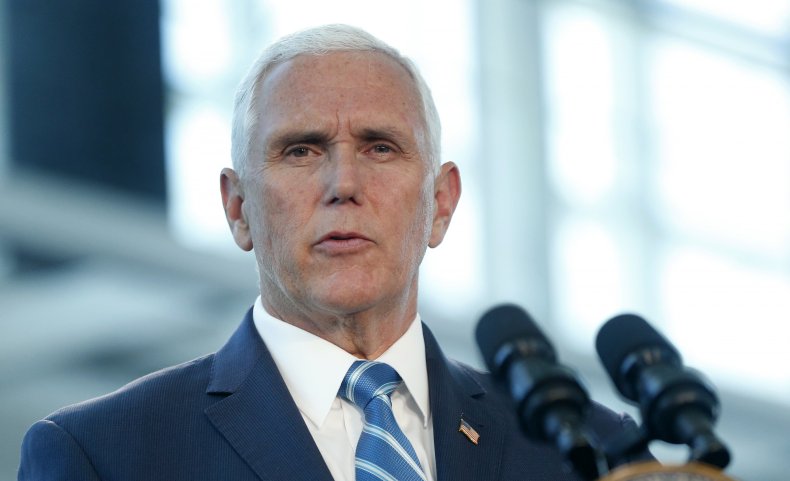 If American officials had advanced warning of the attack, Guthrie questioned whether it was risky to allow it to be carried out and to not stop the ballistic missiles. Pence denied America was taking a chance in not stopping the missile, saying it was "not at all" risky.
"We've been prepared and...our military personnel repositioned people, we repositioned assets, we made sure we were as safe as we could be," Pence said. "But, we also made it very clear, as President Trump said in his tweets and his statements, that any loss of American lives would be met with strong repercussions, strong military response."
Iran promised revenge for the U.S. killing Major General Qassem Soleimani last week. On Saturday, Trump warned Iran in a series of tweets that a loss of American life would trigger a "very fast" and "very hard" hit on 52 sites that are important to Iranian culture. After facing backlash for the comment, as the strike would violate the 1954 Hague Convention, Trump claimed the U.S. would follow all laws.
If Iran intended to kill Americans and failed, reporters asked if the country would see this as an incomplete mission. Milley said it was "too early to tell," but added that military leaders "fully expect" groups in Iraq that are backed by Iran to attack U.S. and U.S.-led forces.
In a letter to the U.N. Security Council, Iran's U.N. Ambassador, Majid Takht Ravanchi, said they didn't seek to escalate the situation or go to war and claimed the attack was "targeted military objectives thus leaving no collateral damage to civilians and civilian assets in the area.
Mike Pence Denies Iran Was 'Shooting to Miss': Their Intention Was to 'Kill Americans' | U.S.