Trump Needs Pence on Campaign Trail Despite Staff COVID Crisis to Woo Evangelicals
Mike Pence's decision to carry on with his campaign commitments despite COVID-19 cases among his staff comes with President Donald Trump trailing in the polls and looking to bolster support among groups which backed him in 2016.
And the vice president's appeal to evangelical Christians, which boosted Trump last time out, might explain his reluctance to cancel events in the run up to November 3.
Pence has been described as an essential worker in statements, with this being the official line as to why his travel plans remain unchanged despite his chief of staff and others in his team testing positive for COVID-19.
"As much as President Trump is loath to admit it, Mike Pence solidifies his support with evangelicals who currently support the president," David Andersen, assistant professor in U.S. politics at Durham University, told Newsweek.
"Growing numbers of those voters are displeased with the president's rhetoric and persona, even while supporting his policies. They view Pence as the moral foundation of this presidency and are comforted by his presence on the ticket. His absence in this last week of campaigning might depress turnout among conservatives who are turned off by some of the president's brashness and might simply not turn out to vote. Pence is key to communicating with them."
While recent polling from Pew Research showed white Christians across the board generally favor Trump, his support among this demographic, including among evangelicals, has dropped in recent months.
Its polling put Biden ahead overall among 10,543 U.S. voters asked September 30 to October 5, but Trump garnered more support from white Christians. White Catholics favored him by 52 percent to 44 percent for Biden, White protestants who are not evangelical 53 percent to 43 percent.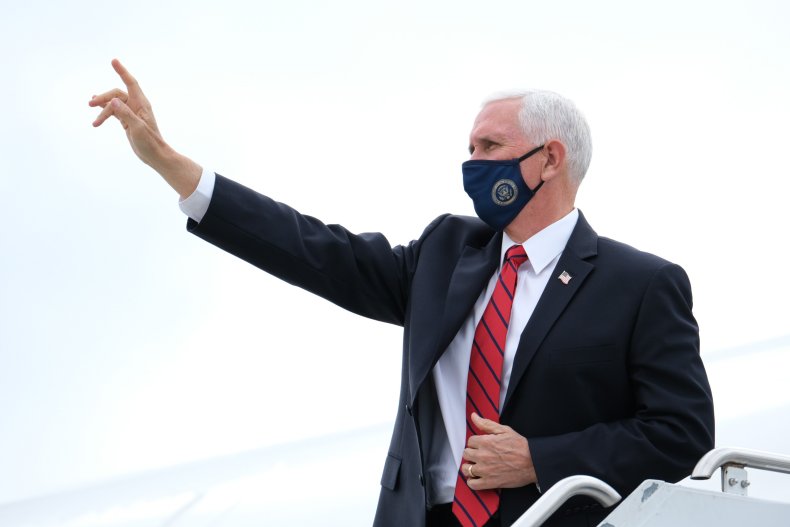 White evangelical protestants marked a stronger group for Trump in terms of support, 78 percent to 17 percent for Biden. However, the 78 percent was down from 83 percent from polling conducted in August. He has also seen his approval among such groups drop.
Trump has persisted in trying to steady his support amid Christian voters, branding his rival Biden and other Democrats as being "against God," while his campaign has insisted he is the "only candidate who will fight for Evangelical voters."
Pence, who has described himself in the past as "a Christian, a conservative and a Republican, in that order," might help in boosting Trump's appeal to such voters, with polling suggesting Americans do not necessarily see Trump as religious himself.
In regard to Pence's decision to persist in campaigning, Iwan Morgan, emeritus professor of United States studies at University College London, told Newsweek that Pence was "critical to his [Trump's] outreach to evangelicals," while also suggesting some of these "live in the suburbs that are supposed to be swinging to Biden."
Peter Trubowitz, director of the U.S. Centre at the London School of Economics and Political Science, told Newsweek he feels the decision perhaps reflects a wider need for Trump to bolster support.
Pence's actions contrasting to Democratic vice presidential candidate Kamala Harris', who cancelled travel plans and quarantined when their was a COVID-19 case among her staff, also perhaps more simply reflects the contrasting stances in regards to the pandemic, he said.
"I think it reflects two things: desperation in the Trump campaign; they need Pence on the campaign trail to help fire up the base in normally reliable Republican states where they are being forced by the defection of white college-educated voters to play defense; and a sense that it will send the "wrong" signal to hard-core Trump voters if the vice president behaves like Sen. Kamala Harris (i.e. follows CDC guidelines to quarantine)," Trubowitz said.
"The White House is arguing that Pence is an 'essential worker,' but there is nothing very essential about campaigning, unless being behind now counts as 'essential.'"
In regards to Pence's pull with evangelicals, Trubowitz said he believes this is an area the vice president can boost Trump with—though questioned how much he needs this compared to broader support.
"Yes, at the margins perhaps. Trump doesn't seem to have much a problem with this voting bloc. I think the reason they want Pence traveling is that they have so many places they need to drive the vote—too many places for Trump to cover alone," he said.
Thomas Gift, a political science professor and founding director of the Centre on U.S. Politics at University College London, similarly told Newsweek he felt the decision perhaps reflected the Trump administration's position on the pandemic.
"My sense is that Pence's decision to keep campaigning has less to do with Trump needing his VP to go to bat for him with certain voters, and more to do with the administration's general messaging about COVID-19: that it's not going to let the virus slow down the campaign—or Trump's America. As chair of the White House's Coronavirus Task Force, Pence has played a central role in what critics say is the administration's systematic attempts to downplay the seriousness of the virus," Gift told Newsweek.
"By refusing to pull himself out of the campaign, Pence signals to voters the same narrative that Trump has pushed since the outset of the pandemic —that, despite public health experts ringing alarms bells, the severity of the crisis is overstated. That narrative maybe turn off many Democrats—and contribute to surging infection rates—but it resonates with Trump's base, which is eager to get the nation back to business as usual."
David Brockington, lecturer in politics and social science methods at the University of Plymouth, suggested it might just simply be a case of "all hands on deck" due to the president trailing Biden in national polling and in several key states.
"I'm not sure any strategy has gone into keeping Pence out in the field specifically, beyond being nine points behind in the polls with a week to go strongly suggests a strategy of 'all hands on deck,'" he told Newsweek, while also questioning what power Pence actually has to sway voters.
"The VP nominee generally doesn't make that much of a difference in terms of appeal or
ticket balancing or geographic effect or otherwise."
Pence is due to speak at a rally in Greensboro, North Carolina, on Tuesday afternoon, followed by another in Greenville, South Carolina, later in the day.