Trump, Pence Trolled by Dictionary.com: 'There's a Word for a Person Who Would Praise Someone Every 12 Seconds'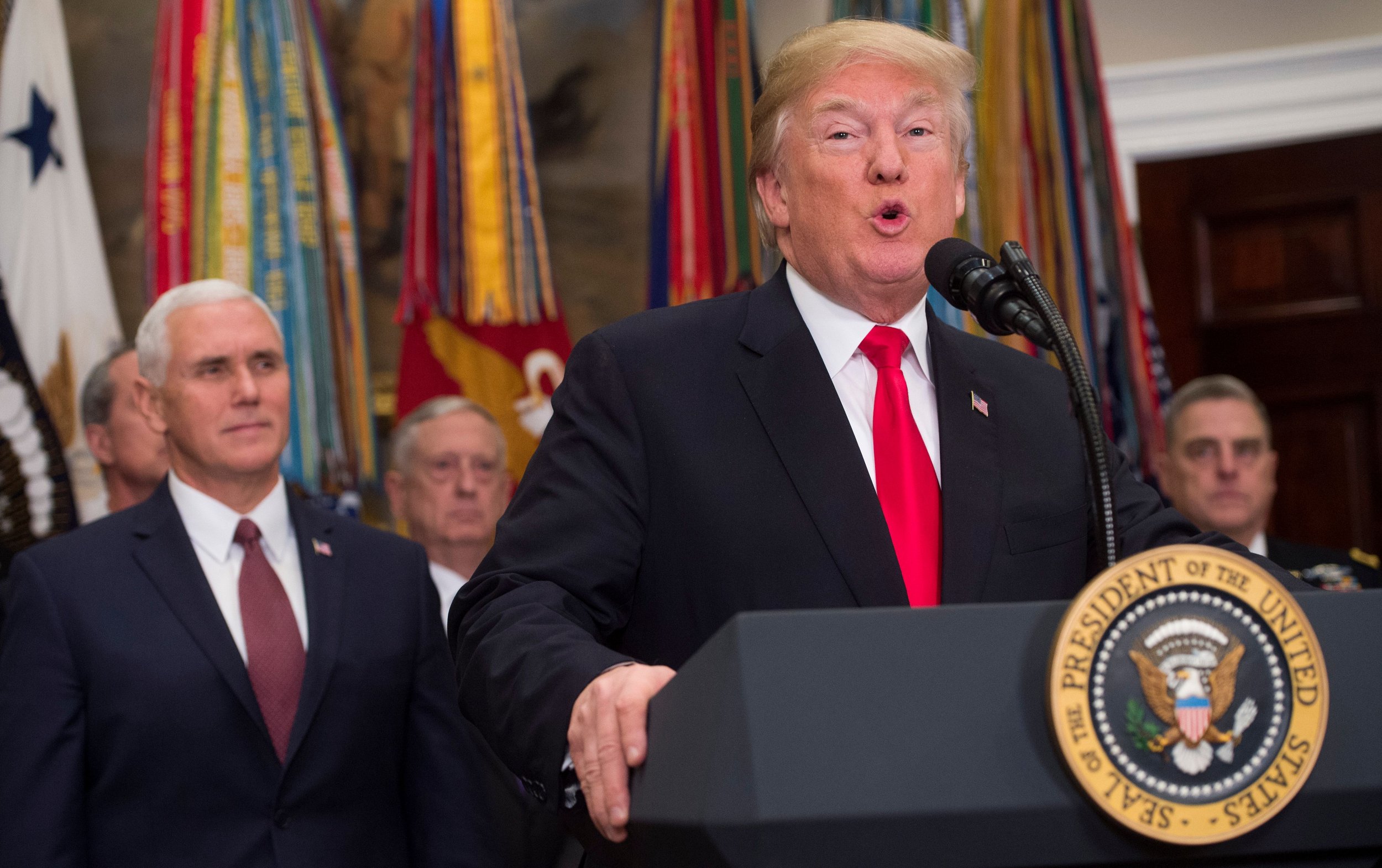 Vice President Mike Pence has been called many things over the years: husband, father, governor of Indiana, "silver fox," "treasonous bastard," "Luddite," and "Christian fascist," to name a few.
Now you can add "sycophant" to the list.
On Thursday, the official Twitter account for Dictionary.com tweeted a jab at Pence for fawning over President Donald Trump for three straight minutes, dishing out a compliment every 12 seconds on average, during a prayer session at Trump's last cabinet meeting of the year Wednesday.
"There's a word for a person who would praise someone every 12 seconds," tweeted the 22-year-old online dictionary, which is based on the Random House Unabridged Dictionary.
Below the text was a link to the noun "sycophant," defined as "a self-seeking, servile flatterer; fawning parasite."
As compiled by CNN, here's a list of some of the most endearing accolades levied by Pence at his boss:
"Congratulations and thank you. Thank you for seeing through the course of this year an agenda that truly is restoring this country.

"You've restored American credibility on the world stage. We're standing with our allies, we're standing up to our enemies."

"You signed more bills rolling back federal red tape than any president in American history. You've unleashed American energy. You've spurred an optimism in this country that's setting records."

"I'm deeply humbled as your vice president to be able to be here. Because of your leadership and because of the strong support of the leadership of the Congress, you're delivering on that middle class miracle."

"I want to thank you Mr President. I want to thank you for speaking on behalf of and fighting every day for the forgotten men and women of America."
Dictionary.com wasn't the only one having fun at the vice president's expense.
"'You are the single greatest human in this galaxy -- nay in any galaxy.' -- Mike Pence on Trump, basically," tweeted CNN correspondent Chris Cillizza.
.
Videographer and viral meme master Victor Bergermeister also joined in on the fun, tweeting that Pence "kisses Trump's ass" during the meeting.
Dictionary.com's slight at Pence is reminiscent of North Korean leader Kim Jong Un's dig at Trump in September.
"I will surely and definitely tame the mentally deranged U.S. dotard with fire," Jong Un said.
Pence is currently in Afghanistan.