Mike Pence Drops Strongest Hint Yet About Joining 2024 Race
Former Vice President Mike Pence on Wednesday gave the strongest indication yet that he may join the 2024 race for the White House.
As seen in a video posted online by Politico, Pence made the hint while speaking with reporters about fellow Republican Nikki Haley during the Parents' Rights Grassroots Rally hosted by Advancing American Freedom in Cedar Rapids, Iowa.
The former congressman and onetime Indiana governor praised Haley for her decision to seek the GOP nomination for president before suggesting that he too might seek to head the Republican ticket in 2024.
"I wish her well. Ambassador Nikki Haley did a great job in our administration," Pence said, referring to Haley's position as U.S. ambassador to the United Nations during former President Donald Trump's administration.
"She may have more company soon in the race for president, and I promise folks here in Iowa—and all of you—I'll keep you posted," Pence added.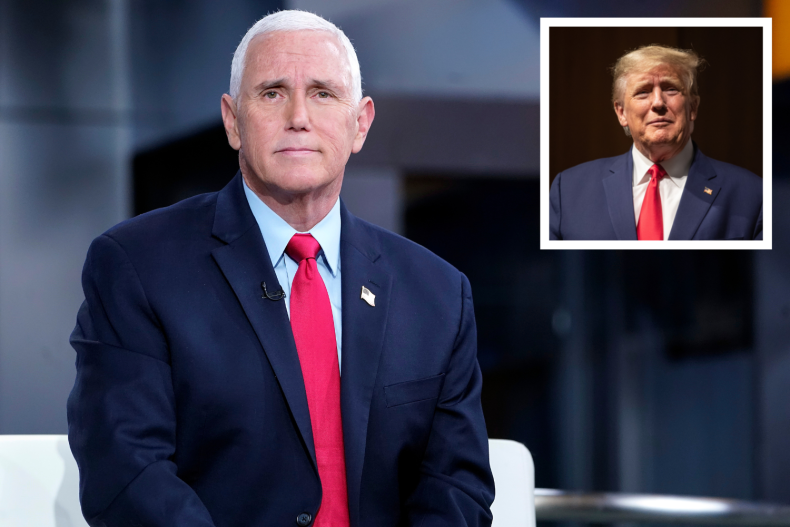 Haley, the former governor of South Carolina, officially joined the race for the White House with a video announcement on Tuesday.
"The Washington establishment has failed us over and over and over again. It's time for a new generation of leadership to rediscover fiscal responsibility, secure our border and strengthen our country, our pride and our purpose," Haley said in the video.
Meanwhile, Trump announced his White House bid for 2024 in November of last year. On the morning that Haley announced her candidacy, Trump spoke with his former attorney Jenna Ellis on her syndicated radio show about Haley and another potential GOP presidential candidate, Florida Governor Ron DeSantis.
"To me, loyalty is a very important word but you can look at Nikki Haley....She said, 'I would never run against our president,'" Trump said, referencing a statement Haley made in 2021 about how she "would not run if President Trump ran." (She later backtracked on the comment during a January interview with Fox News.)
Trump added that Haley and DeSantis "have to do what they have to do. It's OK."
Since the end of his presidency, Trump has not been aligned with Pence and has even publicly criticized his former vice president for not doing more to challenge the results of the 2020 presidential election.
Among Trump's comments expressing disapproval of Pence was a May 2022 interview on The John Fredricks Show in which Trump said he was "greatly disappointed" by Pence's stance on the election.
"I'm very disappointed in Mike, as a lot of people are," Trump said on the show. "He's just very greatly disappointed me. He had a great opportunity and all he had to do was just send it back to the legislatures, let them decide."
More recently, though, Trump defended Pence after classified documents were discovered at Pence's Indiana home in January.
"Mike Pence is an innocent man. He never did anything knowingly dishonest in his life. Leave him alone!!!" the former president wrote on his Truth Social platform.
Pence has previously been pressed about his plans for 2024. When asked about a possible run during a January interview with CBS News, Pence emphasized he didn't feel an urgency to make a decision.
"The only thing we've decided for sure is that we weren't going to let anybody else make our decision for us," he said.
Republican strategist Matt Klink told Newsweek that "Pence faces significant obstacles should he decide to seek the 2024 GOP presidential nomination."
"His biggest challenge will be to separate himself from President Donald Trump. He served as Trump's number two for four years," Klink said. "If the former vice president were to get into the race, he would be yet another name in what's expected to be a crowded field, which would be music to Donald Trump's ears. Donald Trump needs a crowded GOP primary field because he brings a base—albeit a smaller base—to the table."
He added, "Republicans need 2024 to be a 'change' election—one where the status quo gets rebuffed, Washington 'insiders' get challenged and younger candidates rise to the top."
GOP consultant Alex Patton told Newsweek that he doesn't foresee Pence or Haley posing much of a challenge to the former president.
"I think Pence and Haley are in the same lane. Neither has the courage to be bold and they likely get swallowed by Trump and other more bold candidates," Patton said. "I don't see a lane for either one of them to victory in today's GOP."
Newsweek reached out to Pence for comment.