Moderate Mike Pence? VP Echoes Trump in Spreading Conspiracy Theories, Falsehoods About Migrant Caravan
Vice President Mike Pence is following the lead of Donald Trump when it comes to addressing the approaching migrant caravan, spreading some of the same falsehoods and conspiracy theories as the president.
On Tuesday, Pence supported Trump's unfounded claim that the migrant caravan approaching the U.S.-Mexico border includes "unknown Middle Easterners." The president has yet to provide any evidence for his assertion. The caravan consists of thousands of undocumented migrants who want to cross the southern border from Central America.
"It's inconceivable that there are not people of Middle Eastern descent in a crowd of more than 7,000 people," the vice president said in an interview with Washington Post reporter Robert Costa at an event sponsored by the newspaper. Pence added that the caravan consists of a group of "traffickers" who want to take "advantage of not only our porous borders but loopholes in our laws."
The rhetoric of the vice president largely mirrors that of his boss who, in a series of tweets on Monday morning, politicized the issue by telling people to "think of and blame the Democrats" for the group of migrants trying to cross the border.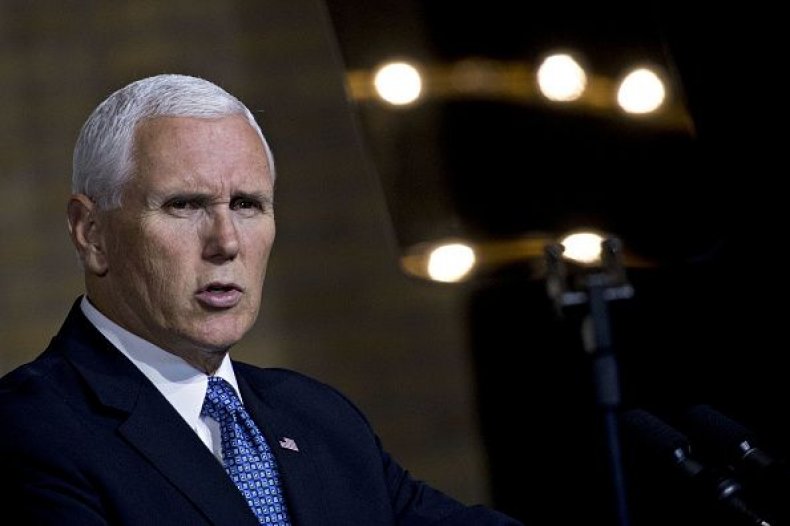 "Every time you see a Caravan, or people illegally coming, or attempting to come, into our Country illegally, think of and blame the Democrats for not giving us the votes to change our pathetic Immigration Laws! Remember the Midterms! So unfair to those who come in legally," Trump wrote.
In other social media posts, the president vowed to cut off foreign aid to Guatemala, Honduras and El Salvador for not stopping the caravan. He also said that he alerted border patrol and military members that the caravan has become a "national emergency."
Pence defended Trump's position on Tuesday, adding that "in the last fiscal year, we apprehended more than 10 terrorists or suspected terrorists per day at our southern border from countries that are referred to in the lexicon as 'other than Mexico.'"
The vice president has made the same claim several times over the past year, often to justify the Trump administration's "zero tolerance" immigration policy that resulted in widely criticized separations of migrant families.
But the Department of Homeland Security has debunked the claim, clarifying that the statistic from fiscal year 2017 includes the number of terrorists who attempt to enter the United States by air, sea and land—not strictly by passing through the southern border. Of those three categories, over 2,100 terrorist attempts to enter the country were by air and just 335 by land over the course of fiscal year 2017.