Mike Pence Is 'Essential Witness' for Trump Prosecution: Ex-U.S. Attorney
Former Vice President Mike Pence is considered an "essential witness" in the January 6, 2021, Capitol riot investigation that is looking into whether or not former President Donald Trump played a role in trying to overturn the 2020 presidential election results, according to former U.S. Attorney Joyce Vance.
"Pence has always been the essential witness when it comes to establishing whether or not Trump's involvement in the pressure campaign for the VP to interfere with the election result was criminal. [Special Counsel Jack Smith] has to get his testimony before he can make a prosecutive decision," Vance wrote on Twitter on Thursday.
Smith subpoenaed Pence on Thursday, requesting documents and testimony related to the events around the riot when a mob of Trump supporters stormed the Capitol building to stop the certification of Joe Biden's victory.
Weeks before the insurrection, Trump repeatedly claimed that Pence could prevent Biden from being president by rejecting the Electoral College votes that certified his win.
Even while the Capitol building was being attacked, the former president tweeted that Pence "didn't have the courage to do what should have been done."
In his new book So Help Me God, Pence wrote about how Trump repeatedly pressured him to block the congressional certification on January 6 despite the former president's attorney, John Eastman, knowing it might be illegal to do so.
Though Pence is seen as a key witness in the January 6 investigation, he might be a "late in the game witness," according to Vance, who said in a separate tweet on Thursday that the former vice president is someone to talk to after gathering all other testimonies and "when you're just about ready to make a decision."
Meanwhile, former federal prosecutor Glenn Kirschner said during an appearance on MSNBC's The 11th Hour that Pence being subpoenaed showed that Smith's investigation is reaching a "climax."
"Often when we're involved in large-scale grand jury investigations, we leave the most consequential, the most important, witnesses for the end," Kirschner said. "Why? Because we want to develop all of the information and evidence we can from all of the other sort of lesser witnesses, because we might want to use that information, we might want to confront the most important witnesses with everything else we've learned."
He continued: "So, if the Trump insurrection investigation were an action adventure movie, it kind of feels like we've now entered the car chase phase and we're kind of heading toward the climax."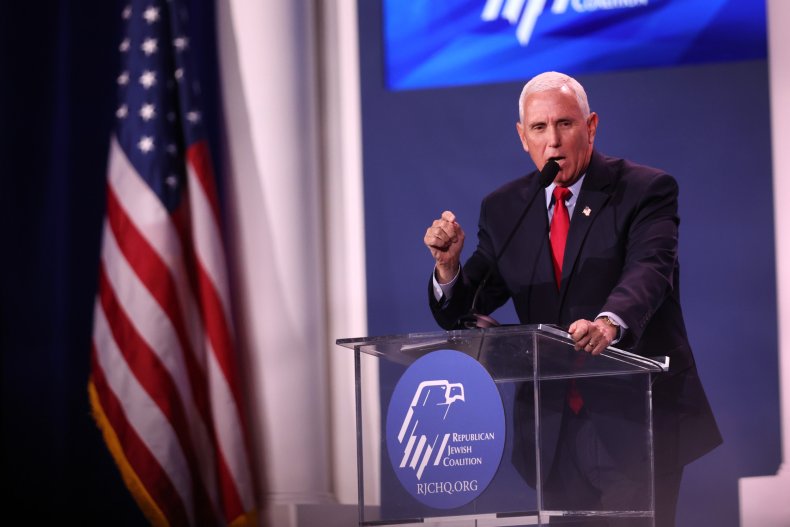 Federal prosecutors have spent months negotiating with Pence's legal team before Smith issued the subpoena, according to ABC News on Thursday.
Besides overseeing the January 6 probe, Smith was appointed last November as the special counsel to oversee the investigation looking into Trump's mishandling of hundreds of classified documents that were seized by the FBI from his Mar-a-Lago estate last August. Trump, however, maintains his innocence and said that he has done nothing wrong.
The FBI on Friday conducted a search at Pence's house in Indiana for more classified documents, CNN reported. Another FBI search will be carried out at his office in Washington, D.C. The former vice president's legal team said that they don't believe there are classified documents either at his house or his office.
Newsweek reached out to Vance and Pence's attorney Emmet Flood for comment.