Vice-President Mike Pence's Europe Visit Showed His Outsize Influence in the New Administration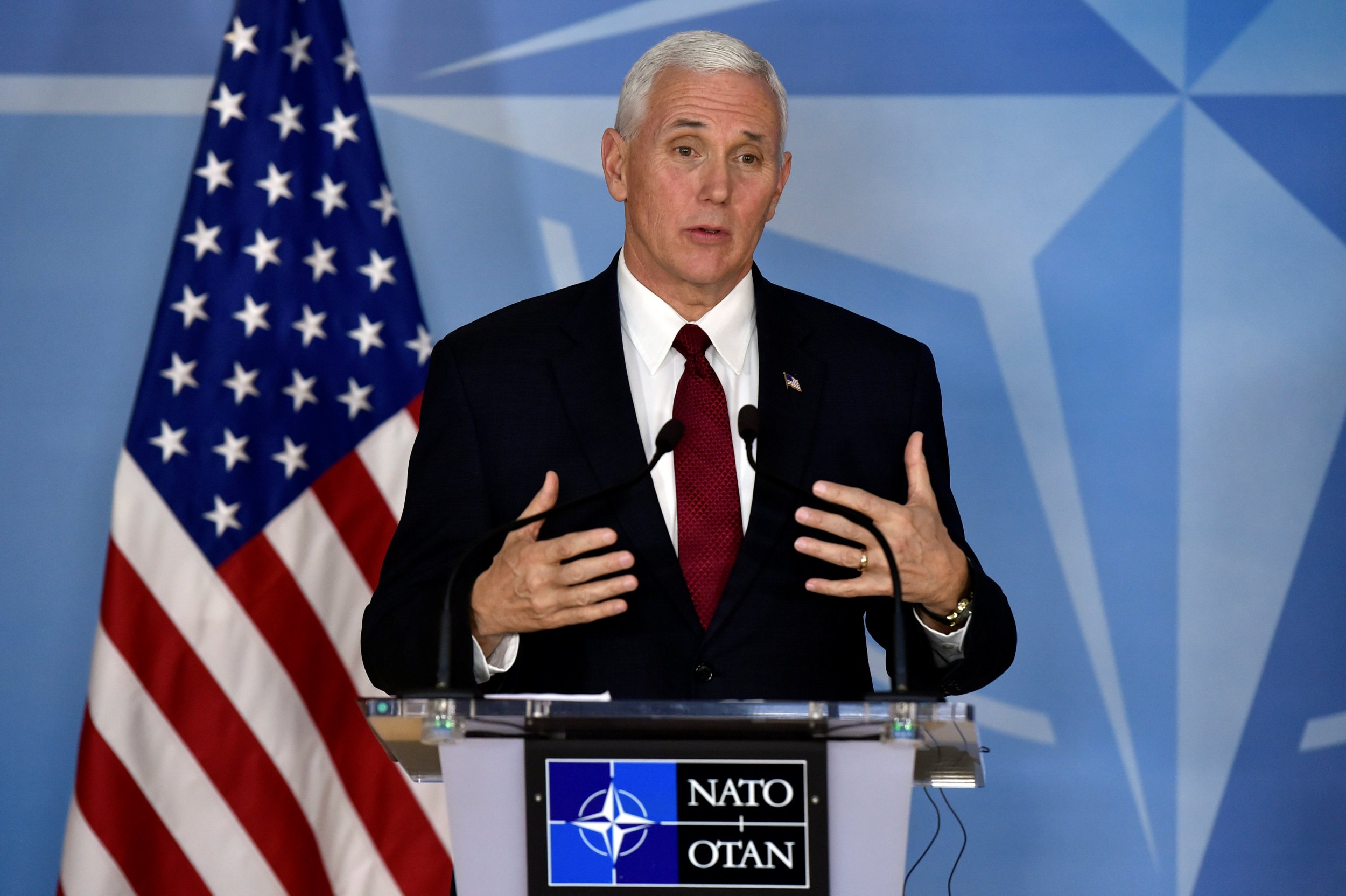 Mike Pence finished up his first international trip as U.S. vice-president with meetings on Monday in Brussels with President of the European Council Donald Tusk. During the multi-day visit, Pence promised "unwavering US support" for NATO, and that Russia would be "held accountable" for its actions, reassuring many allies in the region and beyond.
While Pence had tough rhetoric on the need for greater NATO burden-sharing, the substance of his speeches and talks was mainstream Atlanticist (the belief in cooperation between Europe, the U.S. and Canada), and much removed from Trump's criticisms of the EU and NATO. Europeans and other allies are now hoping that Pence assumes real influence as vice-president, and that he and other officials such as Defense Secretary James Mattis and Secretary of State Rex Tillerson have a disproportionate say on U.S. international policy compared to the president.
Read more: How many days before President Pence?
Pence's high-profile European trip, alongside his role in the ousting on February 13 of National Security Adviser Mike Flynn, indicates that the vice-president wants to assume a significant role not just in US domestic policy, but also the country's international relations too. In so doing, Pence would follow a pattern in the last quarter of a century whereby the last three incumbents of his job — Joe Biden, Dick Cheney, and Al Gore — all enjoyed sizeable influence in U.S. foreign policy.
Indeed, Cheney—a predominant voice in many of George W. Bush's decisions, including the US-led invasion of Iraq in 2003—is widely viewed as the most powerful ever holder of the office. But Biden and Gore played a major role in U.S. foreign and domestic policy too.
Biden was, for instance, a key player encouraging Obama to secure the 2015 nuclear deal with Iran. A good example of Gore's influence in Bill Clinton's administration was the major role he played in the international negotiations that led to the 1997 Kyoto Protocol to help tackle climate change.
A key part of the reason for the influence of all three vice presidents was the generally close relationships they enjoyed in office with Obama, Bush and Clinton respectively, and this appears to be the case with Pence and Trump too. However, a shared structural factor is also the increased status of the vice presidential office which, as well as being reflected in larger staff budgets, also includes greater proximity to the center of power through a West Wing office in the White House; weekly one-on-one meetings with the president; and authority to attend all presidential meetings.
It is this model of the vice presidency that Pence has assumed, and this will reinforce his position in the Trump team. Since leading the Trump transition before Inauguration Day on January 20, Pence has played a key role on the domestic policy front for Trump in liaising with Republicans and Democrats in Congress (given his pre-existing network of relationships in the legislature from his former role in the U.S. House of Representatives); and being an essential point of administration outreach to conservative activists still unsure of the precise philosophical direction of the Trump presidency.
A month into the Trump administration, it is also now clearer that Pence wants to play a significant role too on the foreign policy front. The vice president has thrown himself energetically into his new responsibilities as an international ambassador for the president and he knows that his responsibilities may only expand as part of reassuring allies across the world.
Part of the reason why Pence could be such a key figure in the administration is that Trump, at 70, was in November the oldest person ever to win the presidency, surpassing the previous record held by Ronald Reagan, who was 69 when he won the 1980 election. This raises the possibility that—especially if Trump wins a second term in 2020—Pence might be required to assume the presidency upon the incumbent's unanticipated death or incapacity.
And it is partly for this reason that Trump perhaps chose a significantly younger running mate (Pence is 57) with wide-ranging political experience whom he perceived to be capable of assuming the top job should that be necessary. History underlines the crucial role that vice presidents stepping up to the presidency have played and it is perhaps Harry Truman who best exemplifies this. Within weeks of assuming office after Franklin Roosevelt's death, Truman had to make several hugely consequential and controversial decisions, including the dropping of atomic bombs on Hiroshima and Nagasaki in August.
If Trump survives the full duration of his presidency, Pence could still get his hands on the top job if he and the administration are perceived to have been successful in coming years. This is because the vice-presidency has become perhaps the single best transitional office to the presidency in recent decades, and it is very plausible that Pence could run for the top job in the future, potentially in 2020 (if Trump does not run again) or 2024 if not.
Indeed, since 1960, four sitting vice-presidents (Richard Nixon in 1960, Hubert Humphrey in 1968; Walter Mondale in 1984; and Gore in 2000) have won their respective party's presidential nomination, but then lost the general election. Meanwhile, two vice-presidents have been elected president (Nixon in 1968 and George H.W. Bush in 1988).
Taken overall, the vice-president looks likely to be an influential player in international affairs, not just domestic policy. Given Trump's sometimes fiery and unpredictable rhetoric, that could reassure U.S. allies; and if Pence has his eye on the presidency, why not start making those connections now?
Andrew Hammond is an Associate at LSE IDEAS (the Centre for International Affairs, Diplomacy and Strategy) at the London School of Economics