Pence Faces Criticism After Blaming Obama Administration for ISIS Hostage Death
Vice President Mike Pence touted his administration's record on returning U.S. hostages to America during Wednesday night's vice presidential debate, underscoring his remarks by blaming President Barack Obama for the death of American Kayla Mueller while she was being held by Islamic State militants in 2015.
The Trump administration has regularly celebrated its record on securing the release of American hostages abroad, contrasting its success with some high-profile failures of the Obama administration—particularly those killed by ISIS.
Pence was joined in the debate hall by Mueller's parents Carl and Marsha. Both were also featured in President Donald Trump's State of the Union address in February and spoke at the Republican National Convention in August.
Pence said Wednesday that the Obama administration—with Democratic presidential candidate Joe Biden serving as vice president—"hesitated" to move on the Syrian location where they believed Mueller was being held.
By the time they launched a rescue mission, Mueller—who was reportedly abused by late ISIS leader Abu Bakr al-Baghdadi—had been moved to another location.
Mueller, 26, was kidnapped in Aleppo, Syria in 2013 after leaving a Doctors Without Borders hospital. She had been serving as an aid worker in southern Turkey before crossing into Syria.
Pence said Mueller's parents believed that had Trump been president at the time, "Kayla would be alive today."
Democratic vice presidential candidate Kamala Harris then addressed Mueller's family. "I know about your daughter's case, and I am so sorry," she said. "What happened to her was awful and it should have never happened. And I know that Joe feels the same way, and I know that President Obama feels the same way."
Former Democratic Senator Joe Donnelly took issue with Pence's attack. Donnelly was involved in the Obama administration's efforts to free American hostage Peter Kassig, who was eventually killed by ISIS militants in Syria in 2014.
On Twitter, the former Indiana lawmaker rejected Pence's suggestion that the Obama administration was weak on hostages.
"Mr. Vice President, out of respect for the Kassig family, I have never discussed, in a political forum, my efforts as Indiana's United States Senator to free Peter Kassig and the other hostages from ISIS captivity," he wrote. "Your comments tonight leave me no choice."
"I (and so many others) worked day after day with the Obama/Biden administration, our military, and others to try and bring Peter and the others home from ISIS captivity," Donnelly said.
"We worked nonstop to see the Kassig family together again with their son, and I was heartbroken we could not get him home. I know firsthand the hard work put in by these Patriots, including the Administration, that you criticize tonight."
"One thing I do clearly remember is I saw and spoke to those in the Obama/Biden administration in this all out effort to free Peter and the other hostages much more than I saw or heard from you about this effort."
Author and columnist Charles Lister was among those critical of Pence's attack. "Shame on you @VP @Mike_Pence — exploiting the death of an #American hostage abroad for campaign politics is revolting & FWIW, despicably un-Christian," Lister wrote on Twitter.
During the RNC in August, Mueller's parents were also critical of the Obama administration. In their speech, they said had Trump "been president when Kayla was captured, she would be here today."
Pence and Harris clashed the same day that two British ISIS militants—part of the four-man group dubbed "The Beatles" because of their British backgrounds and accents—were brought to the U.S. to face trial in connection with the deaths of American hostages, including Mueller.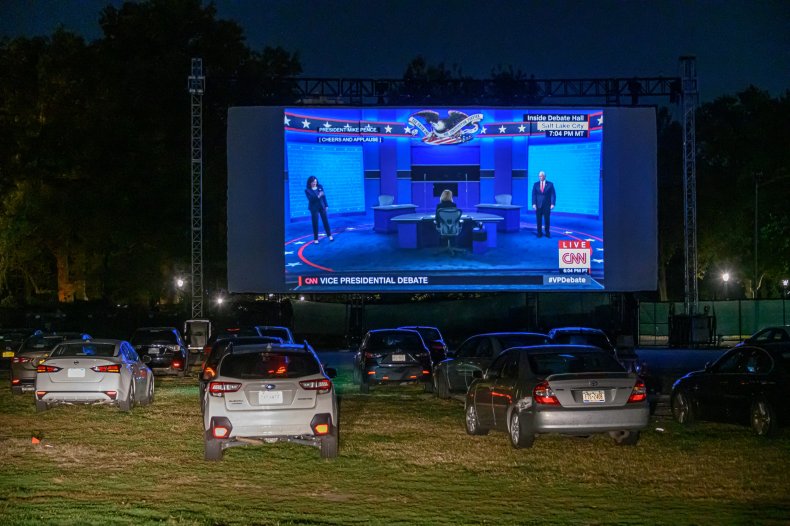 Update: The headline has been updated.