Mike Pence Heading to Georgia Rallies as GOP's Senate Majority Hangs in Balance
Vice President Mike Pence is slated to appear at two rallies with Georgia Senators Kelly Loeffler and David Perdue as the crucial runoff contests for their seats in the upper chamber remain close, according to new polls.
After landing in Georgia this morning, the vice president will speak alongside Loeffler and Perdue at a "Defend the Majority" rally on the Canton campus of Chattahoochee Technical College at around midday.
When the hour-long event draws to a close, Pence will then join the senators at the Chicopee Woods Agricultural Center in Gainesville, a city in the north east of the Peach State, for another one hour rally, according to an online invitation.
"Vice President Mike Pence is returning to Georgia TOMORROW for TWO rallies with David Perdue and me!" Sen. Loeffler tweeted on Thursday evening. "Help us hold the line." It is not yet clear whether President Donald Trump will make a later appearance in the state.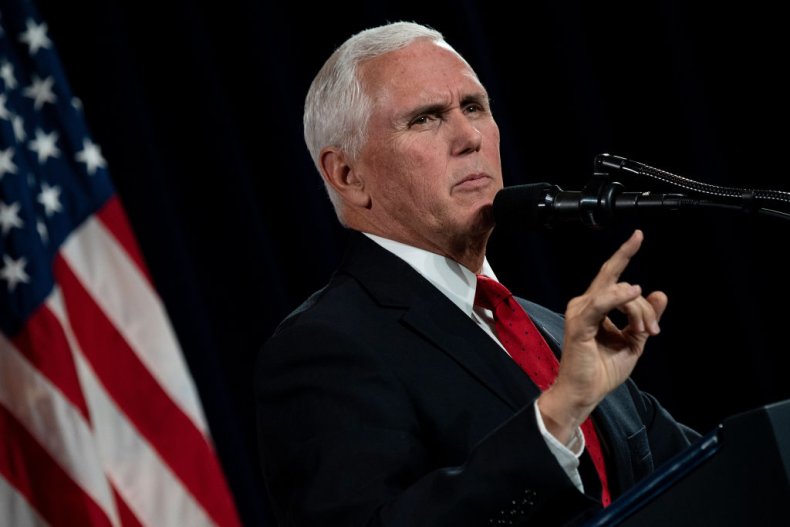 The Georgia Senate runoff elections scheduled for January 5 will decide whether Republicans or Democrats hold onto the Senate—and have a huge impact on the power of President-elect Joe Biden's incoming administration for at least the next two years.
As the tally stands, the GOP controls 50 seats to the Democrats' 48 seats. If the Democratic challengers Jon Ossoff and Raphael Warnock manage to unseat both Perdue and Loeffler at the start of next year, they will bring the Senate to a 50-50 tie.
Vice President-elect Kamala Harris will then have a tiebreaker vote that could prove instrumental in pushing through the Biden administration's legislative agenda.
The Republican incumbents Loeffler and Perdue announced their rallies with Pence on Friday after three runoff election polls came up with mixed results, indicating that the races could still be close contests.
One survey released by Remington Research Group a week after the November 3 elections, and published by the Atlanta Journal-Constitution, found Loeffler 1 percentage point ahead of Warnock with 49 percent of likely voters backing her.
The poll from the Republican-leaning firm also showed Perdue 4 points ahead of Ossoff as half of polled Georgia voters backed him for another term in the Senate.
But another survey released by Insider Advantage and the local new station Fox5 Atlanta on Tuesday put Warnock 1-point ahead of Loeffler, and also found Perdue and Ossoff tied neck-and-neck with 49 percent support among Georgia voters.
Public polls have come under scrutiny in the aftermath of the 2020 elections as several proved to be wide of the mark again, particularly in "toss up" Senate contests that broke fairly comfortably for Republican incumbents.