Mike Pence Heats Up 2024 Speculation With New Hampshire Event: How to Watch
The 2024 race for the Republican nomination for president is already heating up, with former Vice President Mike Pence set to keynote a GOP event in the crucial first-in-the-nation primary state New Hampshire on Thursday.
Aides to Pence didn't respond to multiple requests from Newsweek for comment or a preview of the message he plans to send. The Hillsborough County Republican Committee, which is sponsoring the event, also didn't respond to Newsweek's request.
On Twitter, Pence posted a photo of himself with Republican New Hampshire Governor Chris Sununu and wrote that he was looking forward to the dinner, dubbed the Lincoln-Reagan Dinner—a common name for GOP chapters' largest annual fundraisers across the country. Tickets for the dinner are $1,000 for a table of 10 or $100 apiece, according to the event website.
The event marks the second state that Pence has trekked to since leaving office that will be crucial to deciding the GOP's 2024 nominee for president.
Pence spoke at an event sponsored by the Palmetto Family organization in Columbia, South Carolina in April—his first post-vice presidency address.
"It certainly confirms the conventional wisdom that Pence is intent on running for the nomination in 2024," Dante Scala, a political science professor at the University of New Hampshire, told Newsweek of Pence's latest trip to New Hampshire. "Not surprising."
Pence, himself, hasn't said whether he plans to seek the GOP nomination but is widely thought to be mulling a run. Several other GOP figures have prompted speculation about their interest as they've similarly traveled to states early in the primary process, including former Secretary of State Mike Pompeo and U.S. Senators Rick Scott and Tim Scott, who have all made trips to Iowa in recent weeks.
Former President Donald Trump hasn't formally announced whether he will run again, though he has toyed with the idea.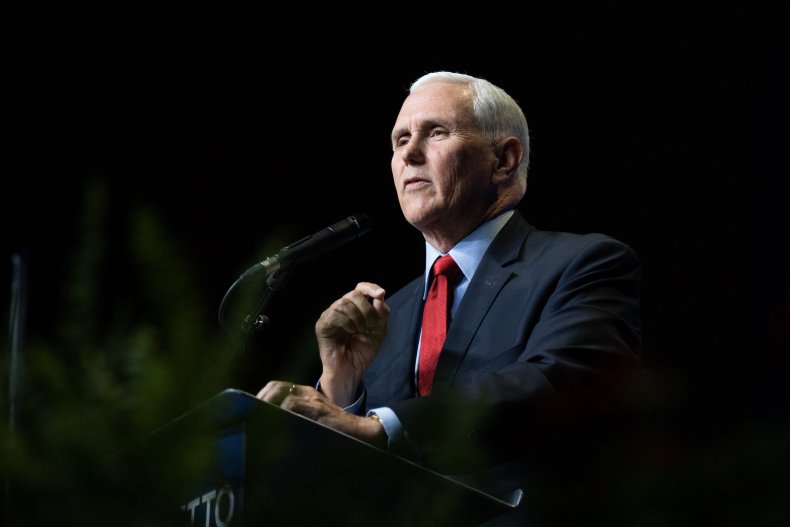 Trump and Pence have maintained a chilly relationship since the January 6 certification of Democrat Joe Biden's election as president, which Pence oversaw. Trump had called on Pence to override the election results, which the then-vice president didn't have the legal authority to do.
"All Vice President Pence has to do is send it back to the states to recertify and we become president and you are the happiest people," Trump told a crowd of supporters during a speech less than two miles from the Capitol that day. "And I actually, I just spoke to Mike. I said: 'Mike, that doesn't take courage. What takes courage is to do nothing. That takes courage.'"
Pence soon released a statement that he did not intend to upend the certification, prompting a mob of angry Trump supporters to storm the U.S. Capitol, disrupting the process for hours while lawmakers and Pence hid in safe areas.
It's unclear what reception Pence will receive in New Hampshire, where Trump won soundly in 2016 and has remained politically popular.
Hillsborough County Republican Committee's Facebook posts promoting Pence's appearance have drawn several angry comments.
"Pence is a traitor. You might raise some money from establishment RINO's with him, but the Trump base (which is the majority of republican voters) rejects him completely," one person wrote.
"Which Republicans run this Hillsborough County Republican Committee? I want to see the names of these traitor loving RINOs. Have you no shame? Where was Mike Pence on January 6th?" wrote another.
Other posts had comments restricted by the chapter's moderator.
Scala, the political science professor, said the in-person response could be telling.
"When he speaks, I'm curious, will it be more than polite applause?" he said.
When he was added to Trump's ticket in 2016, Pence, an evangelical Republican, was largely seen as someone who would appeal to the GOP's most conservative base that was more skeptical of Trump. That might not go over as well in a place like New Hampshire.
"There aren't a lot of evangelical republicans in New Hampshire and there aren't a lot of social conservatives in New Hampshire," Scala said.
How to watch: Pence's address will air live at 6 p.m. ET on C-SPAN, c-span.org and C-SPAN Radio.