Mike Pence Hilariously Mimics Donald Trump's Movements in Viral Video
A video of President Donald Trump and Mike Pence, that appeared to show the vice president mimicking the commander-in-chief's movements at a meeting on Wednesday, has been widely shared and mocked on social media.
In the footage, Trump can be seen picking up a bottle from his table and placing it on the floor next to him. The vice president then immediately does the same.
Since the clip was released online, social media has exploded with comments and shares from users ridiculing Pence. "I am laughing so goddamn hard at this video of Trump inexplicably putting his water bottle on the floor, and Pence immediately doing the same for no reason whatsoever," Jules Suzdaltsev, a Vice writer, tweeted.
"Before they walked in, Trump told him to 'follow my lead'... Pence just aced this loyalty test," another user posted on Reddit.
According to The Hill, the video was taken during a meeting at the Federal Emergency Management Agency's (FEMA) headquarters, where Pence and Trump were discussing the 2018 hurricane season. First Lady Melania Trump was also present at the briefing.
"We're entering it," Trump said, reported ABC News.
"As we enter the hurricane season again, here we go, right? Are you ready?" Trump said. "We're entering it. We're marshaling every available resource for every preparation for rapid response. That is what we had last year."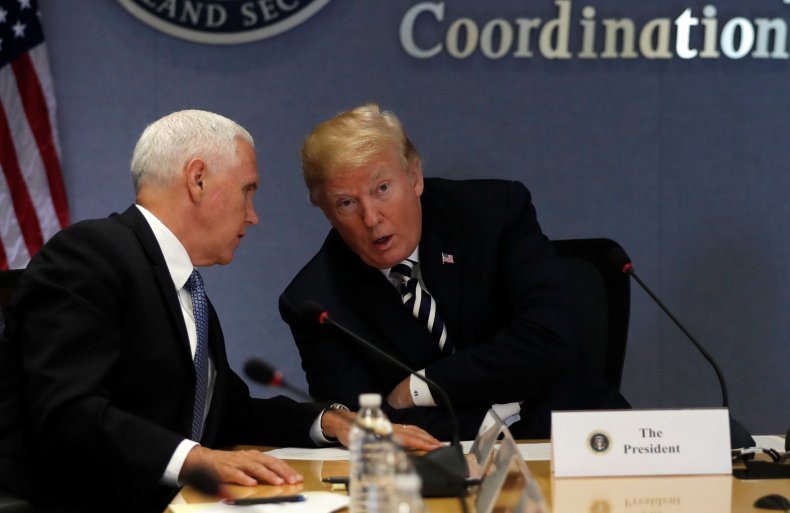 In recent months, Democrats have stepped up their criticisms of Trump's lack of response to Hurricane Maria in Puerto Rico. A few days before the meeting at FEMA, new reports emerged suggesting that the real death toll could be over 70 times the official figure.
During a trip to Puerto Rico in October to visit the hurricane's aftermath, Trump said: "Every death is a horror, but if you look at a real catastrophe like Katrina, and you look at the tremendous, hundreds and hundreds of people that died, and you look at what happened here with, really, a storm that was just totally overpowering, no one has ever seen anything like this."