Vice President Mike Pence Throws Shade at Impeachment Inquiry During Surprise Visit to U.S. Troops in Iraq
In a surprise visit to Iraq to serve U.S. troops a Thanksgiving lunch Saturday, Vice President Mike Pence dropped some subtle shade at the ongoing impeachment inquiry involving President Donald Trump.
Addressing the troops at Erbil Air Base, Pence informed them that Trump and his administration were working to secure a pay increase for the armed services, The Associated Press reported.
"We need Congress to do their jobs," he said, according to CNN.
After informing troops about the plans for a pay raise, Pence suggested that the impeachment inquiry against Trump has prevented the pay raise from going through. "Congress should have finished their work months ago but you know that partisan politics and endless investigations have slowed things down," he said.
Pence later added in his remarks: "But I'll make you a promise: This President and this administration will never stop fighting until we get you and all of our troops the resources you need to defend our nation and the raise and the support that you and your families deserve. I promise you."
The visit was intended to highlight Pence's commitment to foreign policy, as the impeachment continues to be a major focus in the U.S.
In March, the White House proposed a 3.1 percent increase to service members' pay in a 2020 budget proposal, according to Military Times. It is unclear if Pence was referring to this increase, which Trump called "the largest in the decade," or another one.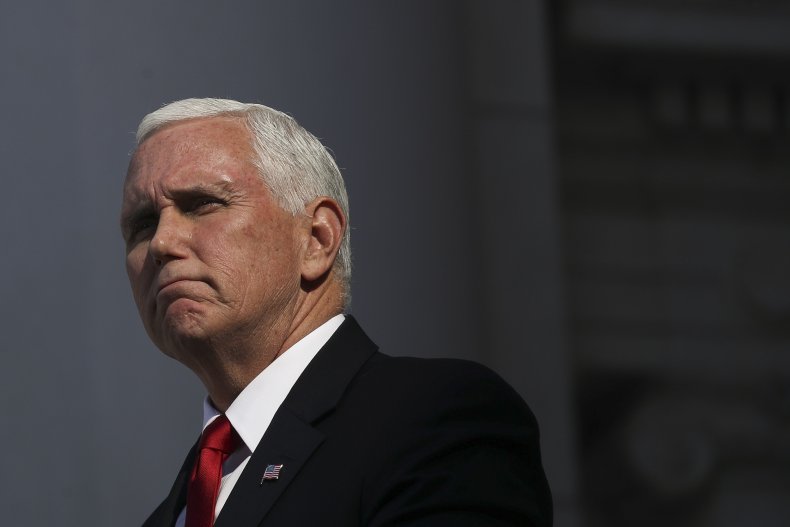 Pence was joined by his wife Karen to greet troops and serve turkey and yams, thanking them for their service. "While you come from the rest of us, you're the best of us," Pence said.
During his visit to Iraq, Pence met with Iraqi Kurdistan President Nechirvan Barzani to reassure allies, following Trump's withdrawal of U.S. troops in October. The meeting was "to reiterate the strong bonds forged in the fires of war between the people of the United States and the Kurdish people across this region," according to Pence.
Pence also spoke with Iraqi Prime Minister Adil Abdul-Mahdi via phone. Mahdi voiced concern for recent violence in Iraq, including 300 deaths that occurred during protests that began in October. The protests targeted Iraq's current political system, which was put in place by the U.S. after the 2003 invasion.
Pence spoke to him about the importance of free speech and warned against Iranian influence.
According to the White House, the vice president is scheduled to return to Washington, D.C., Saturday evening.
Trump's decision to withdraw troops was a major point of criticism from both Republicans and Democrats, because it left Kurdish allies open to attacks from Turkey. Trump eventually opted to keep about 800 troops in east Syria to man oil fields, keeping them from the Islamic State. He also kept about 150 troops in southern Syria to remain watchful of Iran's influence.