Mike Pence 'Is the Ivanka Trump of the Vice Presidency' as Neither Are 'Credible,' Ex-GOP Lawmaker Says
In light of a new reports of Vice President Mike Pence's role in President Donald Trump's Ukraine scandal, a former Republican congressman compared the second-in-command to the president's daughter and senior adviser Ivanka Trump, saying, "neither one of them are believable or credible."
David Jolly, who served Florida's 13th congressional district from 2014 to 2017 and has left the GOP, likened Pence to Ivanka Trump on MSNBC's AM Joy Saturday, after Pence's aides suggested the vice president had no idea that Donald Trump's orders to him to pressure Ukraine were part of a political agenda.
"Vice President Pence is the Ivanka Trump of the vice presidency," Jolly said.
"He expects us to be appreciative of his service to the country, he expects us to appreciate the fact he's working in this administration on behalf of the people," he continued. "But in moments of consequence disappears, in moments of scandal he suggests he knows nothing about it."
Jolly said that Pence and Ivanka "are completely complicit every time a scandal erupts."
"Ivanka hides behind her $5,000 dresses and $10,000 bags. Vice President Pence has mastered hiding behind his professed evangelical humility," he said. "Neither one of them are believable nor credible."
Jolly concluded that House Democrats should set a schedule for hearings and invite Pence to testify. The former congressman said that lawmakers should also launch an impeachment inquiry into Pence because it was likely he engaged in impeachable behavior like President Trump.
AM Joy host Joy Reid agreed that "Mike Pence vanishes into the draperies whenever anything goes wrong."
According to a Washington Post report, a top Pence adviser was on Trump's July 25 phone call with Ukrainian President Volodymyr Zelensky. Pence's office dismissed a request Friday by House Democrats for documents relating to Trump's dealings with Ukraine as "just another attempt by Do Nothing Democrats to call attention to their partisan impeachment."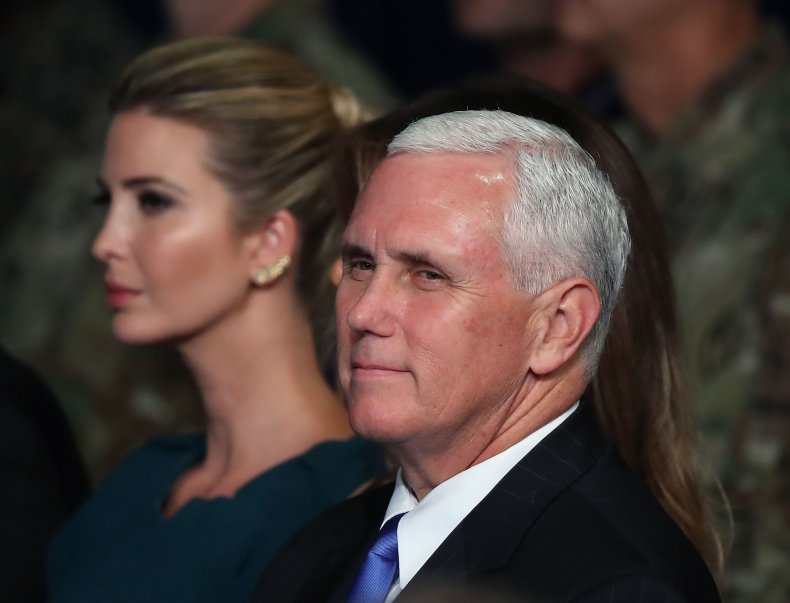 Ivanka Trump spoke for the first time on her father's impeachment inquiry in an exclusive interview with Fox Business Network on Friday night. The first daughter suggested that impeachment was not important and responded to by touting the White House's efforts around workforce development.
"I think everything's a question of priorities," Ivanka Trump said. "We have our priorities in the White House. We're fighting every day for the American worker, we're fighting every day to improve the quality of life for every single person in this country and we're delivering in that fight and on that promise."