Vice President Mike Pence said reports of horrendous conditions at the U.S. southern border were a result of the Department of Homeland Security being "overwhelmed" and Democrats refusing to talk about the immigration crisis with President Donald Trump.
CNN's Jake Tapper pressed Pence on immigration during Sunday's State of the Union, and the vice president dismissed video showing a Trump administration attorney arguing in court against the provision of basic human hygiene products to children detained by the U.S. He touted Trump for pushing Mexico to send troops to its Central American border and blamed Democrats for not sitting down to talk with Trump about real border crisis solutions.
Tapper asked Pence, "Aren't toothbrushes and blankets and medicine basic conditions for kids aren't they part how the United State of America, the Trump administration treats children?"
"Well of course they are, Jake," Pence replied. "I can't speak to what that lawyer was saying but that was one of the reasons we were asking for more bed space when we were negotiating with Congress during the government shutdown. And Democrats in Congress refused to expand the bed space and the capacity for us to detain people at our borders."
Pence called on Congress to give DHS additional resources at the border and "get to the root problems and loopholes, human traffickers are, as we speak, trying to entice vulnerable families to go north."
The vice president also appeared Sunday on CBS' Face the Nation Sunday, where he reiterated his argument that poor living conditions at the U.S. immigration detention facilities are partly a result of Democrats refusing to "step up" and provide resources to solve the crisis.
"We're doing a lot with what Congress has given us," Pence told CBS News' Margaret Brennan Sunday.
Pence praised Trump for his tough demands he said led Mexico to send 6,000 national guard troops to their side of their own southern border with Central American countries. He also touted that "for the first time ever" Mexico agreed to allow all asylum seekers to remain in Mexico while they're being processed.
But Tapper continued to press Pence on the conditions of the children and families in U.S. custody "right now."
"I know you, you're a father, you're a man of faith, you can't approve of that," Tapper said.
"No American should approve of this mass influx of people coming across our border it is overwhelming our system," Pence said.
"But how about how we are treating these children?" Tapper asked again. "You have the power to change that on our southern border right now: soap, toothbrushes, combs... 12-year-olds taking care of 3-year-olds making sure they don't all get the flu."
"I was at the detention center in Nogales, just a few months ago, it was a heartbreaking scene, being exploited by human traffickers to charge them $5,000 a person to entice them to take their vulnerable children and take the long and dangerous journey north."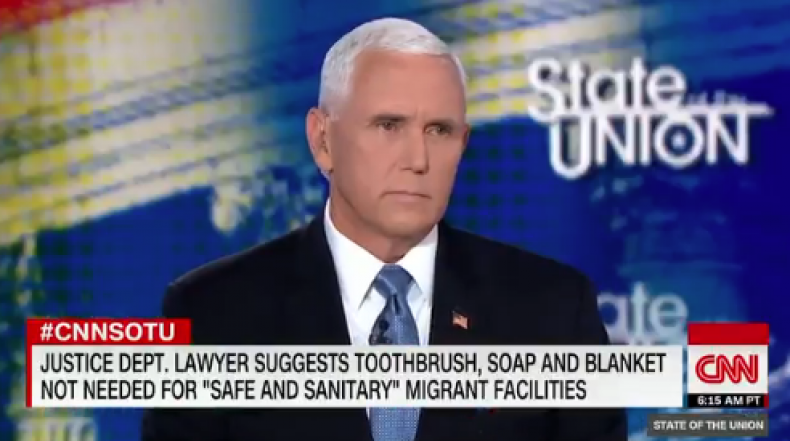 "The truth is, in the last 10 days Mexico has done more to secure our southern border than Democrats have done in Congress in the last ten years. And that has to change," Pence argued.
"I've been down there. Head down there. Our Customs and Border Protection personnel, our dedicated men and women, they are doing their absolute best every day, they literally, I heard of the number of hospital runs that they make on any given day because people who take that long and dangerous journey north are often assaulted along the way, young women are sexually assaulted along the way," the vice president continued.
"It's horrific what is happening at our border and we know how to fix it," Pence said, arguing congressional Democrats need to make a deal. "President Trump has said we could fix this in 15 minutes if the Democrats will sit down with us, close the loopholes, provide the resources we need to deal with the influx."
Pence argued that the lack of basic human health items is primarily an oversight and would be irrelevant if the U.S. demanded Mexico and the Central American countries stopped sending people north.
"If we close the loopholes and send a clear message to our allies in the region, whether it's Mexico or Guatemala or other nations, that the days of this porous border are over, we will end this crisis of illegal immigration...and that along with border security will end this crisis."