Mike Pence and Kamala Harris are Neck and Neck in the Polls Going into Vice Presidential Debate
Heading into the first vice presidential debate of the 2020 election, voters see Vice President Mike Pence and Senator Kamala Harris in a similar light.
A Wall Street Journal/NBC News poll released on Sunday gave Harris a slight edge over Pence, with a positivity rating of 40 percent to the vice president's 36. However, if the race came down to Pence and Harris and not President Donald Trump and former Vice President Joe Biden, it would be too close to call.
Trump's positive coronavirus diagnosis and a brief stay at Walter Reed National Military Medical Center has called into question if he'd be able to serve as president and what would happen to the Republican ticket. Pence has support from the majority of Republicans to take over in the event Trump is incapacitated, a Yahoo News/YouGov poll released on Monday found.
If the race came down to Pence and Biden, the Democratic candidate has a similar edge over Pence as he does with Trump. However, if Harris was leading the Democratic ticket, the race tightens.
When 1,202 registered voters were asked who they would vote for if the election was between Harris and Pence, 46 percent said they would pick Harris and 45 percent would go for Pence. The vice president had stronger support among members of his own party, with 91 percent of Republicans responding they'd vote for him, compared to 84 percent of Democrats who would vote for Harris.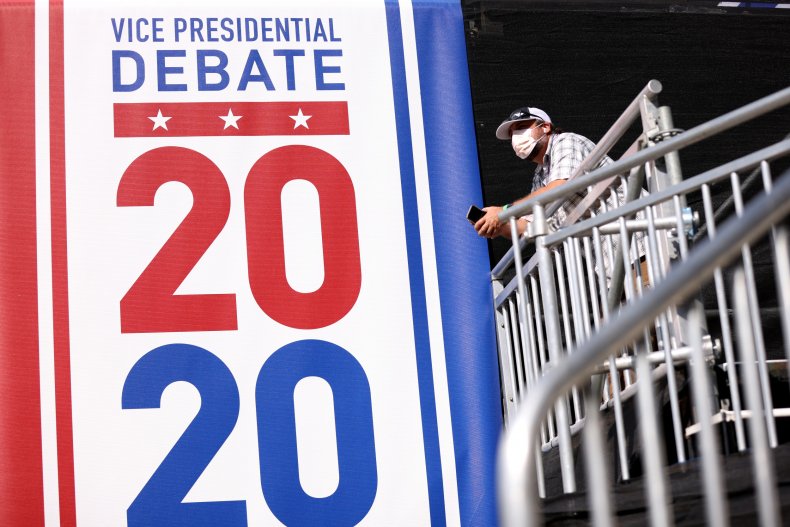 More Democrats would vote for Pence than Republicans would cast a ballot for Harris, but, in the hypothetical matchup, Harris had the lead with independents by six percentage points.
The first presidential debate between Biden and Trump was largely labeled a chaotic disaster and the YouGov poll found people learned "not much" or "nothing" about the topics the debate intended to cover. However, the interrupting, shouting and failure to adhere to the basic rules wasn't enough to turn voters off from debates entirely and the majority of voters agreed the vice presidential debate should continue as scheduled.
Fewer than 100 students at the University of Utah in Salt Lake City will experience the debate in person, courtesy of a lottery system implemented by the school. USA Today's Susan Page will moderate the debate, though she hasn't released the topics yet. The debate will be divided into nine 10-minute sections with candidates being given two minutes to respond to the opening question in each segment.
Whereas Trump and Biden have two more opportunities to face off against each other—health permitting—this is the only time Harris and Pence will meet on the debate stage. And, after the first debate, viewers will likely be looking toward the candidates to provide more solid information on where their ticket stands on key issues, including the economy, health care and the new coronavirus pandemic.