Mike Pence Serves Thanksgiving Dinner at Military Base While Trump Dines At Mar-a-Lago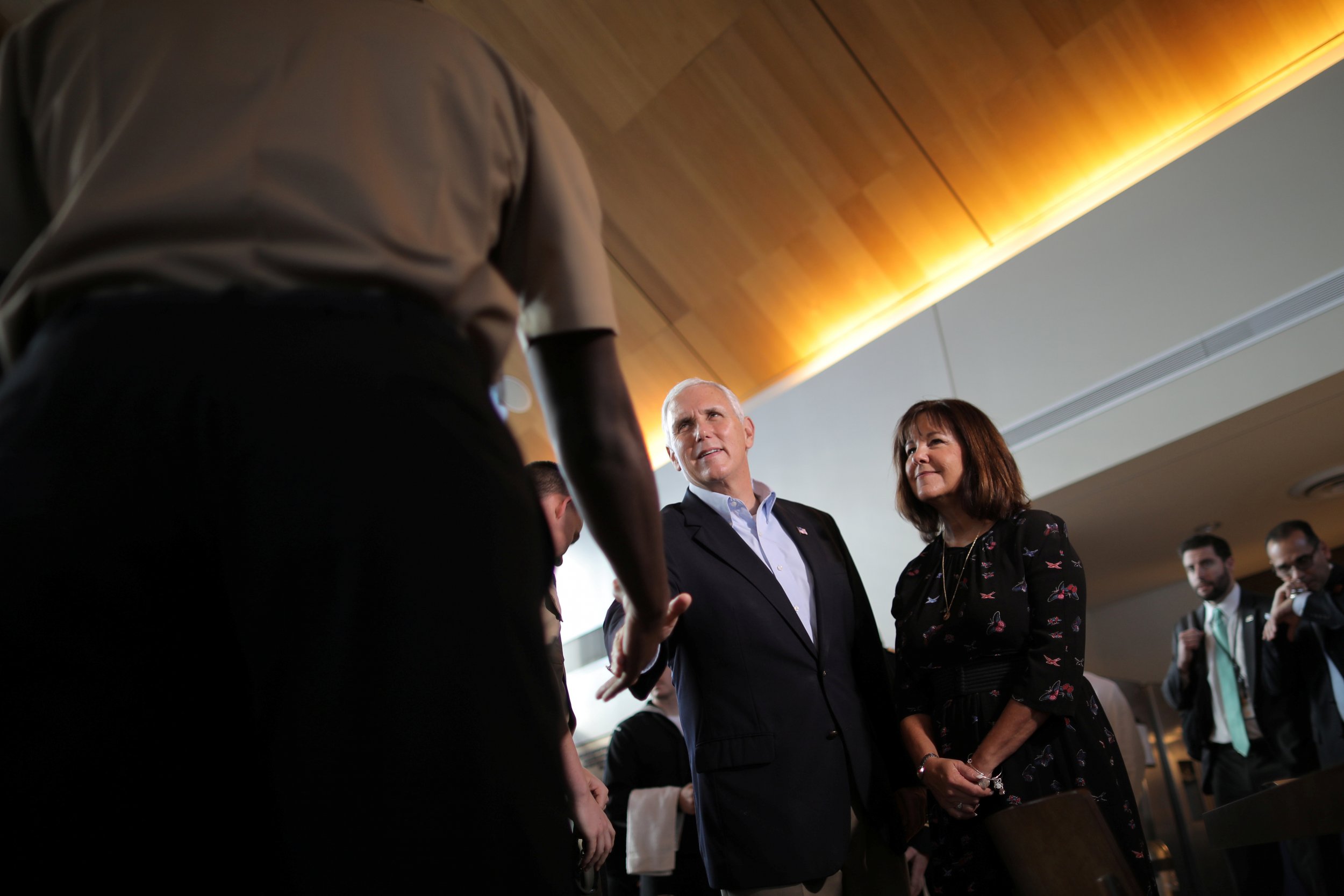 It's a tale of two Thanksgiving dinners.
While President Donald Trump and his family prepared to sit down for a holiday feast at their Florida mansion, Vice President Mike Pence and his wife, Karen, were headed to a military installation to dish one out.
With the president at his 20-acre Palm Beach estate, the Pences spent Thanksgiving at Naval Air Station Meridian in Mississippi, where their son, Michael, is training to be a Marine aviator. They were there to serve, not be served.
Pence's dedication to marking the holidays with a salute to the military isn't new. Nor is the often sharp contrast of the optics of his public appearances with those of Trump, whose Thanksgiving in Florida marked the 100th day of his presidency he's spent at one of his private properties.
Twin States News posted a Facebook photo of Pence wearing an apron and gloves and giving a thumbs-up to his wife beside him. A second picture showed the couple smiling alongside uniformed servicemembers.
The Pences, as the local Meridian Star noted, were in town for the holiday in 2016 too: "The family was spotted the day after Thanksgiving at Weidmann's Restaurant in downtown Meridian, but made no formal public appearances." The newspaper also noted Karen Pence visited in March "to recognize the sacrifices of military spouses."
WTOK, the local ABC affiliate, reported Thursday that Pence had again "enjoyed dinner" at Weidmann's, which specializes in "high quality comfort food," on Wednesday before working the chow line at Meridian "and will likely stay in the Queen City until Saturday."
Earlier Wednesday, the Pences had visited Walter Reed National Military Medical Center to meet active-duty servicemembers and veterans. (Trump had no public events that day, having presided over the National Thanksgiving Turkey Pardoning Ceremony at the White House on Tuesday.)
To be sure, the president and first lady used the public portions of their Thanksgiving to tip their hats to the armed forces as well, but their observance of the holiday was inarguably a world away from that of the Pences.
Trump started his day by addressing troops worldwide via teleconference from his gilded Florida estate, Mar-a-Lago.
Seated in a brocaded chair in a room with soaring archways and intricate carving, Trump praised the military's performance and promised soldiers, "When you come back, you're going to see with the jobs and the companies coming back into our country and the stock market just hit a record high."
Trump, who also said he's working on delivering "big, fat, beautiful tax cuts," told the troops, "As we give thanks for this holiday, I know I speak on behalf of all Americans when I say that we totally support you. In fact, we love you — we really do. We love you."
The commander-in-chief then took off with the first lady for a short drive to Coast Guard Station Lake Worth Inlet, where the couple greeted servicemembers over a Thanksgiving spread — featuring baskets heaped with plastic-wrapped sandwiches and fruit — the Trumps had provided.
Trump spoke effusively about the Coast Guard's work in rescue missions during the hurricanes that struck Texas, Florida and Puerto Rico.
"I think that there is no branch — of any kind, I'm not just talking about a military branch — that has gone up more than the Coast Guard," he said, per a pool transcript. "Incredible people, you've done an incredible job, and I love coming in here and doing this for you today. I think it's — well, we have to keep you very well fed… so this is good stuff. But it's an honor."
Back home, the Trumps themselves were to feast on a traditional Thanksgiving turkey dinner supplemented by "baked goods, local produce and cheeses, red snapper and Florida stone crab," per a spokeswoman for the first lady.
The luxurious setting of Trump's Thanksgiving versus the humbler backdrop of Pence's fits a pattern of how the two very different men conduct themselves around the holidays, around the military and in times of crisis.
During an October post-storm visit to Puerto Rico, for example, Trump had appeared to briefly mix up representatives of the Coast Guard and Air Force while at a briefing and got filmed flinging rolls of paper towels to storm survivors as part of an aid distribution.
The Pences headed to the islands a few days later, donning jeans to survey the damage and to hold quiet, sober-faced meetings with storm victims and recovery workers.