Mike Pence's Wife Thinks Donald Trump Is 'Reprehensible' and 'Totally Vile'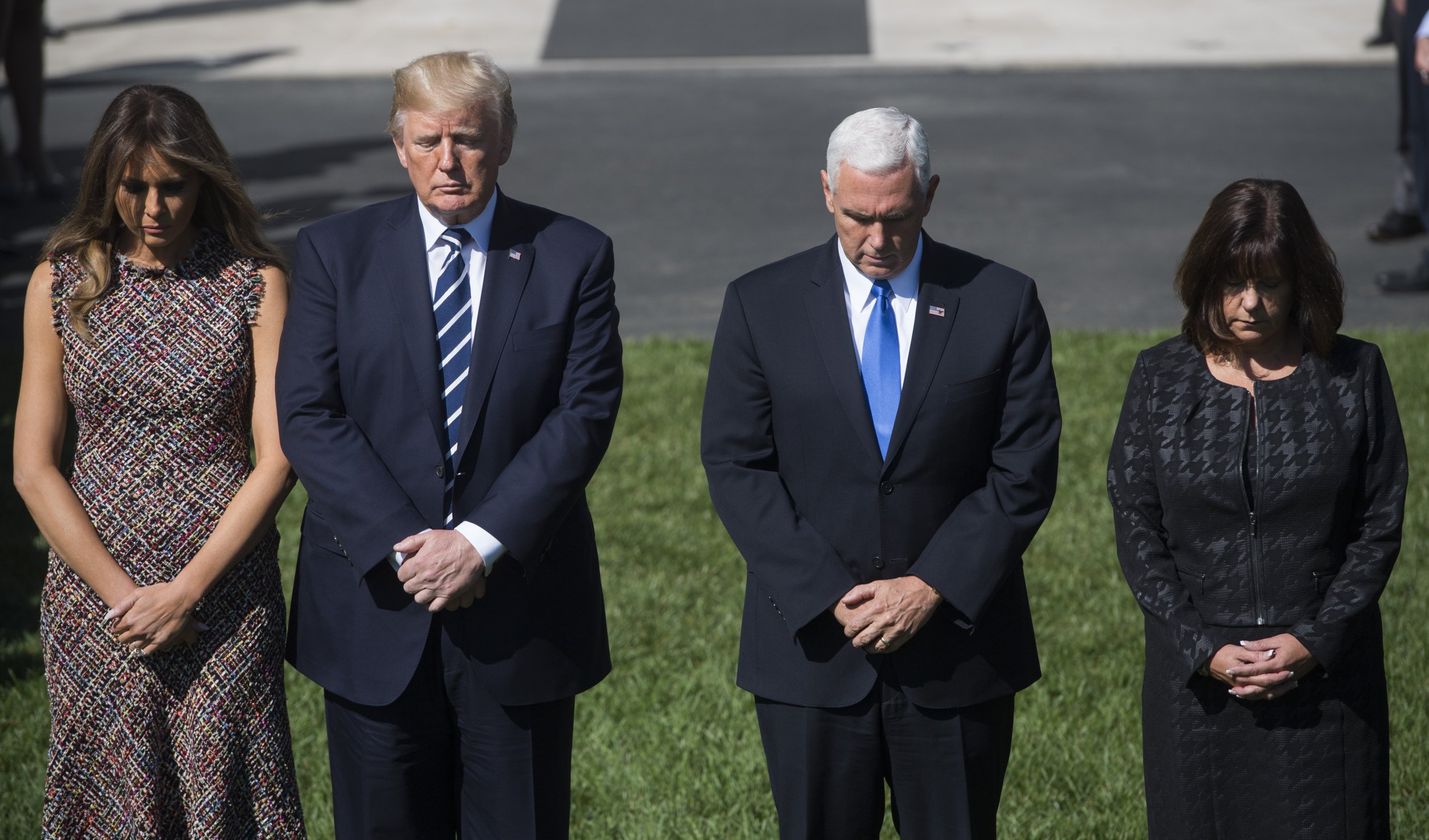 UPDATE | President Donald Trump has been questioning the validity of his infamous Access Hollywood tape, but his vice president's wife reportedly has her own opinion of the man caught boasting of sexually harassing women: "reprehensible—just totally vile."
"Karen (Pence) in particular was 'disgusted'" by the tape, a former campaign aide told The Atlantic. "She finds him reprehensible—just totally vile," the aide said.
Pence's press secretary Alyssa Farah denied that claim in a tweet after the magazine'sarticle posted online Tuesday morning. "Regarding The Atlantic's tired, false claim about the VP during the campaign -- we denied this in the article and deny it again today. Didn't happen."
The leaded tape, revealed just weeks before the 2016 election, caused a brief schism between Trump and his running mate as Pence weighed how to respond.
He was "beside himself," the Associated Press reported. Citing an anonymous former campaign aide, The New Yorker reported Pence and his wife, Karen, themselves devoted Christians, distanced themselves from Trump after the tape was revealed. They "refused to take Trump's calls and sent him a letter saying that he and Karen, as Christians, were deeply offended by his actions and needed to make an 'assessment' about whether to remain with the campaign," The New Yorker added. Spokespeople for Pence repeatedly denied the account.
The Trump campaign, too, was stunned. Trump assembled his senior advisers, including Pence and Reince Priebus, then the chairman of Republican National Committee, who told him flat out that if he didn't drop out of the race he would lose in a landslide. Priebus also floated the possibility that Pence assume the top of the ticket, saying former Secretary of State Condoleezza Rice was ready to step in as his running mate.
Priebus did not respond to The Atlantic's request for comment, and a spokesperson for Pence also denied any conversation of his becoming the nominee at the publication.
In the end, of course, Pence did not abandon Trump in the wake of the "grab them by the pussy" tape. One week after The Washington Post revealed it, Pence appeared on CBS's This Morning to defend Trump.
Pence added Trump's on-the-bus boasts were not true, chalking them up to "just talk."
"What he's made clear is that was talk, regrettable talk on his part, but that there were no actions, and he's categorically denied these latest unsubstantiated allegations," Pence said.
"The Donald Trump that I've come to know, that my family has come to know and spent a considerable amount of time with, is someone who has a long record of not only loving his family, lifting his family up, but employing and promoting women in positions of authority in his company," he added.
Pence has been repeatedly called upon to defend Trump's decency throughout the campaign and the first year in office.
And he's apparently not afraid of a bit of political theater. In October, he flew to Indiana for a 49ers-Colts football game, despite having another item on his agenda soon after kickoff, just so he could dramatically walk out when players predictably knelt during the anthem in protest to police brutality and racial inequality.
Just before the October 8 game started, he tweeted a photo of himself and his wife in Colts attire, with the caption, "Looking forward to cheering for our @Colts & honoring the great career of #18 Peyton Manning at @LucasOilStadium today. Go Colts! " But that photo had been recycled from a tweet years earlier, on November 23, 2014.
This article has been updated to include the response from the Vice President's press secretary.