Mike Pence, Kirstjen Nielsen Said 'Crisis' 36 Times During One Question-and-Answer Session With Reporters About Border Wall
Vice President Mike Pence and Department of Homeland Security Secretary Kirstjen Nielsen said the word crisis 36 times while speaking with reporters on Monday about border security and the administration's proposed wall, Politico reported.
Pence warned that the number of people seeking to cross the border will increase in the spring, according to The Washington Post.
"March through June are usually the most intense months of the year for migration. However, the spike we saw in the last months of 2018 was unusually high, so high that it could be an anomaly," Adam Isacson, Washington Office on Latin America director for defense oversight, told Newsweek, alluding to elevated border apprehensions at the end of 2018. "There's no guarantee that this spring will be any higher. However, if I were a DHS official, I would prepare for the worst."
On Tuesday night, President Donald Trump will make a prime-time address from the Oval Office about the situation on the Southern border. The government has been shut down for 18 days as congressional representatives spar over Trump's demand for $5.7 billion to construct a border wall.
Approximately 800,000 workers are not being paid during the shutdown, but the government closure is affecting millions of others. Companies that rely on business of federal employees are struggling. With the Department of Agriculture slated to run out of money at the end of this month, millions of people receiving Supplemental Nutrition Assistance Program could have their food aid affected.
Pence on Tuesday spoke on three morning news shows to discuss what Trump might say during his prime-time address from the Oval Office.
"What I expect the president will do tonight is explain to the American people that we have a humanitarian and security crisis at our Southern border," the vice president told NBC's Today show, The Washington Post reported. "He'll explain the need, not just to build a wall, which he's determined to do, but also to provide our Border Patrol with additional resources, humanitarian and medical assistance, new technology. But the Democrats need to come to the table and start negotiating."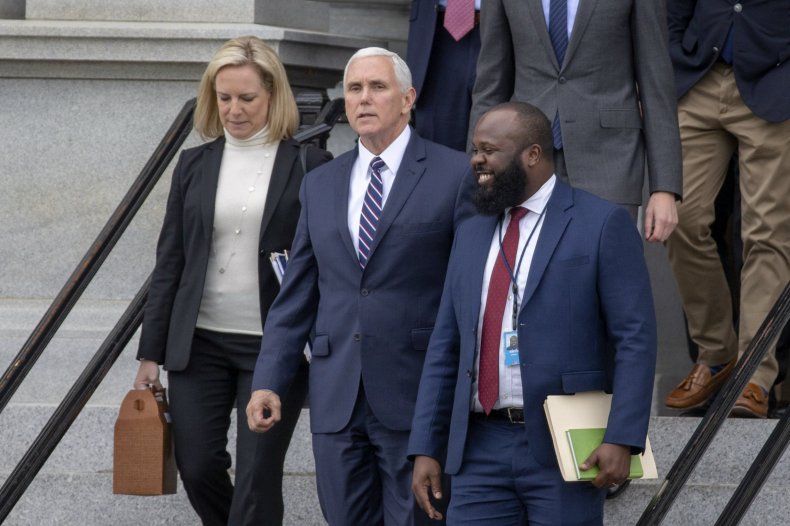 Trump said he is considering declaring a national emergency to construct a wall on the Southern border without congressional approval.
The declaration of a national emergency would face scrutiny and possible legal action. "There aren't a lot of legal limits on his ability to do that, frankly, even if there isn't a real emergency happening," Elizabeth Goitein, co-director of the Liberty and National Security Program at the Brennan Center for Justice told NPR. But Goitein also warned that doing so could be seen as abuse of power. "Emergency powers are intended to be used for emergencies, not to settle political disputes or to shortcut the political process," she said.
Immigration experts have said that the Trump administration has exaggerated the danger of migrants coming into the country through the Southwest border. Fact-checkers have recently discredited a number of claims pushed by Trump and administration officials.
The graphic below provided by Statista illustrates American opinion polling on the issue of the border wall.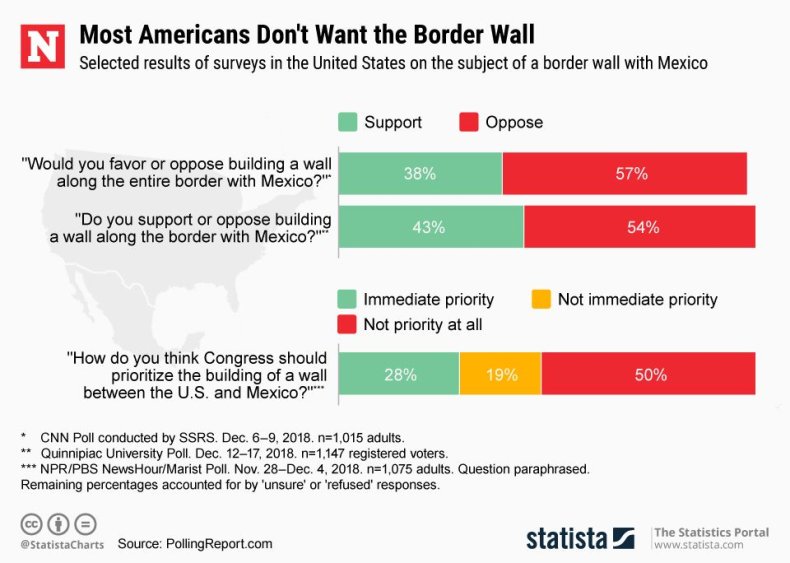 Speaking Friday at the White House, Trump claimed that ICE officers have arrested 235,000 criminals in the past two years. The Washington Post noted that the president has promoted language stoking fear about immigrants and linking undocumented immigrants to crime. Reviewing ICE statistics, the Post said it was not apparent how the president calculated the 235,000 figure and noted that many of those arrested were detained for civil immigration violations, not violent crimes.
Trump has repeatedly sought to depict undocumented immigrants as criminals. "You have some very tough criminal elements within the caravan," he told reporters on October 20. He regularly mentioned the migrant caravan traveling toward the U.S. before the election, making a number of false claims
Mike Pence, Kirstjen Nielsen Said 'Crisis' 36 Times During One Question-and-Answer Session With Reporters About Border Wall | U.S.