Vice President Mike Pence currently leads Donald Trump Jr. by 14 points in the 2024 Republican primary, according to a new poll.
The survey conducted by Leger showed that 31 percent of Republican respondents said Pence would be their first choice in the 2024 race, while 17 percent said they'd choose the president's son.
Among other potential candidates in 2024, 11 percent of GOP respondents said their first choice is former South Carolina Governor Nikki Haley, with 9 percent choosing Utah Senator Mitt Romney, 8 percent choosing Texas Senator Ted Cruz and 7 percent picking Fox News host Tucker Carlson.
For the other possible candidates listed, 5 percent chose Florida Senator Marco Rubio and 4 percent choose former House Speaker Paul Ryan, while Ivanka Trump and Secretary of State Mike Pompeo both received 3 percent. The remaining 2 percent said they'd vote for House Minority Leader Kevin McCarthy.
The poll surveyed 1,202 Americans, including 1,041 registered voters, from August 4 to 7 and has a margin of error of plus or minus 2.8 percentage points.
Among all respondents, regardless of political party affiliation, the poll found 30 percent said Romney would be their first choice, while 18 percent said Pence and 9 percent said Haley.
The poll also asked respondents whom they would vote for in the 2024 Democratic primary if presumptive Democratic nominee Joe Biden is not a candidate.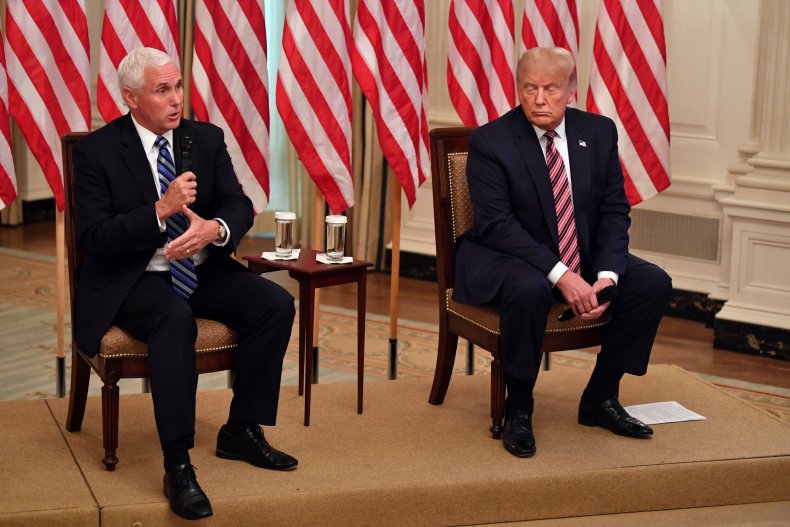 Twenty-one percent of Democratic respondents said New York Governor Andrew Cuomo would be their first choice, while 19 percent chose California Senator Kamala Harris and 16 percent said former South Bend, Indiana, Mayor Pete Buttigieg.
Among all respondents, 20 percent said Cuomo, while Buttigieg and former presidential candidate Andrew Yang both received 14 percent. Thirteen percent chose Harris, 9 percent chose New York Representative Alexandria Ocasio-Cortez, and 8 percent chose Minnesota Senator Amy Klobuchar.
Additionally, the poll surveyed voters about the upcoming presidential election. Fifty-one percent of respondents said they'd vote for Biden if the election were held today, while 42 percent chose President Donald Trump. Libertarian Party candidate Jo Jorgensen and rapper Kanye West both received 3 percent.
Several other national polls have shown Biden with a significant advantage over Trump. A recent Fox News survey found 49 percent of respondents choosing Biden and 42 percent supporting Trump. This poll surveyed 1,000 registered voters from August 9 to 12 and has a margin of error of plus or minus 3 percentage points.
Real Clear Politics' latest average of several nationally conducted polls shows Biden leading by 7.4 points.