Mike Pence More Popular With Republicans Than Kamala Harris Is With Democrats
Senator Kamala Harris was Democratic voters' top choice for vice president, but her favorability within her own party still trails behind Republican support for Vice President Mike Pence, according to new polling.
Based on responses from voters within their own parties, Pence leads Harris in favorability by 15 percentage points, according to a YouGov/Economist poll taken between August 2 and 4. Seventy-nine percent of Republican voters had at least a somewhat favorable view of Pence, compared with Harris' 64 percent among Democrats.
Republican voters were also more likely to consider Pence "very favorable," compared with Democrats' view of Harris, and the vice president had a 6 percentage point higher favorability rating among independent voters.
The two politicians had nearly equal favorability ratings from voters that identify with the opposing political party. Among Democratic voters, Pence had a 2 percentage point lead over Harris' favorability with Republicans, but the difference fell within the 3.3 percentage point margin of error.
YouGov's poll was taken before Vice President Joe Biden's Tuesday announcement that Harris will be his running mate, but his choice aligned with the respondents' wishes. Support for Harris among Democratic voters was 4 percentage points higher than support for Senator Elizabeth Warren, the second most popular candidate for the position.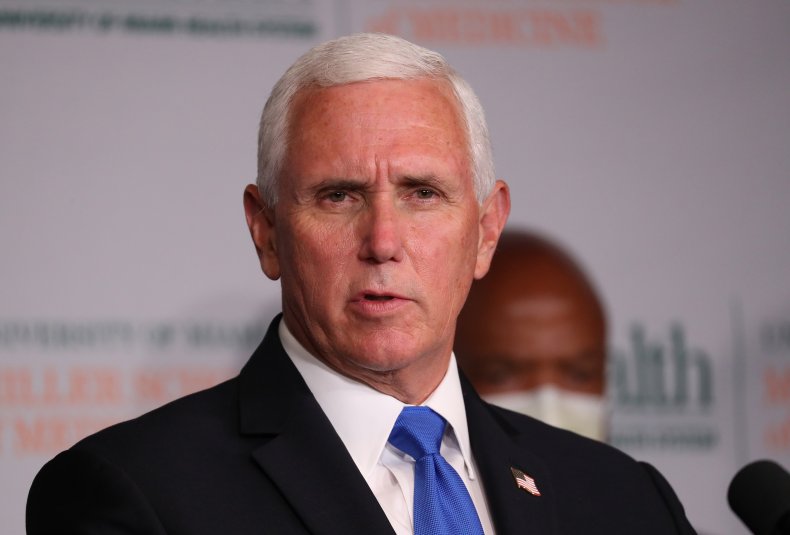 Early in his campaign, Biden pledged to select a woman as his vice president, and on Monday, more than 100 Black men signed an open letter to the former vice president demanding he choose an African American woman for the position.
"Failing to select a Black woman in 2020 means you will lose the election. We don't want to choose between the lesser of two evils and we don't want to vote for the devil we know versus the devil we don't because we are tired of voting for devils—period," the letter said.
Signatories included Sean "Diddy" Combs, Van Jones and Chris Paul, and the letter criticized a report that a member of Biden's vetting team considered Harris "too ambitious" to be vice president. In announcing Harris as his pick, Biden called her a "fearless fighter for the little guy" and one of America's "greatest public servants."
If they take office next January, Biden and Harris could face a continuing pandemic, an economic crisis not seen since the Great Depression and the "most powerful calls for racial justice in a generation." Because Harris is "smart, tough and ready to lead," Biden said, she's exactly the type of person he needs alongside him as president.
In a matchup between Biden and Trump, Biden leads by 9 percentage points, according to YouGov's poll. Biden has a 64 percentage point advantage over Trump with Black voters, and Morning Consult said Harris could further energize the demographic.
It's unlikely she'll immediately affect the race, though, according to Morning Consult. Vice presidential candidates often struggle to get voters to cross party lines. Although she has legislative experience and is younger than Biden, two important traits to Democratic voters, a July 27-29 poll found Biden's choice for vice president made no significant difference in the race against Trump and Pence.
When hypothetically paired with Harris, Biden received 47 percent of respondents' support, the same level he received with former Georgia state Representative Stacey Abrams, former United Nations Ambassador Susan Rice and Warren.
Biden's seen an increase in support since he became the lone candidate for the Democratic nomination, and it's possible the same could occur for Harris.