Mike Pence, Nancy Pelosi Ushered Out of Joint Session as Protesters Gain Entry into Capitol
The Senate took an impromptu recess and Vice President Mike Pence was ushered out of the chamber as protesters wearing Trump paraphernalia stormed the Capitol.
As senators debated the merits of overturning Arizona's electoral college vote, protesters in Trump gear pushed past security guards at the Capitol, prompting concerns about legislators' safety. Pence, who is presiding over the Electoral College certification proceedings, was taken out of the chamber and legislators are being asked to shelter in place. Speaker Nancy Pelosi was also rushed from the House floor.
"Protesters have charged the Capitol and have surrounded the Senate chamber," Senator James Lankford, who was speaking at the time of the recess, wrote on Twitter. "They have asked us to stay inside."
Donald Trump Jr., the president's eldest son, condemned the behavior in a tweet, calling it "wrong" and "not who we are." He encouraged people to use their First Amendment rights and "be peaceful" but not to "start acting like the other side" because "this doesn't help anyone."
Videos posted on Twitter showed protesters inside the Capitol building.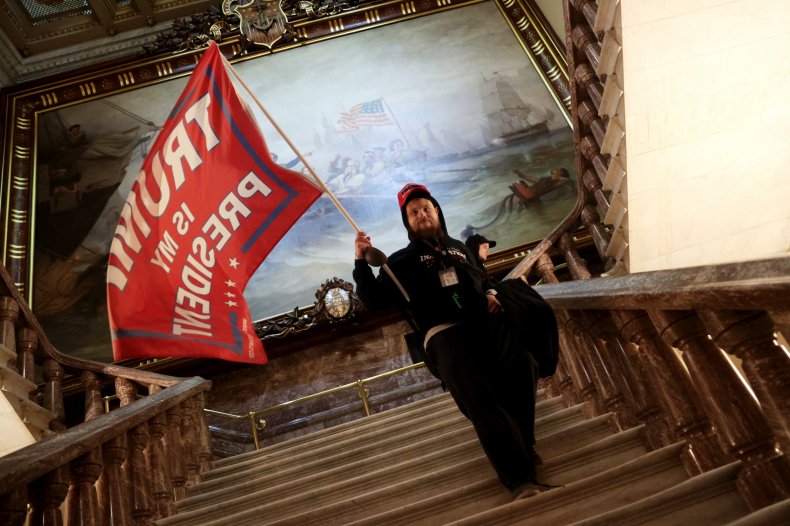 The United States Capitol was put on lockdown and a message within the Capitol said no entry or exit would be permitted. People were encouraged to stay away from windows and doors and those outside were told to "seek cover." Tear gas was deployed in the Capitol Rotunda, according to Congressman Mo Brooks, and legislators were ordered to grab cas masks under their chairs in case they have to "leave in haste."
Senator Tom Cotton, who said he would not object to the Electoral College results, posted on Twitter that the violence is "unacceptable and needs to be met with the full force of the law."
"God bless the Capitol Police who are keeping us safe," Cotton said.
The House and the Senate are both being evacuated and police officers had their guns drawn and pointed at the door of the House as someone tried to reach the front door, according to a pool report. Legislators in the House reportedly called for Republicans to contact President Donald Trump to call the protesters off. Trump first tweeted about his displeasure for Pence, who refused to outright reject the Electoral College votes, and then posted a message for people to "support our Capitol police and law enforcement."
"They are truly on the side of our country," Trump tweeted. "Stay peaceful!"