'Morning Joe' Slams Mike Pence's NFL Stunt As 'Wasteful, Disgusting' Behavior From Vice President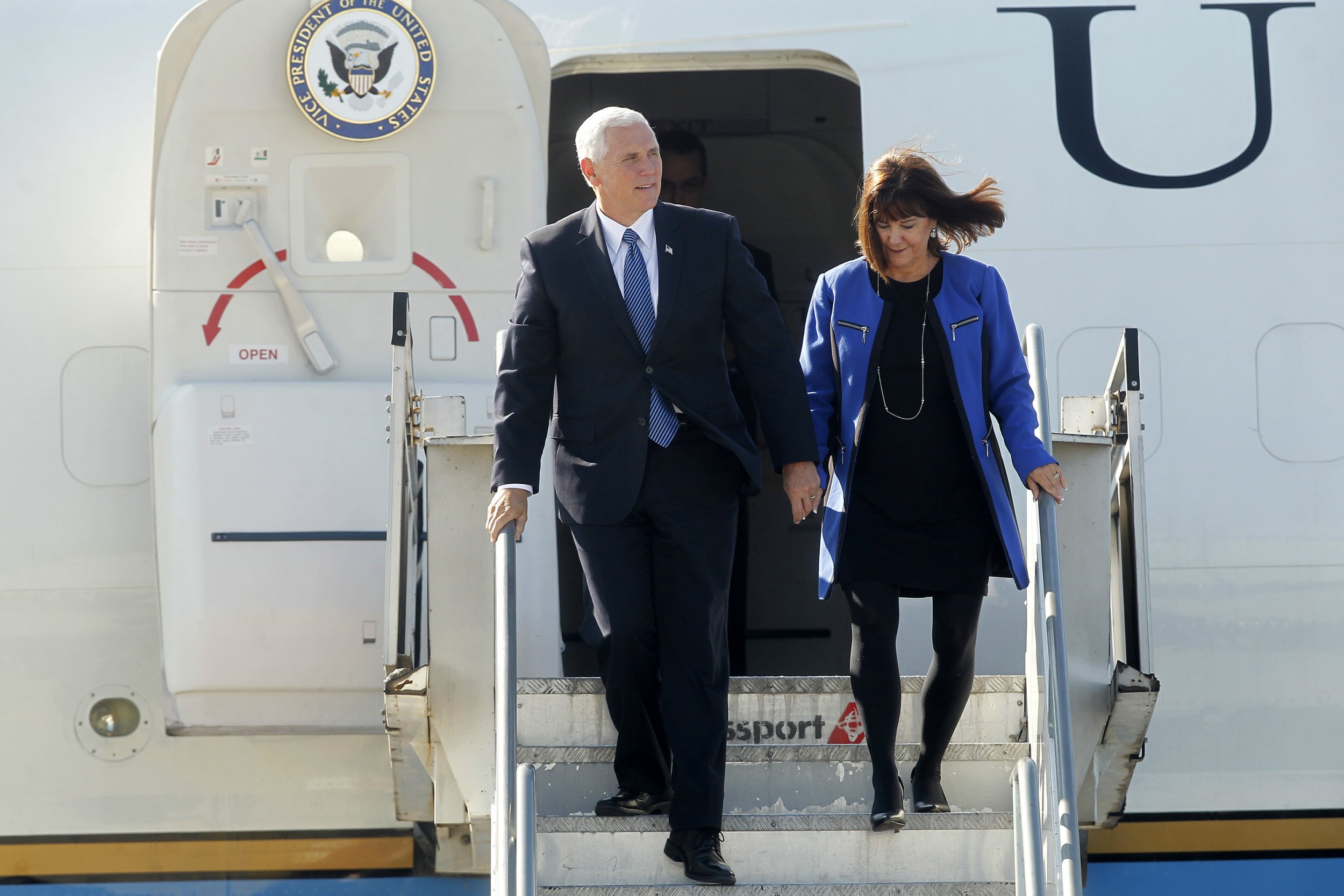 In what appeared to be a planned protest of sorts, Vice President Mike Pence this weekend walked out of an NFL game after some black players chose to demonstrate during the national anthem. It's a move that's drawn praise by some (or at least a certain billionaire in the Oval Office) and condemnation from many others.
On Monday, MSNBC morning show Morning Joe—hosted by Joe Scarborough and Mika Brzezinski—slammed the move by Pence, who walked out of a game between the San Francisco 49ers and Indianapolis Colts.
"It's incredible—we're talking about Mike Pence, think about Mike Pence going and really just angering the people of Indianapolis and Indiana," Scarborough said of the former governor of the state, according to Mediaite.
"It's truly amazing," responded MSNBC's Steve Schmidt. "So he took Air Force 2, a full package of Secret Service from Las Vegas to Indianapolis for a stunt. Inconvenienced tens of thousands of Colts fans to, again, use the flag and anthem as a prop. And the greatest desecration of that flag is the assault on its foundational values which occurs every day with this administration with their attacks on the spirit of the First Amendment, freedom of the press, freedom of expression.
"Utterly appalling. Utterly appalling, wasteful, profligate, disgusting behavior from the vice president. He ought to be ashamed of himself," Schmidt said.
Others on the show weren't much kinder to Pence. MSNBC's Elise Jordan called it "sad," "sick" and a "waste of taxpayer dollars." Scarborough himself has tweeted: "Nothing conservative about the VP's political stunt. It cost taxpayers a lot of money, inconvenienced fans, and burdened the Secret Service."
Pence apparently attended the game to celebrate Peyton Manning, the former Indianapolis Colts great who had a statue unveiled Sunday. But it seemed he always had the demonstration in mind. The media pool was reportedly alerted that it was likely the vice president would leave early, and reporters didn't even get to enter the stadium. After tweeting an Colts game old photo from years ago, Pence posted, "I left today's Colts game because @POTUS and I will not dignify any event that disrespects our soldiers, our Flag, or our National Anthem."
MarketWatch reported that Pence's flights for his Indianapolis excursion cost more than $200,000. The vice president ended up missing a pretty entertaining game, which the Colts won, 23-20, in overtime.