Mike Pence's NFL Anthem Walkout Cost Taxpayers Even More Than Was Initially Estimated
Vice President Mike Pence's walkout last year after NFL players kneeled during the national anthem cost taxpayers at least $325,000, according to reports.
Pence attended the Indianapolis Colts game against the San Francisco 49ers at the Lucas Oil Stadium last October, but left the arena before the first kick-off of the game after players kneeled during the "Star Spangled Banner" to protest racial inequality.
"I left today's Colts game because President Trump and I will not dignify any event that disrespects our soldiers, our Flag, or our National Anthem," Pence said in a statement released by the White House shortly after the incident.
"While everyone is entitled to their own opinions, I don't think it's too much to ask NFL players to respect the Flag and our National Anthem," he added.
The incident was first reported as costing taxpayers about $250,000.
But newly released documents, reported on by the HuffingtonPost, showed that the walkout cost taxpayers much more than originally estimated. The Secret Service released receipts on Friday that showed more than $75,000 was used on extra expenses like hotel fees, travel costs and more security detail.
The security team expenses alone cost $64,637 for measures at nine different properties. The flights taken by Pence on Air Force Two was a bill of $250,000, as the plane costs about $43,000 per hour of operation.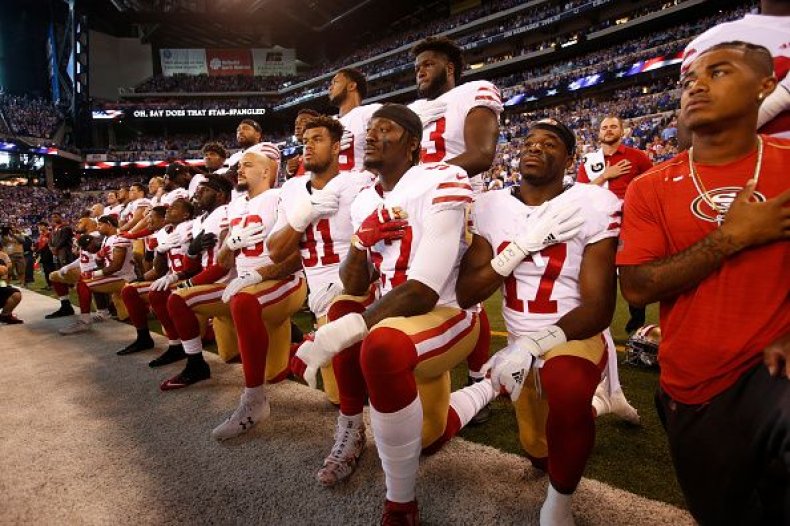 The documents also indicated that the walkout did not appear to be planned for "weeks" in advance, as was claimed by Pence and President Donald Trump.
"The trip by @VP Pence was long planned," Trump tweeted. "He is receiving great praise for leaving game after the players showed such disrespect for country!"
But reports indicate that materials rented by Pence's team for the game were only bought three days in advance. Documents also showed that the walkaway tents rented for the vice president were scheduled to be picked up likely before the game would be over.
Kneeling during the national anthem in protest started when San Francisco 49ers quarterback Colin Kaepernick sat on the bench during preseason games in August 2016. He told the media that he was sitting to protest the oppression of people of color in the United States, especially issues of police brutality.
Trump has continually slammed the National Football League and players for their protests. The league created a formal national anthem policy this past season, which requires players on the field to stand during the anthem but allows those who do not want to stand to remain in the locker room.
Trump bashed the policy, calling it "stupid" and stating that it was "worse" than kneeling.