Notre Dame Students Protest Pence Commencement Speech, Get Labeled 'Snowflakes'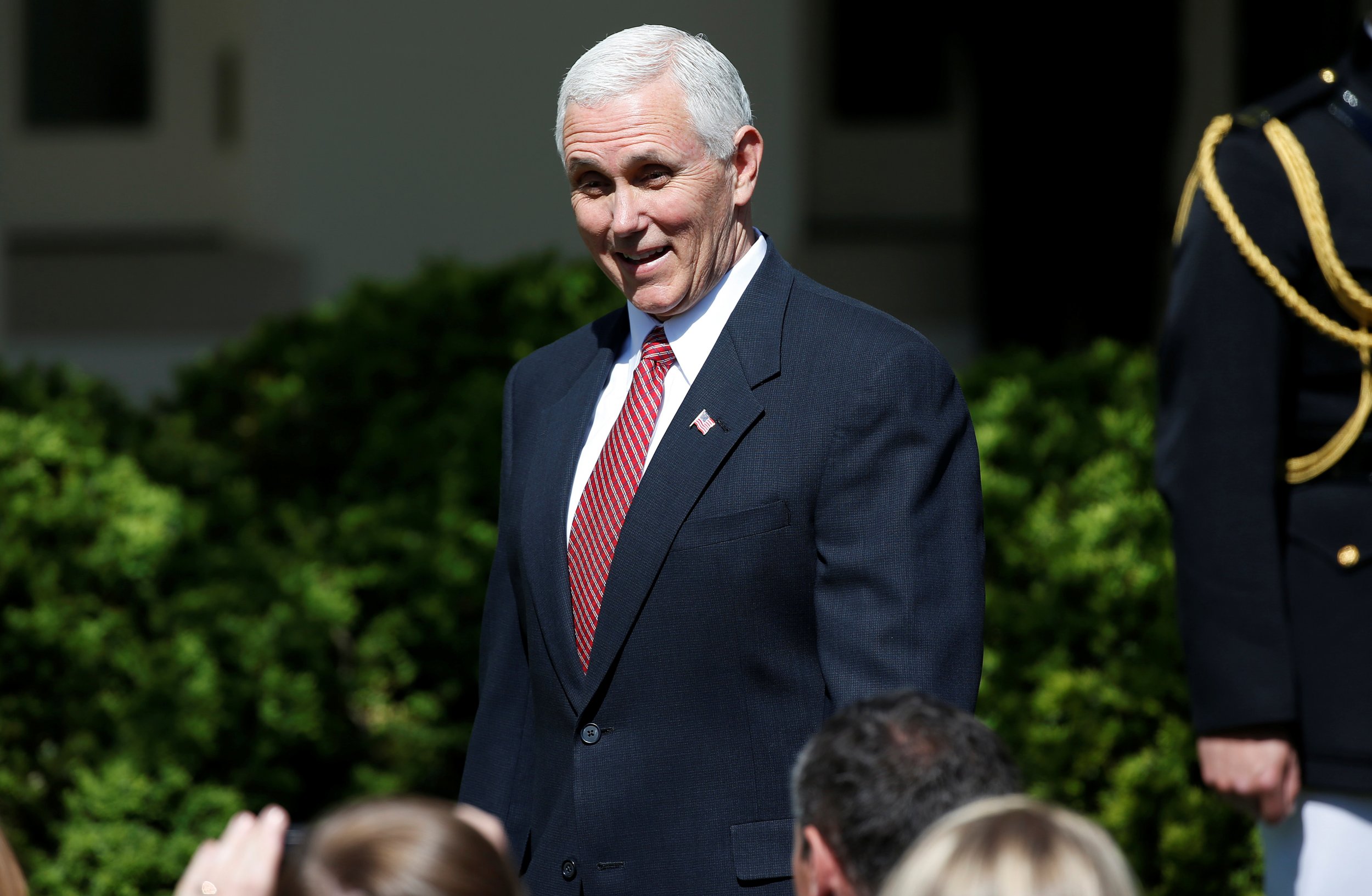 Updated | It may be mid-April, but there's a snowstorm happening at the University of Notre Dame. At least, that's according to a mass of internet users who have banded together to criticize a group of millennial "snowflakes" protesting Vice President Mike Pence's upcoming speech on campus.
The Catholic university announced last month that the former Republican Indiana governor would be the commencement speaker for its May 21 ceremony, bucking a recent tradition of asking newly elected presidents to address graduates after more than 3,000 students, alumni and staffers signed a petition against inviting President Donald Trump. But two seniors weren't satisfied with the replacement, the Observer reported.
Seniors Jourdyhn Williams, 22, and Imanne Mondane, 21, tell Newsweek they felt disappointed by the Pence announcement, so they started a project last week in which about 40 people posed for photos holding whiteboards with Pence quotes on them. Some students wrote why they opposed Pence's appearance at graduation, referencing his stances on issues like marriage equality and immigration reform alongside the hashtag #notmycommencementspeaker.
"[We thought] we could write on white boards and highlight how it makes our campus and the marginalized community on our campus feel unsafe and directly offended but also silenced," Mondane tells Newsweek.
Then the campaign went viral.
On Wednesday, conservatives seized upon the #notmycommencementspeaker project. Mediaite published an opinion piece noting that students at the college had also protested commencement addresses by former Vice President Joe Biden in 2016 and former President Barack Obama in 2009. The National Review, meanwhile, warned of overgeneralizing Pence's views, writing that "it's become routine for college students to equate conservative positions with prejudice and hatred."
The #notmycommencementspeaker hashtag was quickly flooded with posts about "snowflakes," but critics weren't talking about the weather. The "snowflake" insult became popular last year as a way to mock politically correct people—especially college students seen as sensitive because they were raised to think they're special. The alt-right now regularly uses the term to tear down the millennial generation as a whole, whether the issue at hand is trigger warnings or health care.
"Reminder to NOT hire anyone who graduated from @NotreDame Class of 2017," Twitter user cecilia_morgan wrote Thursday. "Spineless snowflakes."
Williams and Mondane, who don't fully identify with either major political party, say the hate mail they've gotten online has been much different from the response on campus. Mondane, an anthropology student with an Africana studies minor, estimates that for every one negative comment they've received, they've gotten three positive ones. She doesn't care much about being called a "snowflake," either.
"I take that as a compliment. Snowflakes are delicate, which I am, and they're one of a kind," Mondane adds. "If I'm a snowflake, then I'll be a snowflake that's not melting anytime soon."
Fellow anthropology and Africana studies student Williams agrees, explaining that the project isn't so much about rescinding Pence's invitation—"because we realize at this point that can't happen"—as it is about starting a conversation.
The seniors aren't the only ones talking. An open letter was circulating Thursday on social media from alumni and staff who said they supported anyone in the class of 2017 who felt "marginalized or threatened by Vice President Pence's words and deeds, and the policies and rhetoric of the current White House administration." More than 1,600 people have signed it so far.
However, the university tells Newsweek the backlash hasn't influenced its graduation preparations.
"Notre Dame is proud to welcome Vice President Pence to campus as our honored guest in this our 175th anniversary year," Paul Browne, the vice president of public affairs and communications, says in an email. "Our commencement plans continue apace."
This story has been updated with comments from the project organizers.