Mike Pence's Steady, Solid Performance Prevails in Debate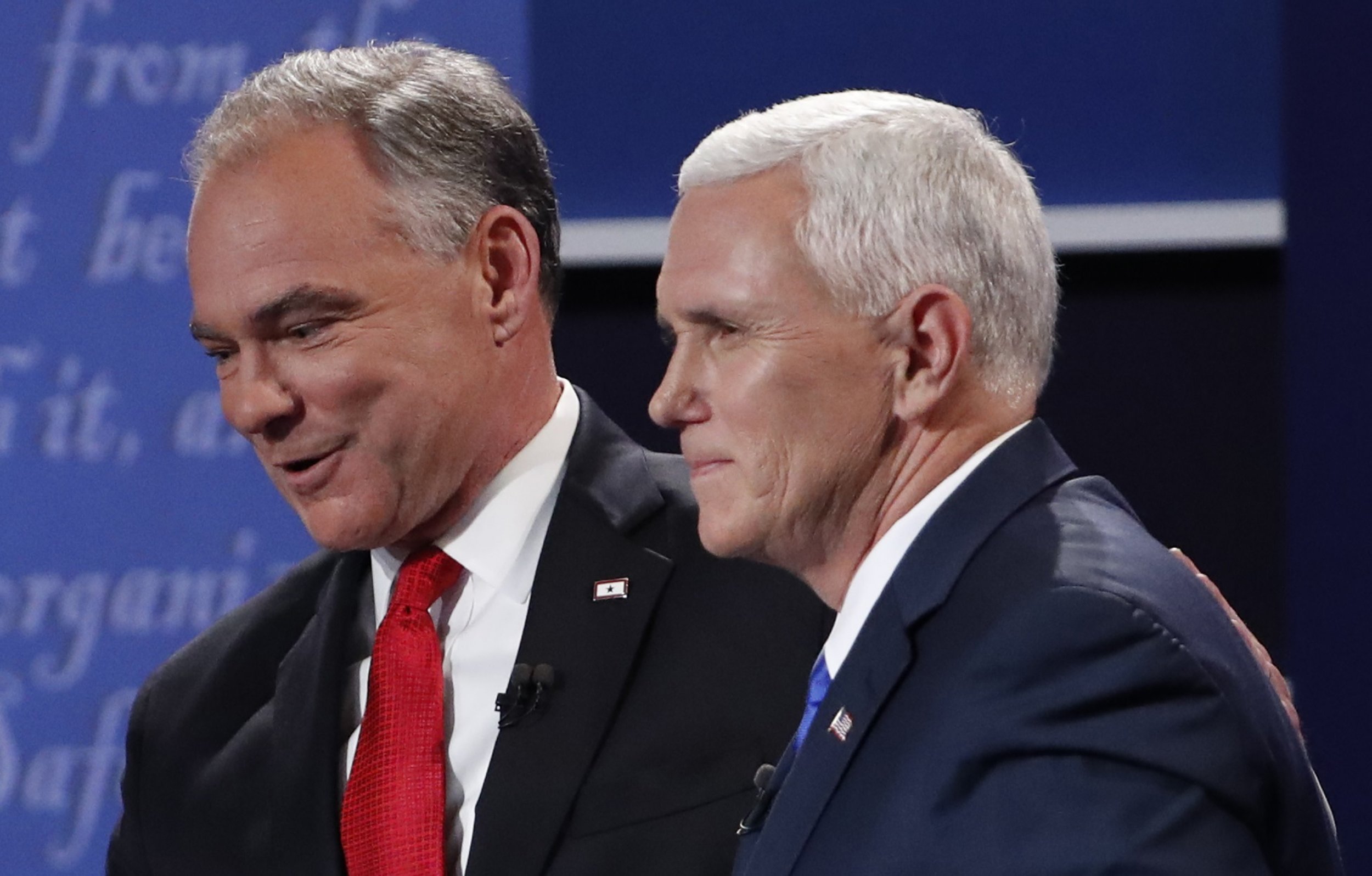 "It's an honor," said Mike Pence as he walked onstage at Longwood University in Virginia for the vice presidential debate on Tuesday. That bit of politesse seemed to suggest the debate would play as expected: civil and sedate. Instead of a somnolent debate, though, or one where barbs were directed at the top of the ticket, it turned out to be a series of jabs that probably heartened partisans on each side. Pence seemed the winner because he stood in such dramatic contrast to Donald Trump's erratic, bizarre performance in the first presidential debate. While Trump failed to land punches on the Hillary Clinton emails or the Clinton Foundation, Pence hit those issues hard. Pence was calm and measured while Trump was a boorish self-parody.
The Republican vice presidential nominee also got the better of Kaine. One small example: Pence said that he'd work with "Senator Kaine" on issues such as immigration. It was a put down disguised as a peace offering, an insinuation that he'd be vice president under Trump while Kaine would be returned to the Senate. Kaine just absorbed the premise of Pence's jab. He replied only that he look forward to working with Pence in any capacity.
Kaine had punches as well, but some failed to land. He was wise to repeatedly bring up Trump's unprecedented failure to release his tax returns, but at times it was a leap—like when a question about Syria somehow became a chance for Kaine to bring up the tax issue again. Kaine also seemed much more prone to interrupt, making him appear a bit more like a yipping schnauzer than a mellow golden retriever. He only brought up the incredibly potent Miss Universe debacle once, and it wasn't handled very well. He never mentioned Pence's religious freedom debacle that neutered anti-LGBT discrimination ordinances in the state. It was something Pence had to walk back after a national uproar.
Kaine did have the truth on his side when he asked Pence to defend outrageous Trump positions—insulting Mexicans, unsettling allies, cosseting Putin. Pence generally denied those were Trump's positions, even when they clearly were. (This debate moderator clearly had no interest in policing what was true and what wasn't.)
On the other hand, Pence at times seemed to take as much issue with Trump as he did with Hillary Clinton. He called for the denuclearization of the Korean peninsula, while Trump has advocated for South Korea obtaining nuclear weapons. And he seemed to outline an aggressive new Pence policy for a strong U.S. stance in Aleppo—to roll back Russian aggression in the beleaguered city. Indeed, Pence attacked Russian leader Vladimir Putin with a kind of gusto that one never hears from the top of GOP ticket, saying: "Provocations by Russia need to be met with American strength."
It was on the question of policing that Pence best showed his prowess. He offered a nuanced defense of the police—noting how many are African-American, such as the officer accused of an unjustified shooting in Charlotte—even while acknowledging the need for criminal justice reform, and he even used the phrase "institutional bias." Pence's line—"Please, enough of this seeking every opportunity to demean law enforcement"—was probably better than Kaine's more direct attempts at empathy with African-Americans.
Kaine was also plagued by speaking too fast, a problem exacerbated by all of his interrupting and cross talk. Viewers left with the feeling that Pence 2020 was much more strengthened than Kaine 2020.
Each side did a good enough job rousing its base. Kaine got in gun control and a strong advocacy for legal abortion, while Pence offered enough religious references to fill a sermon. Pence managed to toss bouquets to Scranton, Pennsylvania, and the coal industry, while Kaine used plenty of civil rights references—not only because it reflects his career as a civil rights lawyer, but also to rouse the party's African-American base.
The two men have a lot in common. Kaine is 58; Pence is 57. Each has three children and a son in the Marines. Each is known as genial. Each was raised an Irish-Catholic Democrat. (Pence became an evangelical Republican.) Neither had much of a national presence before Tuesday night. Governors with long political careers, neither is entirely suited to being a No. 2, although Kaine was once a lieutenant governor. On Tuesday, each had to manage the weight of their flawed No. 1s, and they did it well enough—defending the honor of their bosses. Each was, though, diminished by cross talking, interruptions and rapid attacks that it made one long for the decorum of Dan Quayle and Lloyd Bentsen or Joe Biden and Sarah Palin. How long ago those debates seem.