Mike Pence Praises Disgraced Sheriff Joe Arpaio as 'Tireless Champion' of the Rule of Law
Vice President Mike Pence praised Sheriff Joe Arpaio, who was convicted of contempt of court, as a "tireless champion of…the rule of law" during an event in Arizona on Tuesday.
Pence, speaking at a tax policy event in Phoenix, said he was "honored" by the former sheriff's attendance, and called Arpaio a "great friend of this president and tireless champion of strong borders and the rule of law."
Arpaio was pardoned by President Donald Trump last summer, after being found in contempt of a court order banning him from targeting immigrants without reasonable suspicion.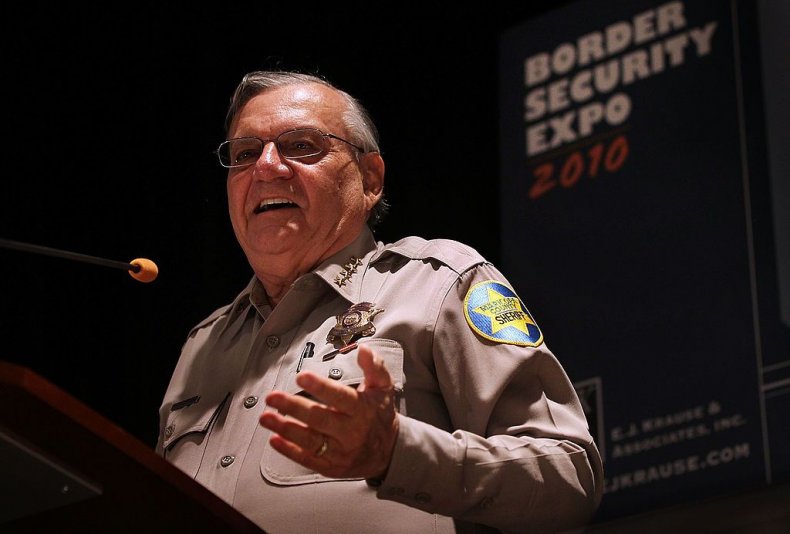 He has also faced criticism for his tenure as sheriff in Maricopa County for failing to investigate hundreds of sex crimes as he diverted police resources to investigating immigration offences, as well as harsh treatment of prisoners.
He was among the first public figures to propagate the so-called "birther" conspiracy theory about former President Barack Obama, which was also touted by Trump as he positioned himself for a run at the White House. Arpaio endorsed Trump for president, and appeared alongside him at campaign rallies.
Arpaio announced his candidacy last year for the Arizona senate seat which will be vacated by Republican Trump critic Jeff Flake, and in interviews has refused to back away from the "birther" conspiracy. He faces a tough primary challenge for the election, which will be held in November.
In January he applied to have his criminal conviction quashed, arguing it was politically motivated. Judge Susan Bolton in October accepted after Arapio's pardon that his sentencing would not go ahead, but did not quash his conviction.