Mike Pence, Rallying Trump Supporters, Says 'Four More Years Means More Judges'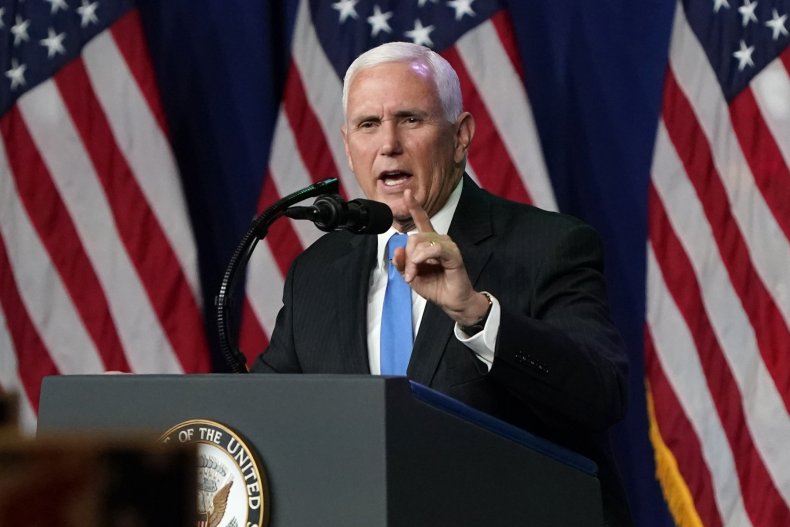 Vice President Mike Pence presented a new pitch to voters while out on the campaign trail on Tuesday: "Four more years means more judges."
Pence, speaking to a crowd gathered for a rally at the Laconia Municipal Airport in Gilford, New Hampshire, announced President Donald Trump would soon be nominating "another principled conservative" to the Supreme Court of the United States following the death of Justice Ruth Bader Ginsburg.
"And after the Senate fulfills their duty to advise and consent, we're going to fill that seat," Pence said.
Later in the speech, he turned that statement into a campaign promise.
"We're going to fill that seat, and we're going to do it in an election year," Pence said. "I promise you."
The remarks prompted cheers from the audience, which repeatedly chanted: "Fill that seat!"
Ginsburg, 87, died on September 18 due to complications surrounding metastatic pancreatic cancer. Pence said Tuesday that Ginsburg "lived an inspiring live" and that America is mourning the passing of a "true public servant."
Before her death, the Supreme Court justice dictated a statement to her granddaughter Clara Spera in which she said "my most fervent wish is that I will not be replaced until a new president is installed."
Trump cast shade on Ginsburg's statement, telling Fox News during an interview Monday that he doubted she ever said it.
"Well, I don't know that she said that, or was that written out by Adam Schiff and Schumer and Pelosi?" Trump asked rhetorically. "I would be more inclined to the second."
The president's shortlist of potential nominees is said to include, among others, Judge Amy Coney Barrett, Judge Barbara Logoa and Judge Allison Jones Rushing. All five potential picks are women.
Democratic nominee Joe Biden has urged Republicans in Congress to heed Ginsburg's final wish "not as a personal service to her, but as a service to the country at a crossroads."
He also accused Republicans who would move forward with the nomination of hypocrisy after Senate Majority Mitch McConnell and other conservatives in the chamber pushed filling the vacancy left by Justice Antonin Scalia in February 2016 until after the election.
A handful of Republican senators, including Susan Collins of Maine and Lisa Murkowski of Arkansas, have said Ginsburg's replacement should not be considered until after the election. But on Tuesday, Senator Mitt Romney said he would support considering a Trump nominee before the election—essentially securing the chamber the votes it needs to proceed.
Biden said that if he wins the election this November, Trump's nominee should be withdrawn.
"If Donald Trump wins the election, then the Senate should move on his selection and weigh the nominee he chooses fairly," the former vice president said. "But if I win this election, President Trump's nominee should be withdrawn and I should be the one who nominates Justice Ginsburg's successor."
Biden has not yet released a list of judges he would consider nominating to the Supreme Court. He indicated over the weekend that he would not do so before the 2020 election, arguing that whomever he selected would be subjected to months of attacks before a possible confirmation hearing in 2021.
Pence asserted that the Democratic nominee would only nominate "activist judges who would legislate from the bench," as opposed to Trump's steady deliverance of strict constructionist conservatives.
"This president, as I said before, has appointed more conservatives to our Court of Appeals than any president in American history," Pence told the audience in New Hampshire. "We're going to keep on appointing strong, principled conservatives from the Supreme Court to all of our federal courts for four more years."