Mike Pence Refuses to Say 'Black Lives Matter' in Juneteenth Interview
Vice President Mike Pence repeatedly refused to utter the phrase "Black lives matter" during an interview on Juneteenth, insisting on saying "all lives matter" instead.
Pence made the remarks during a Friday interview with Philadelphia ABC affiliate WPVI, after anchor Brian Taff asked the vice president if he would say the words "Black lives matter." Taff noted that "only really a handful of elected Republican leaders" have been willing to repeat the phrase amid ongoing demonstrations against racial injustice sparked by the death of George Floyd, an unarmed Black man who died in police custody.
"Let me just say that what happened to George Floyd was a tragedy," replied Pence. "We celebrate the fact that from the founding of this nation, we cherish the ideal that all, all of us are created equal and endowed by our creator with certain inalienable rights. And so, all lives matter in a very real sense."
Taff then pressed Pence on the issue, explaining that saying the phrase "is an acknowledgement that Black lives also matter at a time in this country when it appears that there's a segment of our society that doesn't agree." The vice president again refused to repeat the phrase.
"Well, I don't accept the fact, Brian, that there's a segment of American society that disagrees in the preciousness and importance of every human life," Pence said.
The interview took place during this year's observance of Juneteenth, the June 19 holiday commemorating the emancipation of Confederate slaves following end of the Civil War. Pence acknowledged the observance during the interview, which also saw the vice president emphasize that the Trump administration is "supporting law enforcement."
Newsweek reached out to Pence's office for comment. This article will be updated with any response.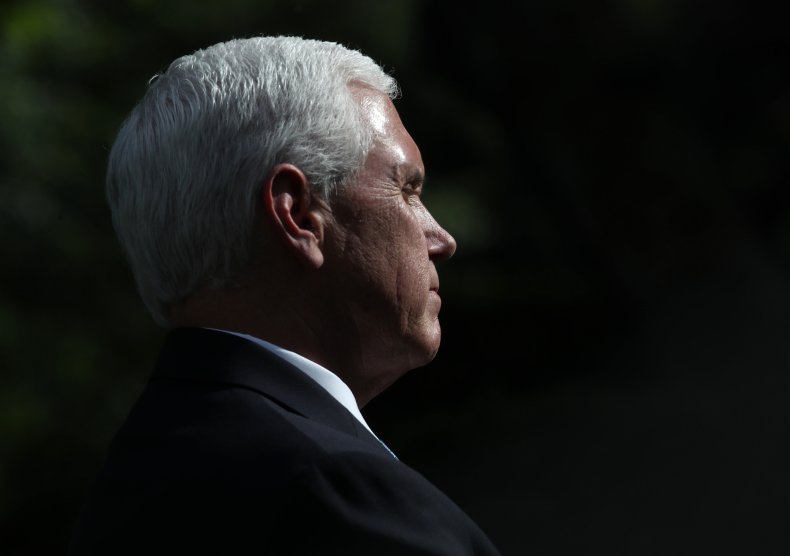 Activists have repeatedly stated that the phrase "Black lives matter" is not intended to assert the importance of Black people to the exclusion of all others, but rather to reinforce that Black lives have value. Regardless, many detractors have insisted on using the term "all lives matter" instead, which some have come to view as a statement steeped in implicit racism.
The Black Lives Matter movement was founded by three Black community organizers in 2013 following George Zimmerman's acquittal in the shooting death of Black teenager Trayvon Martin. It gained momentum in the wake of the 2014 death of Michael Brown, a young Black man fatally shot by a white police officer.
The movement's return to the national spotlight amid widespread protesting sparked by Floyd's death has become a divisive issue for some Republicans, with many refusing to utter the phrase and others speaking out against the movement itself.
On Wednesday, Rep. Eric Swalwell (D-Calif.) challenged Republican colleagues to utter the phrase during a meeting of the House Judiciary Committee. He was met with resistance from Rep. Matt Gaetz (R-Fla.), who, like Pence, refused the request and insisted on saying "all lives matter" instead.
Joseph Gale, the Republican county commissioner of Pennsylvania's Montgomery county, described the movement as a "left-wing hate group," likening activists to "enemy combatants" responsible for "domestic terror" earlier this month.
Gale's claims prompted outrage and protests, including a demonstration on Thursday that also reportedly drew a group of counterprotesters praising Gale and attempting to shift the protest's focus to the issue of abortion.