Mike Pence Regrets Not Wearing Face Mask to Mayo Clinic: 'I Should Have'
Vice President Mike Pence on Sunday evening expressed regret over his controversial decision not to wear a face mask or covering to the Mayo Clinic.
Pence toured the Mayo Clinic in Minnesota last Tuesday to oversee the medical facility's handling of the coronavirus pandemic. As photos of the event emerged, Americans were quick to notice that the vice president went against the facility's policy by failing to wear a face covering or mask.
"I didn't think it was necessary, but I should have worn a mask at the Mayo Clinic," Pence said during a Fox news town hall on Sunday evening, before explaining to host Bret Baier that the Center for Disease Control and Prevention's (CDC) guidelines provides for the use of masks to limit asymptomatic spread of the novel virus.
While the vice president admitted regret, he also defended his decision to not wear a mask, saying that because he knew he didn't have the virus during his visit because he and President Donald Trump are now tested regularly. However, Pence noted that he did wear a mask to a visit to General Motors in Indiana two days after his appearance at the Mayo Clinic.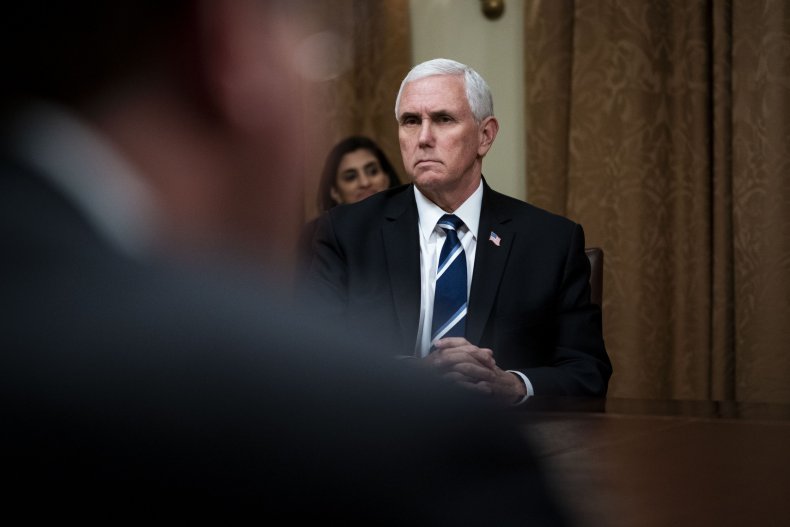 "I think it really is a statement about the American people, the way people have been willing to step forward, practice social distancing, wear masks in setting where they can't do that," Pence said. "I couldn't be more grateful to see how the American people responded."
Newsweek reached out to Pence's office for further comment. This story will be updated with any response.
In footage of his visit, Pence could be seen standing near a group of Mayo Clinic employees and other people without a face mask. The other people surrounding Pence were all wearing masks.
After the incident, the Mayo Clinic tweeted that the vice president was informed of the facility's policy before arriving. In a statement to Newsweek, a spokesperson for the facility said they "shared the masking policy with the vice president's office."
"Part of our protocol for ensuring your safety is to require all patients, visitors and staff to wear a face covering or mask while at Mayo Clinic to guard against transmission of COVID-19," according to a description of the policy on the Mayo Clinic's website.
Following widespread backlash, Pence defended the move during a White House press conference. "As Vice President of the United States I'm tested for the coronavirus on a regular basis, and everyone around me is tested for the coronavirus," he told reporters, adding, "and since I don't have the coronavirus, I thought it'd be a good opportunity for me to be here, to be able to speak to these researchers these incredible healthcare personnel and look them in the eye and say thank you."
As of May 3, more than 1,188,100 individuals had tested positive for coronavirus in the U.S., with roughly 68,500 deaths caused by the new disease and 178,200 recoveries.