Mike Pence to Reportedly Attend Black-Tie Gala Celebrating Fall of Roe
Former Vice President Mike Pence is reportedly scheduled to attend a black-tie gala celebrating the fall of Roe v. Wade being held in Washington D.C. by an anti-abortion group this week.
Anti-abortion group Susan B. Anthony Pro-Life America is hosting the event at the National Building Museum in Washington, D.C. on Tuesday, according to a tweet posted by Kristin Mink, a senior legislative organizer at the Center for Popular Democracy, who is running for county council in Maryland.
Susan B. Anthony Pro-Life America has password-protected the details of the event on its website, Mink wrote in the tweet. "Guess they thought people might protest?" she wrote.
A screengrab of the group's website from the Internet Archive's Wayback Machine from August 28 shows the details listed on the page before it was password-protected.
The features photos of Virginia Governor Glenn Youngkin and South Carolina Senator Tim Scott under a heading that reads: "The Celebration!" Other guests listed include Archbishop Salvatore Cordileone of San Francisco, Chuck Donovan, the president of the Charlotte Lozier Institute, and Christian musician Natasha Owens.
"Gather with us for an unforgettable evening full of hope and promise for the future of unborn children and their mothers," it adds.
It says a VIP reception begins at 6 p.m. while dinner is served at 7.30 p.m. Priority tables for 20 guests—billed as a "Defender" package—cost $100,000, according to the page. Other, packages are named "Warrior," with a cost of $50,000; "Guardian," with a cost of $25,000; "Protector," with a cost of $10,000 and "Advocate," with a cost of $5,000 while individual tickets to the gala cost $350.
According to Mink's tweet, other special guests attending the event include South Carolina Senator Lindsey Graham.
"Our understanding is that Pence is going to be, is intended to be a special guest, but there will be a number of GOP Congress members who are attending this event, in order to celebrate the absolutely disastrous ruling by the Supreme Court," Mink told Newsweek.
"Our hope, by making this public, is to see this event canceled or under-attended, or make them rethink their plans."
A number of Washington D.C. groups are calling on people to protest outside the museum on Tuesday evening.
"The protest we are co-organizing is a counterdemonstration to support abortion rights and human rights across the board," Sadie Kuhns, an organizer with Our Rights DC, told Newsweek.
"We find it distasteful and alarming that the National Building Museum would host an event that supports the suffering of women and people all across the country due to lack of life-saving healthcare."
Esther White, the museum's vice president of external affairs and development, told Newsweek: "The National Building Museum does not partner with private organizations who rent the facility to host their events, nor do we discriminate based on lawful private event content. As a museum within a federally-owned historic building, we do not endorse the views of unaffiliated organizations and allow groups from across the political spectrum to rent our facilities."
Newsweek has reached out to Pence and Susan B. Anthony Pro-Life America for further comment. Newsweek has also reached out to representatives for Graham and Scott for comment.
Abortion has long been a centerpiece of Pence's politics, dating back to his time as a congressman and as the governor of Indiana.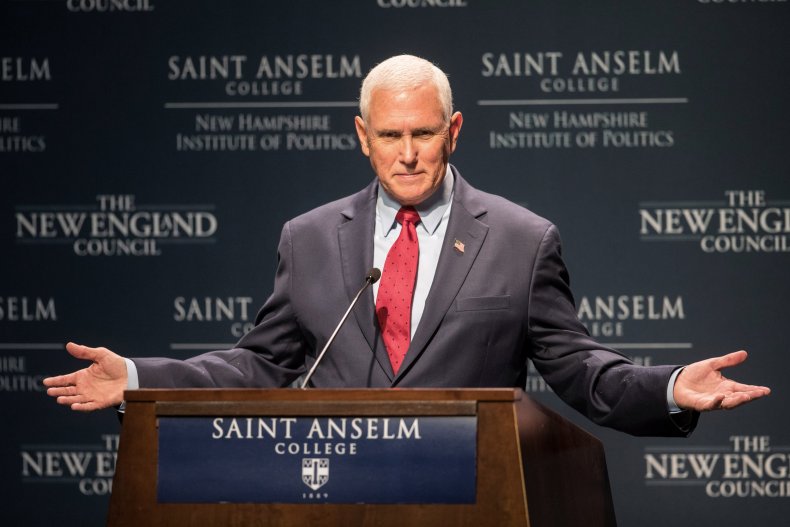 He was among the Republicans that lauded the Supreme Court's overturning of Roe in late June. The decision stripped away abortion protections that had been in place for almost 50 years.
"Today, Life Won," Pence wrote on Twitter the day the decision was handed down. "By overturning Roe v. Wade, the Supreme Court of the United States has given the American people a new beginning for life and I commend the Justices in the majority for having the courage of their convictions."
Pence later went on to call for a national ban on the procedure.
"Now that Roe v. Wade has been consigned to the ash heap of history, a new arena in the cause of life has emerged, and it is incumbent on all who cherish the sanctity of life to resolve that we will take the defense of the unborn and support for women in crisis pregnancies to every state capitol in America," he said.
"Having been given this second chance for life, we must not rest and must not relent until the sanctity of life is restored to the center of American law in every state in the land."
Update 9/13/22, 4:42 a.m. ET: This article has been updated with a comment from Esther White of the National Building Museum.