Mike Pence: 'Absolutely False' That I'm Dropping Out of Presidential Race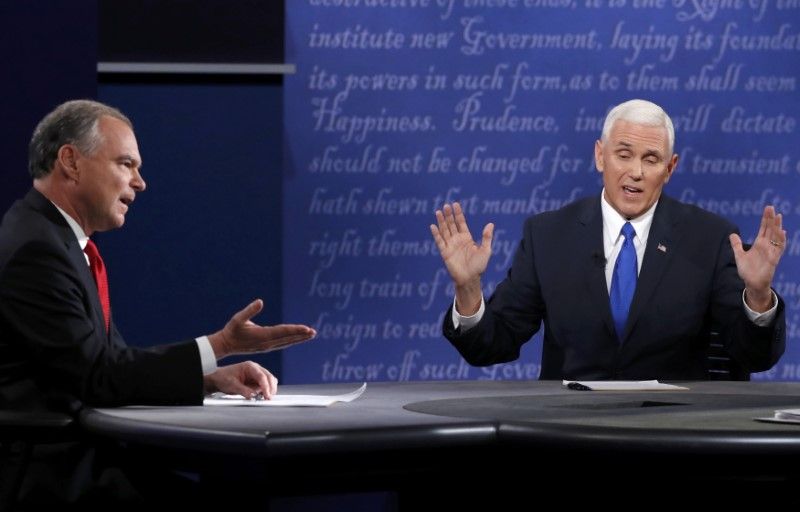 Republican vice presidential nominee Mike Pence addressed rumors on Monday that he's dropping out of the race for the White House, calling them "absolutely false" during an appearance on CNN.
Speaking with Alisyn Camerota, co-anchor of CNN's New Day show, Pence said it's "absolutely false to suggest that at any point in time we considered dropping off this ticket." He went on to call his position as Republican vice presidential nominee "the greatest honor of my life."
Rumors that Pence might leave the Republican presidential ticket began swirling late last week after The Washington Post published leaked audio tapes of Republican presidential nominee Donald Trump making sexually predatory comments about women. If the acts Trump described on the tape were performed in person, they would amount to sexual assault, lawyers say. On the tapes, Trump is heard telling "Access Hollywood" host Billy Bush in 2005 that, as a famous man, he's able to "grab [women] by the pussy. You can do anything."
Trump is also heard saying: "You know, I'm automatically attracted to beautiful—I just start kissing them. It's like a magnet. Just kiss. I don't even wait. And when you're a star, they let you do it. You can do anything." Trump apologized for the comments on Saturday, and tweeted that he won't drop out of the presidential race even as two women came forward with allegations that Trump sexually assaulted them by performing two of the acts he bragged about on the tape.
Addressing Trump's comments on Monday, Pence said: "I was offended by them. I said I couldn't defend them, and encouraged Donald Trump to show his genuine remorse." Asked by Camerota if he thought Trump's comments were just an example of "locker room talk," Pence appeared to agree, saying: "He said it's not something that he's done, he made that clear last night. He said it was just talk."
"He made it very clear last night before the American people that they were words, not deeds," Pence added, admitting that the leaked tape "had very offensive words on it." Pence deflected attention from the leaked tape by pointing to "the contrast between [Trump's comments] and what the Clintons were involved in 20 years ago." He brought up Monica Lewinsky, a White House intern whom he said "Bill Clinton admitted to being involved with" when she was 23.
Camerota also pressed Pence on his Syria policy after Trump said during Sunday night's debate that he disagrees with his running mate and hasn't spoken with him about it. Pence said during the vice presidential debate that "provocations with Russia [in Syria] need to be met with American strength," and that the U.S. should be prepared to use military force against targets of the regime of Syrian President Bashar al-Assad.
"We have a humanitarian crisis [in Aleppo]," Pence said on CNN, adding that he plans to speak with Trump about a Syria policy later on Monday. "We need to be willing, along with other nations in the region, to create a secure pathway for those people to escape Aleppo before even more violence comes."
"Our policy is safe zones," Pence said, adding that the aim of a Trump administration would be destroying ISIS in Syria, not regime change.