Mike Pence Says China Seizing on Biden Admin 'Weakness' to Become 'Evil Empire'
Former Vice President Mike Pence sees the Biden administration's "weakness" as enabling China's growth, which he sees as being the "greatest threat on the face of the Earth."
Speaking at the Heritage Foundation on Wednesday, Pence criticized the current administration's rejoining of the World Health Organization (WHO) and the Paris Climate Accord.
"Weakness arouses evil and my sense is that China senses weakness in this new administration," Pence said. "China may not yet be an evil empire, but it's working hard every day to become one."
Newsweek reached out to the Biden administration for comment, but did not receive a response in time for publication.
After taking office, President Joe Biden reversed course on many of Donald Trump's policies, including the former president's decision to leave the Paris Climate Accord because he considered it unfair that the United States had to pull back on its carbon emissions while China could use fossil fuels.
The U.S. also rejoined the WHO quickly after Biden assumed the presidency. At the time, Trump criticized the organization for not holding China's feet to the fire with regard to the origin of COVID-19, a move that the former president saw as a continuation of his tough-on-China stance but came under global criticism.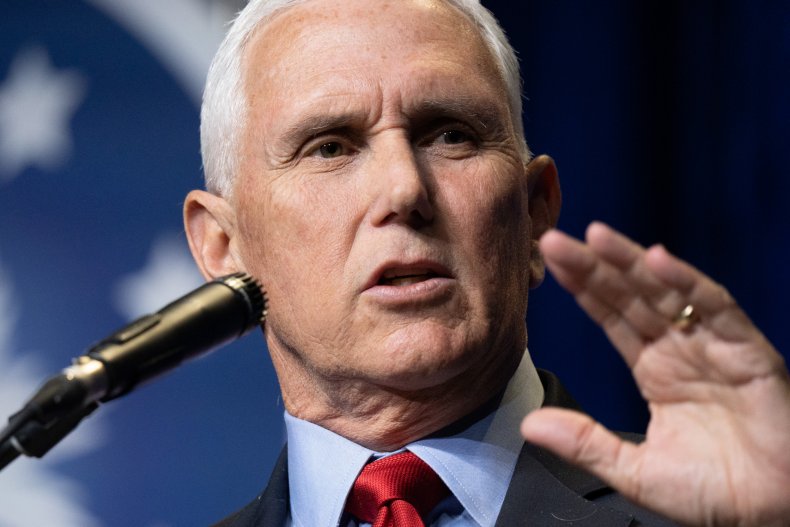 Pence called America's return to the WHO under Biden without "demanding a single concession" an example of the U.S. "rolling over to communist China." He, like Trump, pushed the administration to demand China "come clean" about the origins of COVID-19.
Once considered a fringe conspiracy theory, the possibility that COVID-19 originated in a laboratory in China gained traction over the past few months, with Biden instructing the Intelligence Community to "redouble" its efforts to bring the world closer to an answer. He gave them a 90-day deadline, indicating that a report could come out in late August.
The pandemic only exacerbated strained tensions between Washington and Beijing, and Pence sees China as a "greater challenge" in many ways than the Soviet Union was during the Cold War. He told attendees of the speech that America has to confront China's authoritarian system and military and American businesses that "openly aid and abet the communist regime."
"Imagine if during the Cold War the U.S.S.R. also happened to be America's top trading partner," Pence said. "Imagine if we relied on Moscow for life saving medical equipment. It's beyond imagination and yet it's precisely the situation we face today in what might be an emerging cold war with China."
While some hoped that a change in administration would abet tension between Beijing and Washington, the Biden administration hasn't been able to smooth things over. At the first high-level meeting between U.S. and Chinese officials in March, a public spat ensued and in a lengthy lecture Yang Jiechi, the Chinese Communist Party foreign affairs chief, criticized American democracy.
China's "brazenly aggressive tone" during the meeting was an example of China's perceived weakness in the Biden administration, according to Pence.
China's increased interest in controlling Hong Kong and Taiwan raised global concerns. Secretary of State Antony Blinken warned China against claiming ownership to resources in the South China Sea. If China were to attack Philippine public vessels, aircraft or armed forces in the South China Sea, Blinken noted that the U.S. would have to fulfill its "mutual defense commitments."
Along with holding firm in its support for the people of Taiwan and Hong Kong, Pence said America must make it clear to China that the "western hemisphere is off limits."