Mike Pence Says He and Donald Trump 'May Never See Eye-to-Eye' on January 6 Riots
Former Republican Vice President Mike Pence said in a speech at a Republican fundraiser Thursday night that he was proud to serve as President Trump's VP, despite not knowing whether he and President Trump "will ever see eye-to-eye" on the January 6 capitol riots.
"January 6 was a dark day in the history of the United States Capitol," Pence told the audience at a Lincoln-Reagan Dinner fundraiser sponsored by the Hillsborough County Republican Committee in Manchester, New Hampshire. "But thanks to the swift action of the Capitol Police and federal law enforcement, violence was foiled. The capital was secured. And that same day we reconvened the Congress and did our duty under the Constitution and the laws of the United States," he continued.
"You know, President Trump and I have spoken many times since we left office. And I don't know if we'll ever see eye-to-eye on that day. But I will always be proud of what we accomplished for the American people over the last four years," Pence said.
Pence seemed to be addressing the difficulty in his relationship with the former president that occurred on January 6 when Pence released a statement saying he would not illegally overturn election results when Trump publicly demanded he do so.
"All Vice President Pence has to do is send it back to the states to recertify and we become president and you are the happiest people," Trump told a crowd of his supporters who later marched to the Capitol building.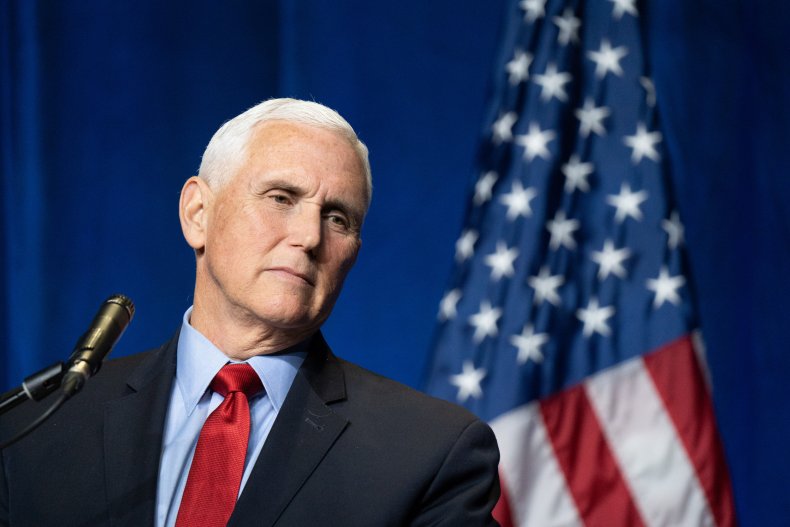 As the keynote speaker, Pence spent much of his speech praising Trump's actions while in office and going over the main talking points of the conservative agenda. He spoke out against the Coronavirus American Rescue Plan spending, as well as President Biden's American Jobs Plan.
Pence weighed in on many of the hot button issues that a potential presidential hopeful might be asked to comment on. He complimented politicians who have banned critical race theory, saying "America is not a racist country." He also clarified that his position on the Israeli-Palestinian conflict is in line with Trump's, not Biden's, saying "America stands with Israel," to cheers from the Republican crowd.
His speech Thursday was his second public address since leaving the vice presidency. His first was to the Palmetto Family Council in Columbia, South Carolina in April, initially prompting gossip about whether or not he was laying the groundwork for a presidential run in 2024.
Tom LoBianco, a Washington correspondent for Insider who has covered Pence for 10 years, told C-SPAN Thursday that he appeared to be "testing messaging" with his language and anecdotes for a possible presidential run during his South Carolina speech.
New Hampshire and South Carolina both hold elections early on in the Republican presidential primaries and would be considered important destinations for any campaigning 2024 hopefuls. Pence has also been writing a political memoir that is due to come out sometime in 2023, one year before the election.
Newsweek has reached out to Pence for comment.