Mike Pence Says Iran Is Planning 'New Holocaust' With Middle East Expansion
Vice President Mike Pence said Iran is plotting a "new Holocaust" with its designs on regional domination while speaking at a summit of 60 nations on the issue of Middle East stability.
Pence said Iran was "the greatest threat to peace and security in the Middle East," The Times of Israel reported. The vice president also compared Iran's regional expansion to the Nazi extermination of 6 million Jews and other groups during the Second World War, according to the newspaper.
He made the remark at a summit in Warsaw, Poland, that had originally been designed to rally America's allies against Iran. However, with continued divergence between U.S. and European partners over the issue of the Islamic republic, the conference was remolded to focus on peace and security in the Middle East.
The vice president used his appearance at the summit, which included delegations from six Arab Gulf states alongside their one-time enemy Israel, to blast European nations over their stance on Iran. "Sadly, some of our leading European partners have not been nearly as cooperative," Pence said, reported Associated Press.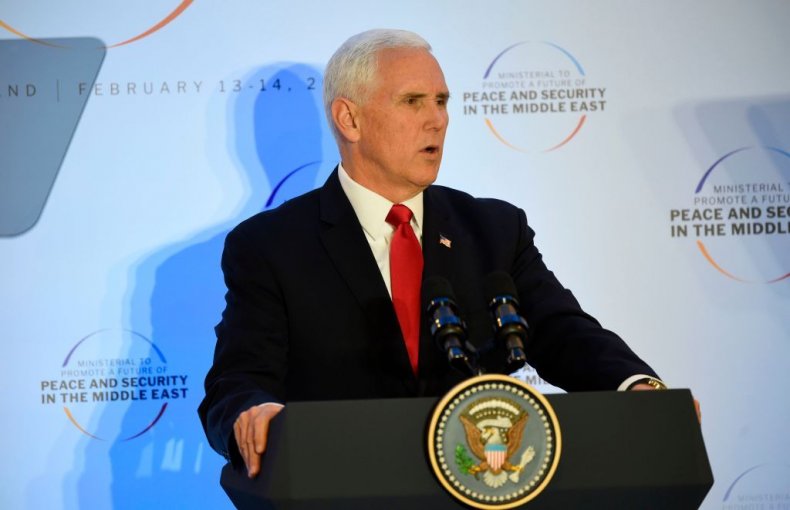 "The time has come for our European partners to withdraw from the Iran nuclear deal and join with us as we bring the economic and diplomatic pressure necessary to give the Iranian people, the region and the world the peace security and freedom they deserve," Pence added, referring to the 2015 nuclear deal brokered under President Barack Obama.
In May 2018, President Donald Trump withdrew the U.S. from the nuclear deal, in which Iran had agreed to give up its pursuit of nuclear weapons in exchange for the lifting of economic sanctions.
Throughout the 2016 presidential campaign and earlier, Trump railed against the deal. He regularly attacked the agreement, heralded in Europe as a significant breakthrough, over its failure to curb Iran's ballistic missile tests as well as Tehran's expansion into Iraq, Lebanon, Syria and Yemen through its proxy forces.
Iranian rhetoric at national rallies calling for death to Israel, the U.S. and other western nations is nothing unusual, with the usual cries for war increasing in recent weeks during the 40th anniversary of the Islamic Revolution.
However, an aggressive stance from Washington toward Tehran has become more pronounced under Trump. Germany and France, which have continued to favor the policy of rapprochement brokered under the Obama administration, are notably absent from the talks in Poland, with Federica Mogherini, the EU's foreign policy representative, also skipping the summit.