Mike Pence Says Nancy Pelosi 'Lives in a Different World' After Describing $1,000 as 'Crumbs'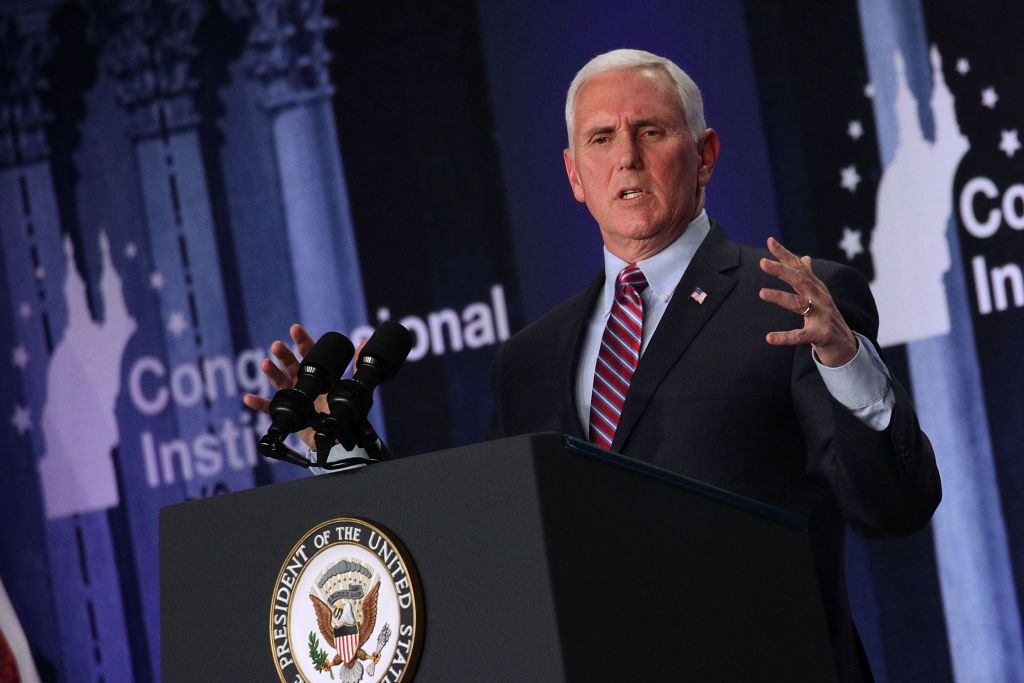 Vice President Mike Pence slammed Democratic leader Nancy Pelosi as "out of touch" with the American people for diminishing the GOP tax cuts. He also used the opportunity to highlight himself as a common man who comes from "the Joseph A. Bank wing" of the West Wing.
At a Republican policy retreat in West Virginia on Wednesday evening, Pence praised the tax cuts that President Donald Trump signed into law in his first legislative victory, telling the lawmakers that 3 million Americans received bonuses as a result. He criticized Democrats such as Pelosi, who said the bonuses are "crumbs" compared with what corporate leaders could afford to give their employees.
"I mean, the truth is, any leader in America that would say $1,000 in the pockets of working families is crumbs is out of touch with the American people," Pence said.
Pelosi, the House minority leader, denounced large company bonuses as "crumbs that they are giving workers" while corporate America reaps the financial rewards from the Trump tax bill. The former chairwoman of the Democratic National Committee, Debbie Wasserman Schultz, also shrugged off the bonuses as insignificant, saying, "I'm not sure that $1,000—which is taxed, taxable—goes very far for almost anyone."
Related: Home Depot co-founder taunts Democrats, saying 'use your stupid brains' on tax reform
Pence said that a $1,000 bonus might mean a family could celebrate Christmas, get a new refrigerator or make a down payment on a car. He compared himself to someone who understood the plight of most Americans, joking that he buys his suits on sale from Joseph A. Bank, long known for its "deep discount" strategy.
"Now, let me just remind you all, I come from the Joseph A. Bank wing of the West Wing," Pence said. "Seriously, people stopped me and said, 'Is that a new suit?' And I said, 'Two for one,'" Pence said. "OK, so if you're going to say $1,000 is crumbs, you live in a different world than I live in.'"
George Zimmer, the former founder of Men's Wearhouse, which acquired Joseph A. Bank in 2016, has donated at least $5,300 to Pelosi, according to Open Secrets.